Professional Battery Analyzer Vencon UBA5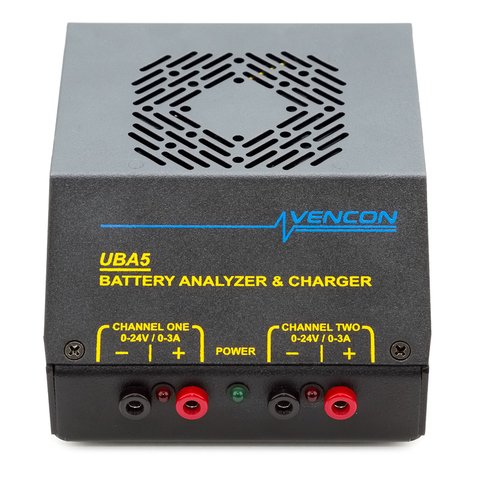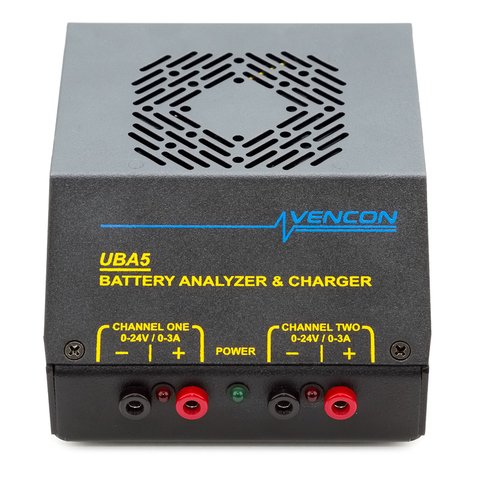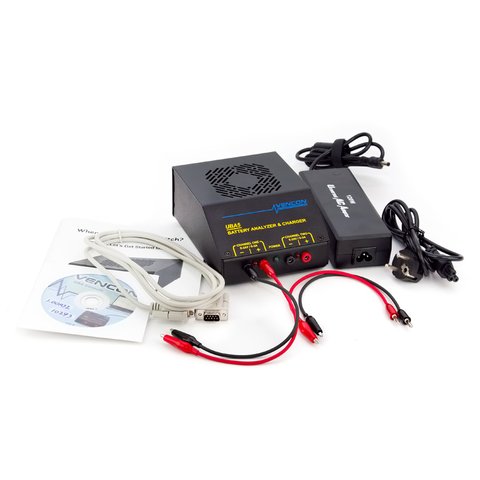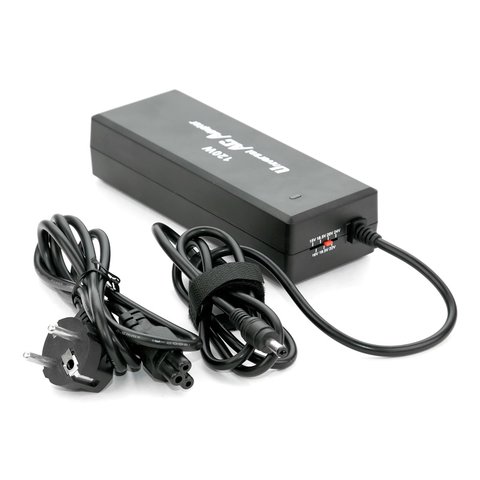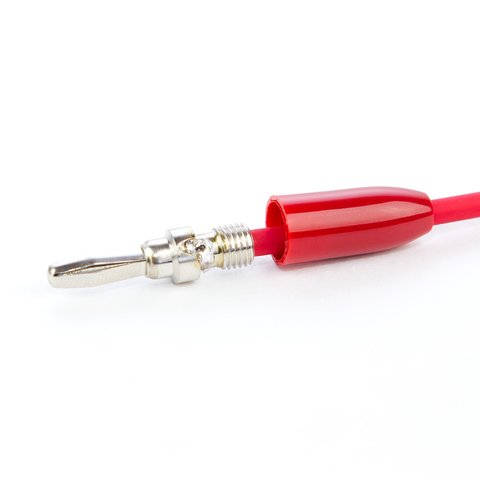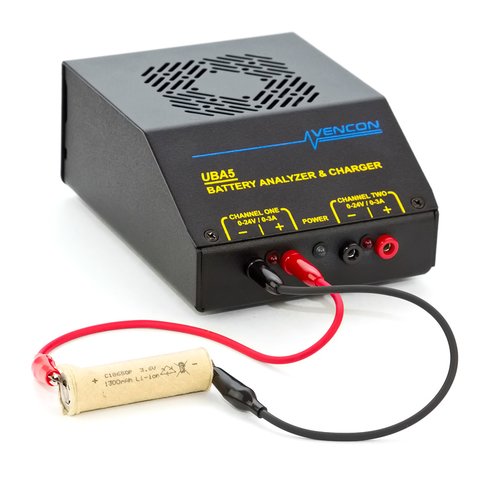 2.1 kg
Warranty: 6 month (s)
A professional battery analyzer for testing, charging, cycling and reconditioning your batteries.
UBA5 Professional Battery Analyzer is used to test, charge, cycle and recondition your batteries.
Vencon UBA5 Professional Battery Analyzer Features
Works with all battery chemistries, NiCd, NiMH, SLA, lead acid, lithium ion, lithium polymer and primary batteries
Fully programmable: you can set all charge and discharge currents, voltage settings, and charge algorithms
Includes UBA Console Software that allows full control over the UBA5
Comes with two channels, each with programmable load and charger. They can operate independently or in unison for higher current
Can run one test cycle to check capacity or thousands to test battery life
Stores all test results, including battery voltage, current and temperature in a standard ASCII format for future reference, analysis or comparison
Comes with battery temperature sensor (optional)
Approved by RoHS, FCC and has CE Mark
UBA Console Software Features
Easy to use and powerful software that allows you to graphically design your battery analysis routines and can simultaneously control over 100 UBA5s from one PC.
Professional graphical and visual user interface
Excellent context help and online manual
Built in Tools: UBA Network Viewer, Battery Analysis Routine Designer, Battery Analysis Results Viewer
Database Tools: View Battery Database, Add / Edit Battery Database, Find Battery Wizard
Software Compatibility: Win9X/NT4/2000/XP/Vista/Linux-Wine
Vencon UBA5 Professional Battery Analyzer Technical Specifications
| | |
| --- | --- |
| Number of Independent Channels | 2 |
| Battery Input . | Banana connectors (two pairs of cables with alligator clips included) |
| Power Input | 15 to 26VDC, 4.5A max. (optional 120/240 V AC universal power supply) |
| Size | 130mm x 170mm x 75mm (WxLxH) |
| Weight | 820g |
Batteries that can be tested
Chemistry
Lithium-ion/polymer/iron phosphate, NiCd, NiMH, lead acid,and all primary cells
Voltage
Two ranges: 0 to 6.5V & 0 to 24V (accuracy ±0.2% rdg ±10mV)
Li-ion cells: 1 to 5 cells in series
NiCd, NiMH: 1 to 16 cells in series
Lead acid: 1 to 9 cells in series
Capacity
10mAh to over 120Ah
Internal Load (one per channel)
| | |
| --- | --- |
| Type | Programmable constant current or pulse discharge |
| Current | 12mA to 3A in 12mA increments (6A with both channels combined) |
| Load terminated by any of these conditions | Cut off voltage, maximum time, maximum capacity, or temperature with optional temperature probe |
| Power Limit | 45W (90W with both channels combined) |
| Accuracy | ±0.5% reading ±2mA |
| Resolution | 0.1mAh |
Internal Charger (one per channel)
| | |
| --- | --- |
| Type | Programmable constant current, constant voltage, duty cycle |
| Current | 1mA to 2.0A |
| Charge terminated by any of these conditions | Maximum time or capacity, minimum current (for constant voltage charging) peak/deltaV (for NiCd & NiMH) and temperature |