Screwdriver Bits Kit 24-in-1 Jakemy JM-8168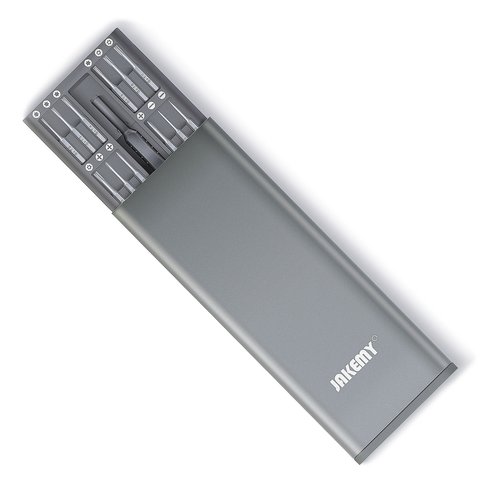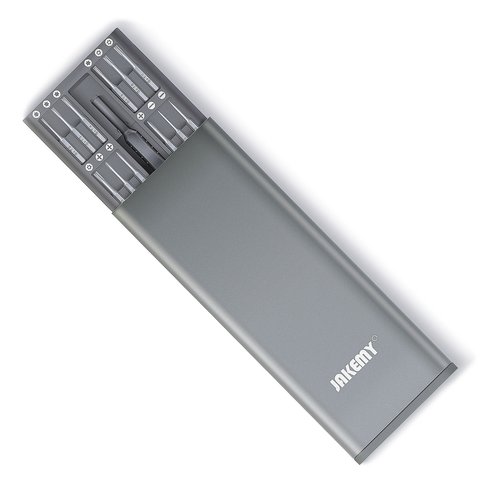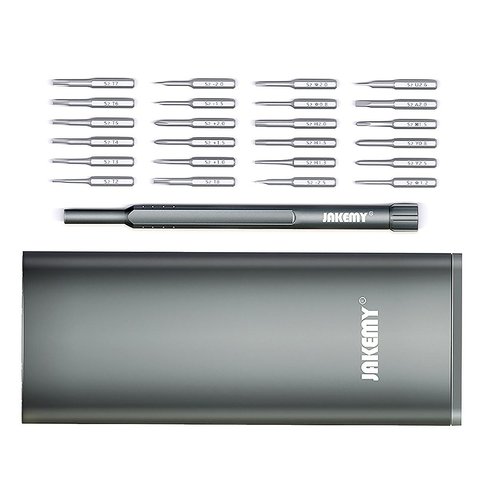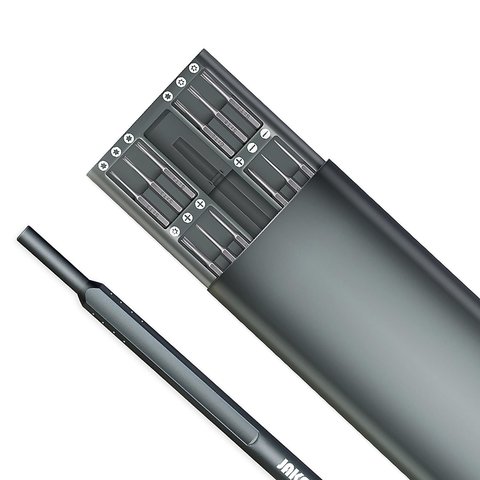 Screwdriver with 24 bits made of tool steel, used to repair digital devices. Comes with an anti-rust aluminum storage box.
Jakemy JM-8168 kit includes a screwdriver handle and 24 magnetic bits: Pentalobe 0.8 for iPhone, Pentalobe 1.2 for MacBook, a set of Torx bits (number 2 to 8), and also Hex, Philips, Slotted, Tri-Wing, U-shape, Triangle, and a rare Philips Mainboard bits.
Bits' working part length is 12 mm, which is 30% more than other most common bits. This makes the connection between a bit and the holder more sound. Another specific feature is that the kit comes with a Phillips Motherboard 1.5 bit designed for repairing motherboards. Jakemy JM-8168 is used to repair laptops, tablets, smartphones, watches, and other electronic devices for everyday use.
Features
Includes 24 bits: Torx (T2, T3, T4, T5, T6, T7, T8), Hex (H1.3, H1.5, H2.0), Philips (1.0, 1.5, 2.0), Slotted (1.5, 2.0, 2.5), Pentalobe (0.8, 1.2, 2.0), Tri-Wing (Y0.8, Y2.5), Mainboard Philips (1.5), Triangle (2.0), U-Shaped (2.6).
Screwdriver and bits are made of high quality tool steel.
Ergonomic screwdriver handle with anti-slip treatment provides comfort and reliability of use.
Supplied in a special anodized and anti-corrosion storage box.
Technical Specifications
Material
alloy steel S2
Handle/Body Material
aluminium alloy
Handle Dimensions
125 mm × 11 mm
Storage Box Dimensions
168 mm × 66 mm × 15 mm
Weight
~ 230 g
Bits
Phillips: 1.0, 1.5, 2.0
Hex: H1.3, H1.5, H2.0
Torx: T2, T3, T4, T5, T6, T7, T8
Slotted: 1.5, 2.0, 2.5
U-Shaped: U2.6
Tri-wing: Y0.8, Y2.5
Pentalobe: 0.8, 1.2, 2.0
Triangle: 2.0
Phillips motherboard: 1.5
Video
Package Contents
Screwdriver Bits Kit Jakemy JM-8168:

Screwdriver Handle — 1 pc.
Bits — 24 pcs.
Storage Box — 1 pc.
Torx Size

T04
T05
T06
T07
T08
T03
T02

Phillips Size
Slot width

SL 2 mm
SL 2.5 mm
SL 1.5 mm

Hex Size

H 1.3 mm
H 1.5 mm
H 2.0 mm

Magnetization