SMD Rework Station ATTEN AT8502D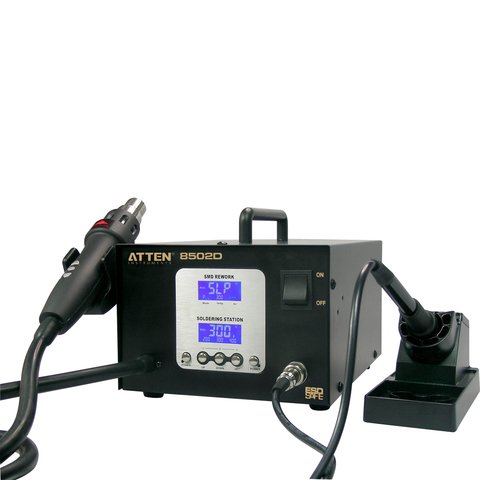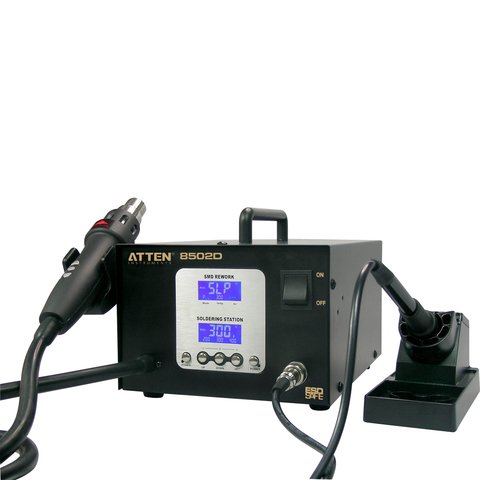 5.5 kg
220 V
Warranty: 6 month (s)
Lead-free soldering station combines hot air gun and soldering iron. Microprocessor controlled unit. Diaphragm pump. Hot air gun auto-cool function. 220 V.
ATTEN AT8502D SMD rework station is a lead free soldering station. ATTEN AT8502D SMD rework station combines both soldering and rework functions being especially suitable for scientific research, development and production lines.
ATTEN AT8502D SMD Rework Station User Manuals
Download ATTEN AT8502D SMD rework station user manual
ATTEN AT8502D SMD Rework Station Features
Dual LCD screen immediately displays working conditions and sets of parameters
Rapid temperature rise
Convertible temperature units °C/°F
Cold air and stopping heating
Hot air gun is compatible with various kinds of nozzles
Sleep mode, automatic switch-off for energy saving
Keys for temperature and air flow adjustment placed right on the handle
Three groups of stored data facilitate usage
Temperature compensation ensures stable temperature state
Malfunction alert (displaying H-E for heating elements and S-E for sensor)
ATTEN AT8502D SMD Rework Station Technical Specifications
Power
Total power
about 900 W max
Hot air gun
about 800 W max
Pump (diaphragm)
40 W
Soldering iron
50 W
Range for temperature controlling
Hot air gun
100-500°C
Soldering iron
200-480°C
Setting storage
Hot air gun
1. 200°C, 40
2. 300°C, 60
3. 400°C, 80
Soldering iron
1. 200°C
2. 300°C
3. 400°C
Air volume
020-100% from max.
ATTEN AT8502D SMD Rework Station Compatibility
ATTEN AT8502D SMD Rework Station Package
Rework station ATTEN AT8502D (1 pc.)
Soldering iron ATTEN 907 (1 pc.)
Iron holder ATTEN 905 (1 pc.)
Twizers (1 set)
Nozzle (1 set)
Power cord (1 pc.)
User manual (1 pc.)
| | |
| --- | --- |
| Pump type | |
| Design type | |
| Vacuum pick-up tool | |
| Desoldering Pump | |
| Power Supply | |
| Soldering Iron Power | |
| Hot Air Gun Power | |
| Desoldering Gun | |

Hot Air Rework Station Accta 401

Hot Air Rework Station Accta 301

Hot Air Rework Station QUICK 706W+ ESD