SUNKKO 850D+ Intelligent Double Display Vortex(L) SMD/BGA Maintenance Station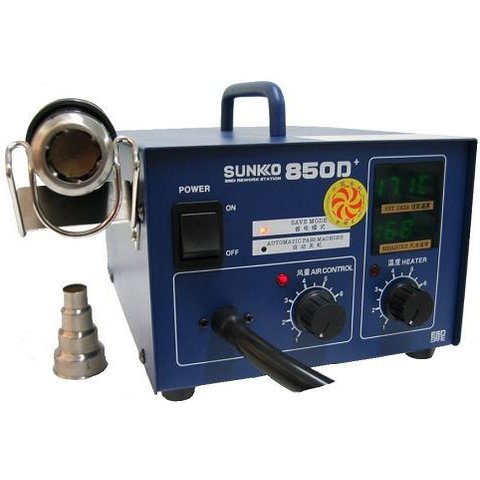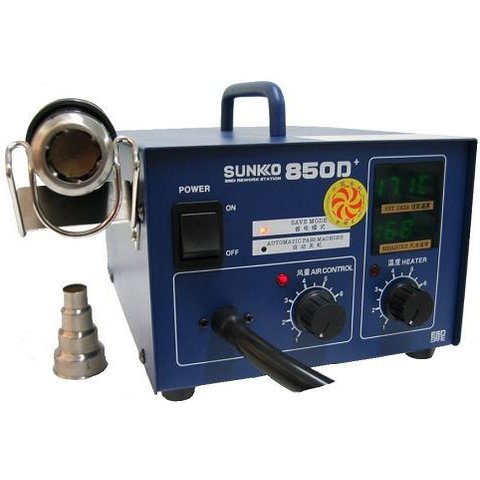 5.43 kg
220 V
Warranty: 6 month (s)
Intelligent Double Display Vortex(L) SMD/BGA Maintenance StationSUNKKO 850D+
FEATURES:
New design of patent vortex(L) handle produces even distribution of hot air on spiral route to cut across at the bottom to protect the component and the printed circuit board. To avoid PCB crooked or BGA blister from partial overheating by traditional centralizing heating technology.
Intelligent detection of auto sleep, auto awake, auto power off and auto cooling to keep energy save and the heating parts long life.
Double display of setting temperature and real temperature for easy checking.
1200W high power and quick thermostat for leadfree soldering.
Suitable for large SMD/BGA and high power heating craftsmanship.
SPECIIFICATIONS:
Power Consumption (Steady): 650W
Temp Range: 150-500 oC
Precision: +/-1 oC
Heater: 750W Ceramic
Air Pump: 50W Diaphragm
Airflow: 0.3-24 L/min
Packing: 33.5x28x19 cm
| | |
| --- | --- |
| Pump type | |
| Design type | |
| Vacuum pick-up tool | |
| Desoldering Pump | |
| Power Supply | |
| Soldering Iron Power | |
| Desoldering Gun | |
| Hot Air Gun Power | |
SUNKKO 850D+ Intelligent Double Display Vortex(L) SMD/BGA Maintenance Station