Arbitrary Waveform / Function Generator RIGOL DG4062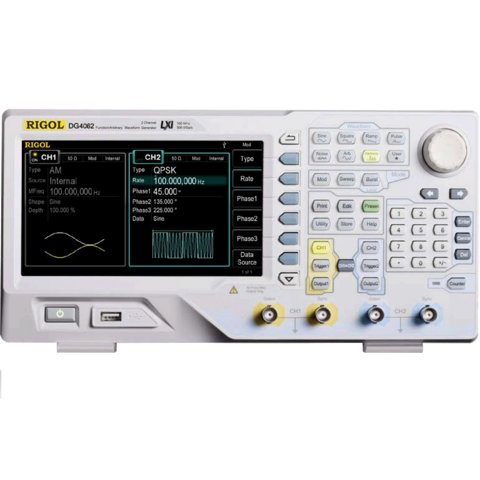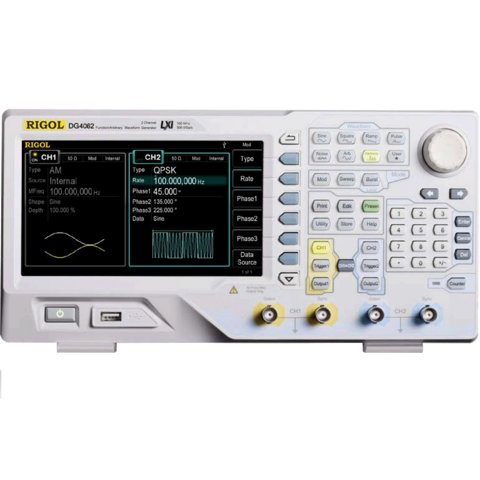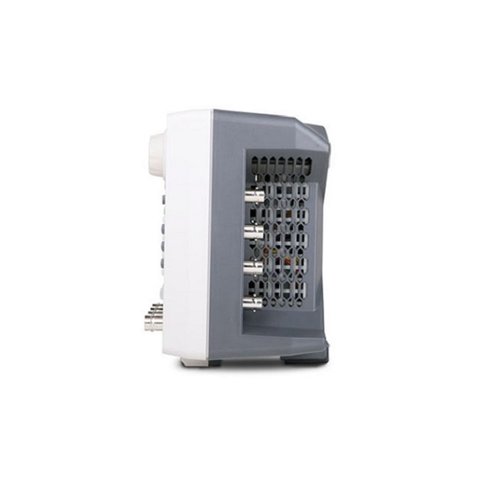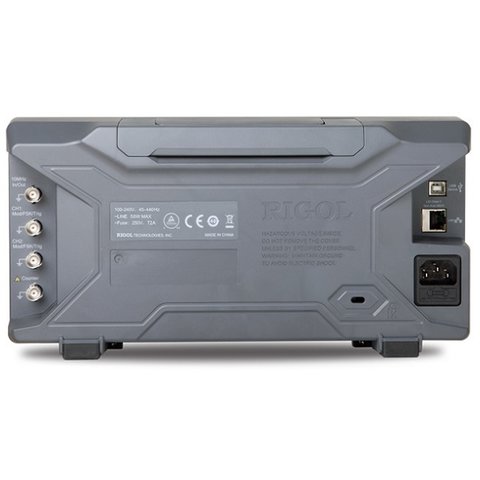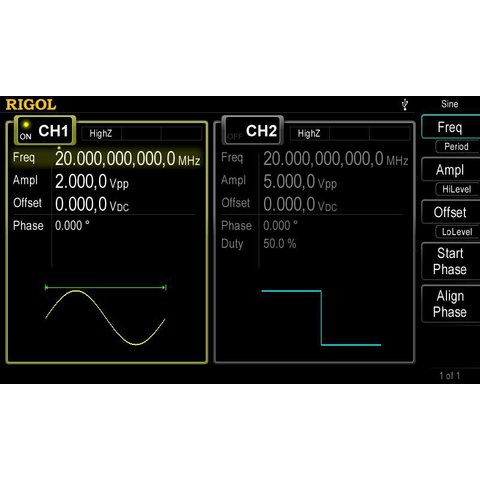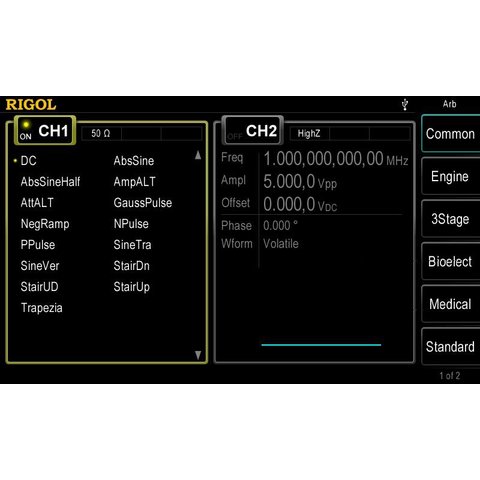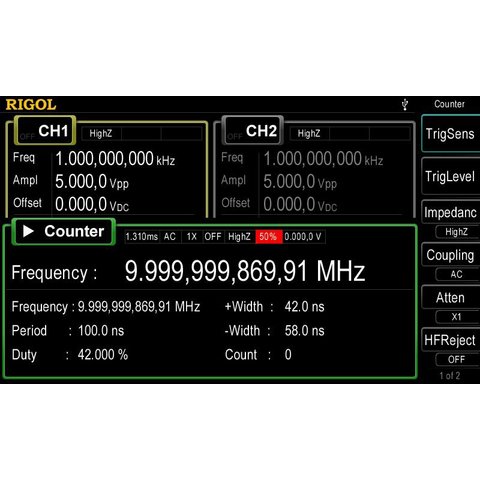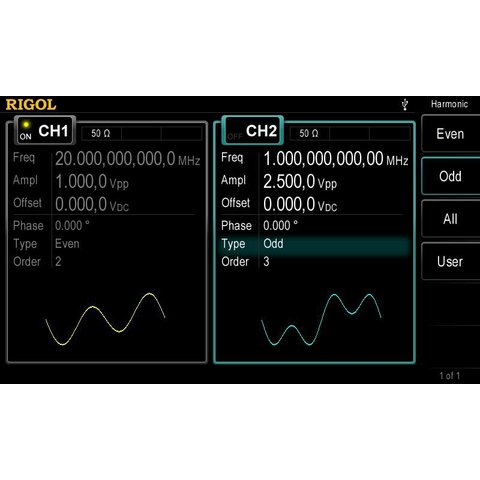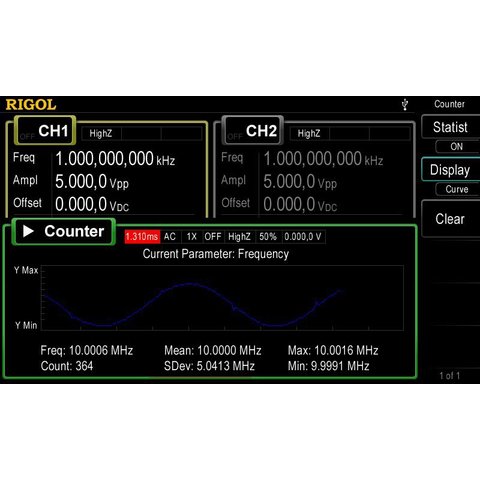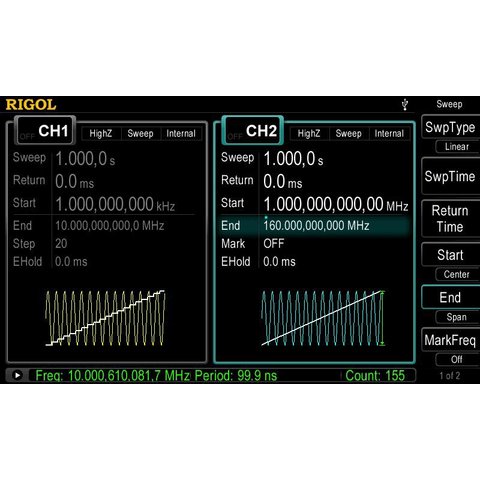 7.8 kg
110, 220 V
Warranty: 36 month (s)
Dual-channel function/arbitary waveform generator, with 60 MHz frequency, 500 MS/s sample rate, 14 bits vertical resolution, 16 K waveform length, modulation functions: AM, FM, PM, ASK, FSK, PSK, BPSK, QPSK, 3FSK, 4FSK, OSK, PWM.
DG4000 series of generators combines many functions, including Function Generator, Arbitrary Waveform Generator, Pulse Generator, Harmonic Generator, Analog/Digital Modulator and Counter.
RIGOL DG4062 arbitrary waveform / function generator adopts the Direct Digital Synthesizer (DDS) technology, can provide stable, precise, pure and low distortion signal. The user-friendly interface design and panel layout of the RIGOL DG4102 gives users exceptional experience. Besides, the remote control of the generator can be easily done through different standard configuration interfaces, which provides more solutions for users.
RIGOL DG4062 Arbitrary Waveform / Function Generator User Manuals
Download RIGOL DG4062 arbitrary waveform / function generator user manual
Data Sheet
Download RIGOL DG4062 Data Sheet.
RIGOL DG4062 Arbitrary Waveform / Function Generator Software
Download RIGOL DG4062 arbitrary waveform / function generator software
RIGOL DG4062 Arbitrary Waveform / Function Generator Features
6 standard waveforms:

Sine
Square
Ramp
Pulse
Noise
Harmonics

Arbitrary waveform function with up to 150 built-in waveforms
500 MSa/s sample rate
2 ppm high frequency stability, -115 dBc/Hz low phase noise
Build-in high precision 200 MHz BW frequency counter
Up to 16 orders Harmonic generation function
7 inch color LCD (800 × 480 pixels)
14 bits vertical resolution
16 K waveform length
RIGOL DG4062 Arbitrary Waveform / Function Generator Technical Specifications
Standard waveforms
Waveforms
Sine, Square, Ramp, Pulse, Noise, Harmonics
Arbitrary waveforms
Sine
1 μHz to 60 MHz
Square
1 μHz to 25 MHz
Ramp
1 μHz to 1 MHz
Pulse
1 μHz to 15 MHz
Harmonic
1 μHz to 30 MHz
White noise
60 MHz Bandwidth
Resolution
1 μHz
Sine wave spectral purity
Harmonic distortion
DC-1 MHz
1 MHz-10 MHz
10 MHz-100 MHz
100 MHz-160 MHz
<-60 dBc
<-55 dBc
<-50 dBc
<-40 dBc
Total harmonic distorion
<0.1%(10 Hz-20 kHz, 0 dBm)
Spurious (non-harmonic)
≤10 MHz
<-65 dBc
>10 MHz
<-65 dBc + 6 dB/octave
Phase noise
10 MHz: ≤-115 dBc/Hz
Square wave characteristic
Rise/fall time
<12 ns
Overshoot
<3%
Duty cycle
≤10 MHz
20.0% to 80.0%
10 MHz-40 MHz
40.0% to 60.0%
>40 MHz
50.0% (fixed)
Jitter
≤5 MHz 2 ppm + 500 ps
Pulse wave characteristics
Pulse period
66.7 ns to 1000000 s
Pulse width
≥18 ns
Overshoot
<3%
Jitter
≤5 MHz 2 ppm + 500 ps
Arbitrary wave characteristics
Waveform length
16 K points
Vertical resolution
14 bits
Sample rate
500 MSa/s
Minimum rising /falling time
<5 ns
Jitter (RMS)
≤5 MHZ 2 ppm + 500 ps
Interpolation method
Close, Linear
Output characteristics
Amplitude
≤20 MHz: 1 mVpp to 10 Vpp
≤60 MHz: 1 mVpp to 5 Vpp
Amplitude accuracy
(1 kHz)
± 1% of setting + 2 mVpp
Amplitude flatness (sine wave relative to 100 kHz)
≤10 MHz: ±0.1 dB
≤60 MHz: ±0.2 dB
DC offset
Range
±5 Vpk ac + dc
Accuracy
1% of setting + 5mV + 0.5% of amplitude
AM modulation
Carrier waveforms
Sine, Square, Ramp, Noise, Arb
Source
Internal / external
Modulating waveforms
Sine, Square, Ramp, Noise, Arb
Depth
0% to 120%
FM modulation
Carrier waveforms
Sine, Square, Ramp, Arb
Source
Internal / external
Modulating waveforms
Sine, Square, Ramp, Noise, Arb
Modulating frequency
2 mHz ~ 50 kHz
PM modulation
Carrier waveforms
Sine, Square, Ramp, Arb
Source
Internal / external
Modulating waveforms
Sine, Square, Ramp, Noise, Arb
Phase deviation
0° to 360°
ASK modulation
Carrier waveforms
Sine, Square, Ramp, Arb
Source
Internal / external
Modulating waveforms
50% duty cycle square
FSK modulation
Carrier waveforms
Sine, Square, Ramp, Arb
Source
Internal / external
Modulating waveforms
50% duty cycle square
3FSK modulation
Carrier waveforms
Sine, Square, Ramp, Arb
Source
Internal
Modulating waveforms
50% duty cycle square
4FSK modulation
Carrier waveforms
Sine, Square, Ramp, Arb
Source
Internal
Modulating waveforms
50% duty cycle square
PSK modulation
Carrier waveforms
Sine, Square, Ramp, Arb
Source
Internal / external
Modulating waveforms
50% duty cycle square
BPSK modulation
Carrier waveforms
Sine, Square, Ramp, Arb
Source
Internal
Modulating waveforms
50% duty cycle square
QPSK modulation
Carrier waveforms
Sine, Square, Ramp, Arb
Source
Internal
Modulating waveforms
50% duty cycle square
OSK modulation
Carrier waveforms
Sine
Source
Internal / external
Oscillation time
8 ns ~ 200 s
PWM modulation
Carrier waveforms
Pulse
Source
Internal / external
Modulating waveforms
Sine, Square, Ramp, Noise, Arb
Width deviation
0% to 100% of Pulse Width
Sweep
Carrier waveforms
Sine, Square, Ramp, Arb
Type
Linear, log or step
Direction
up or down
Start/Stop Frequency
1 μHz to 60 MHz
Sweep time
1 ms to 300 s
Source
Internal/ external/ manual
Burst
Waveforms
Sine, Square, Ramp, Pulse, Noise, Arb
Carrier Frequency
2 mHz to 60 MHz
Burst Count
1 to 1 000 000 or Infinite
Internal period
2 μs to 500 s
Gate source
External trigger
Trigger source
Internal/ external/ manual
General specification
Display
7-inch TFT LCD (800 × 480 pixels)
Interfaces
USB Host (2), USB Device, LAN
Power
100 V ~ 240 V (45 Hz ~ 440 Hz)
Less than 50 W
Dimentions
313 × 160.7 × 116.74 mm
Weight
4.5 kg
RIGOL DG4062 Arbitrary Waveform / Function Generator Package Contents
RIGOL DG4062 arbitrary waveform / function generator (1 pc.)
Power cord (1 pc.)
USB cable (1 pc.)
BNC cable, 1 meter (1 pc.)
RIGOL DG4102 Arbitrary Waveform / Function Generator Optional Accessories
40 dB Attenuator (1 pc.)
Rack Mount Kit (1 pc.)
| | |
| --- | --- |
| Max. signal frequency | |
| Channels | |