Function/Arbitrary Waveform Generator SIGLENT SDG2082X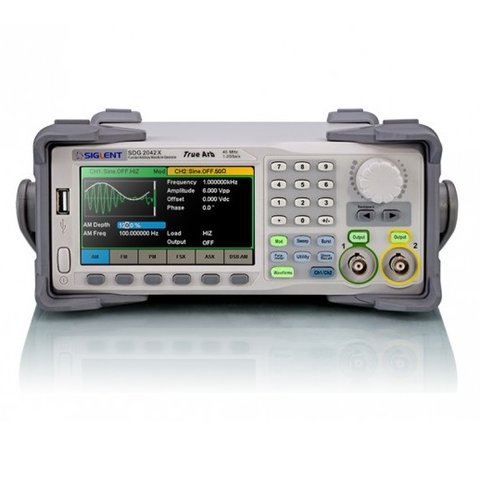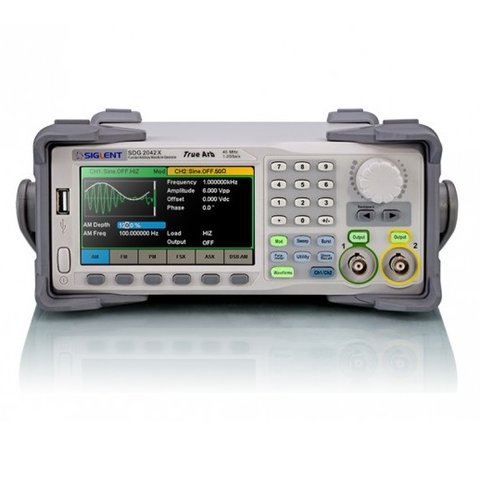 6.5 kg
110, 220 V
Availability in stock:
HK
Warranty: 36 month (s)
Dual-channel function/arbitary waveform generator with 80 MHz max. output frequency, 1.2 GSa/s sample rate, 16 bits vertical resolution.
SIGLENT SDG2082X is a device of SDG2000X series of dual-channel function/arbitrary waveform generators. SDG2000X can provide users with a variety of high fidelity and low jitter signals, which can meet the growing requirements of complex and extensive applications.
Features
Dual-channel, 80 MHz bandwidth, 20 Vpp maximum output amplitude, high fidelity output with 80 dB dynamic range.
High-performance sampling system with 1.2 GSa/s sampling rate and 16-bit vertical resolution.
Innovative TrueArb technology, based on a point-by-point architecture, supports any 8pts~8Mpts Arb waveform with a sampling rate in range of 1 μSa/s ~ 75 MSa/s.
Innovative EasyPulse technology, capable of generating lower jitter Square or Pulse waveforms, brings a wide range and extremely high precision in pulse width and rise/fall times adjustment.
Plenty of analog and digital modulation types: AM、DSB-AM、FM、PM、FSK、ASK and PWM.
Sweep and Burst functions.
High precision Frequency Counter.
Standard interfaces: USB Host, USB Device (USBTMC), LAN (VXI-11). Optional interface: GPIB.
4.3" touch screen display for easier operation.
Technical Specifications
Model
SDG2042X
SDG2082X
SDG2122X
Bandwidth
40 MHz
80 MHz
120 MHz
Output channels
2
Sampling rate
1.2 GSa/s (4X Interpolation)
Wave length
CH1: 16 Kpts, CH2: 512 Kpts
Frequency resolution
1μHz
Vertical resolution
16 bit
Standard interfaces
USB Host, USB Device (USBTMC), LAN (VXI-11)
Dimensions, W×H×D
260.3mm×107.2mm×295.7mm
Weight
3.43 kg
Video
Package Contents
Siglent SDG2082X Function/Arbitrary Waveform Generator — 1 pc.
Power Cord — 1 pc.
USB Cable — 1 pc.
Guarantee Card — 1 pc.
| | |
| --- | --- |
| Channels | |
| Max. signal frequency | |