AOYUE Int 853A Quartz Infrared Preheating Station Review
This review deals with Int 853A quartz infrared preheating station manufactured by Chinese company AOYUE. I am going to tell you more about technical specifications, working peculiarities and design features of this equipment.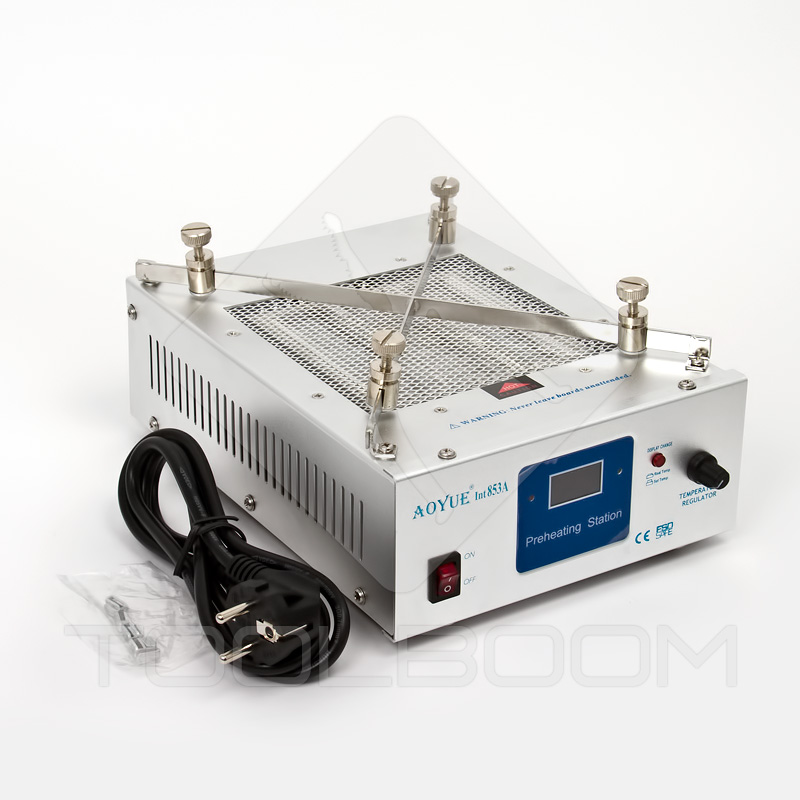 AOYUE Int 853A Quartz IR Preheating Station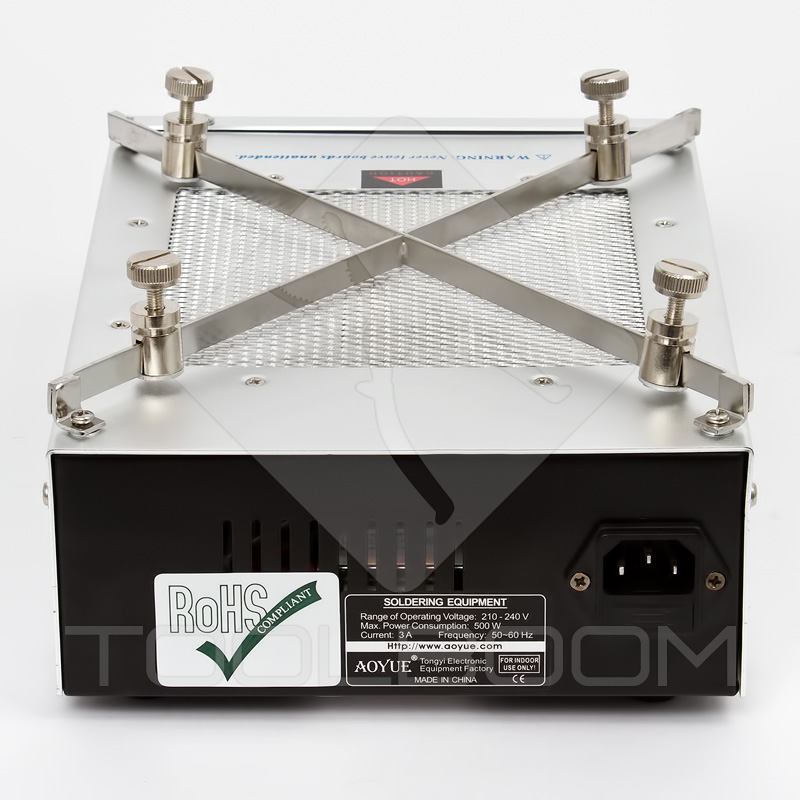 AOYUE Int 853A Quartz Infrared Preheating Station Back Panel
AOYUE Int 853A Quartz Infrared Preheating Station Technical Specifications
| | |
| --- | --- |
| Heating element | Quartz with spiral filament. Infrared radiation heater. |
| Power Supply, V | 210-240 |
| Power Consumption, W | 500 |
| Preheater Dimensions, mm | 110 × 97 |
| Test Probes | K-type thermocouple |
| Temperature Range, ºC | 50 to 380 |
| Dimensions (D × W × H), mm | 260 × 190 × 130 |
| Weight, kg | 1.7 |
AOYUE Int 853A Quartz infrared preheating station is a compact device designed for preheating printed circuit boards or their parts to prevent PCB bending and accelerate solder melting. The preheater provides uniform heating of small electronic circuit boards, such as graphics cards. A board holder for PCB fixation is mounted on the upper part of preheater. It is screwed can be easily removed.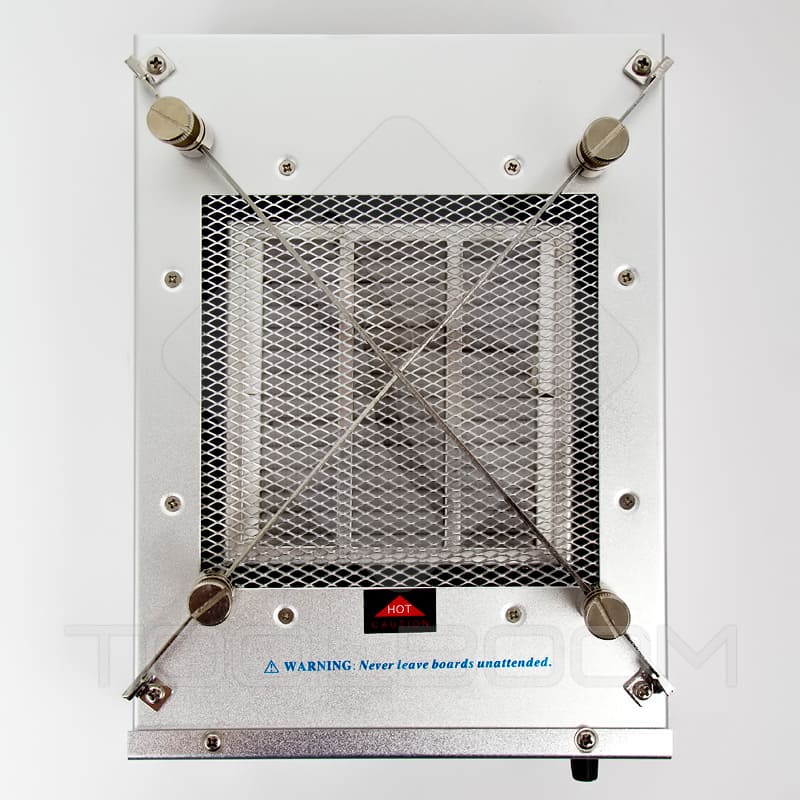 AOYUE Int 853A Fixing Arms
A PCB is securely fixed by adjustable fixing arm. You can also lock a board with screws.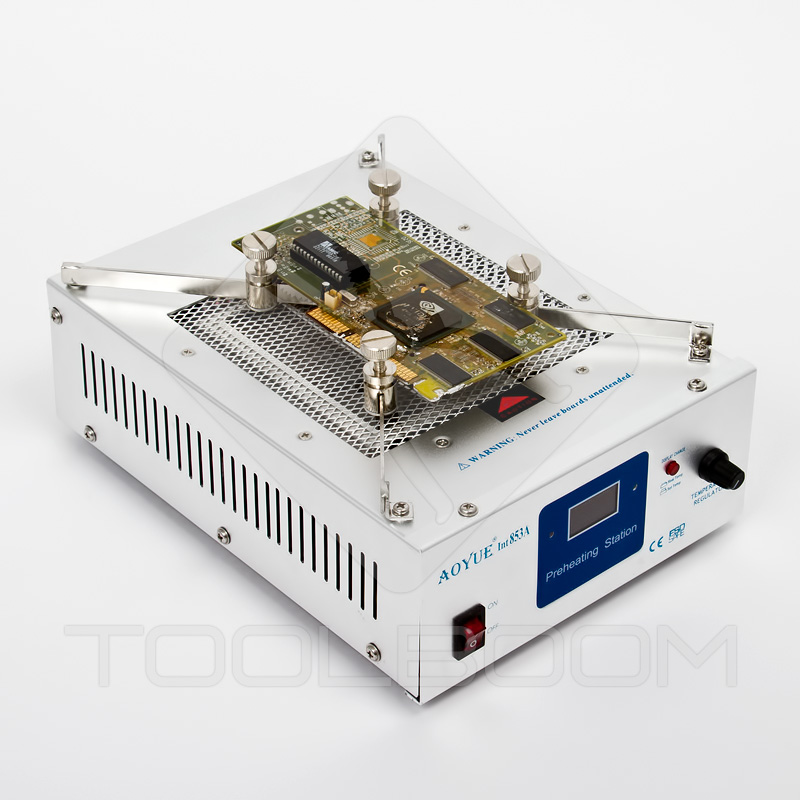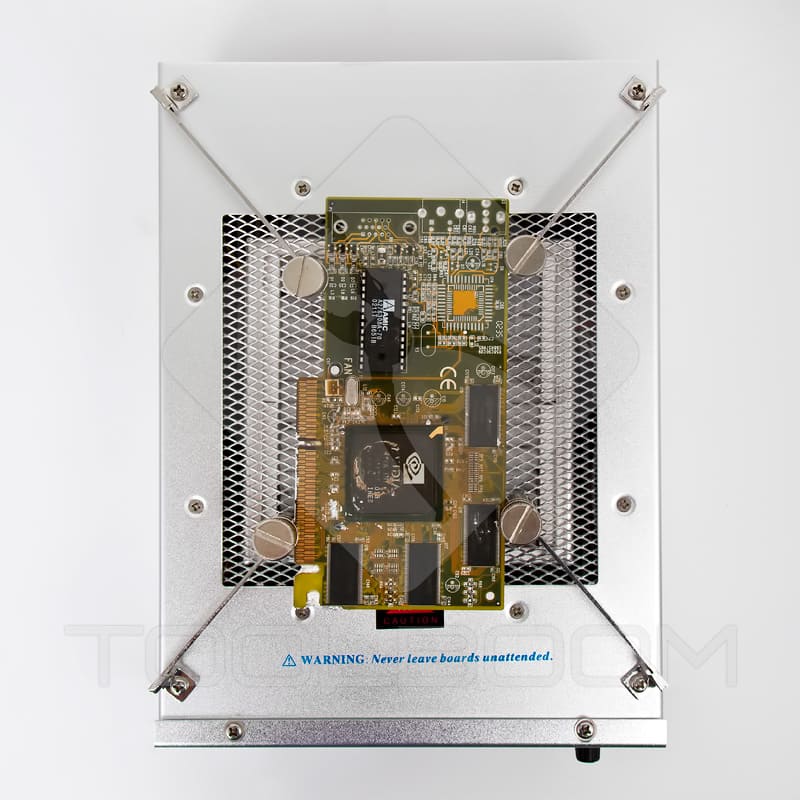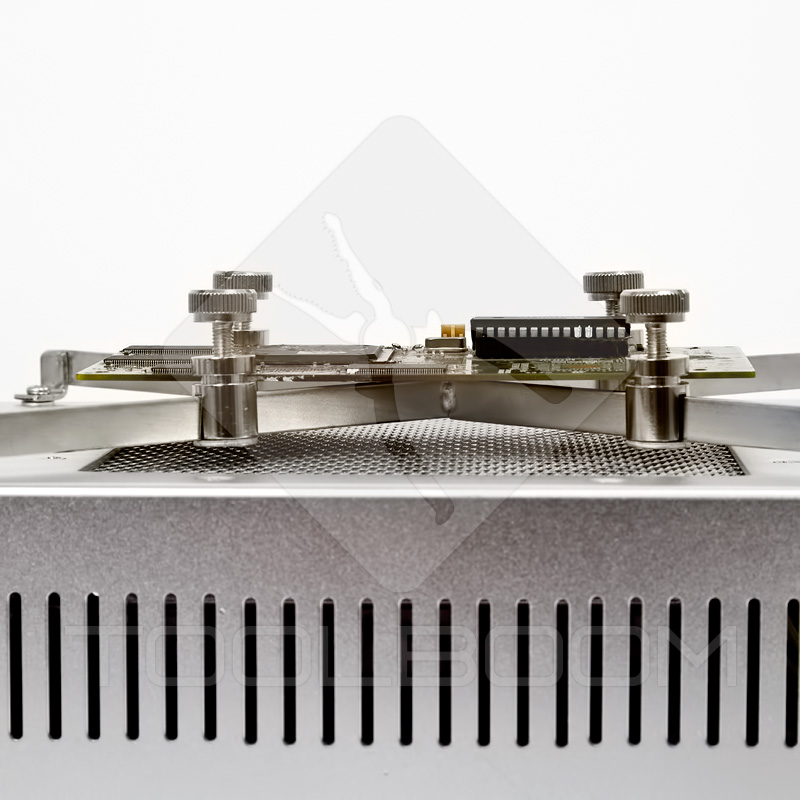 Fixed Board
The heating element of AOYUE Int 853A preheater uses a spiral filament as the emitting body and a quartz tubes. A temperature sensor is located among tubes.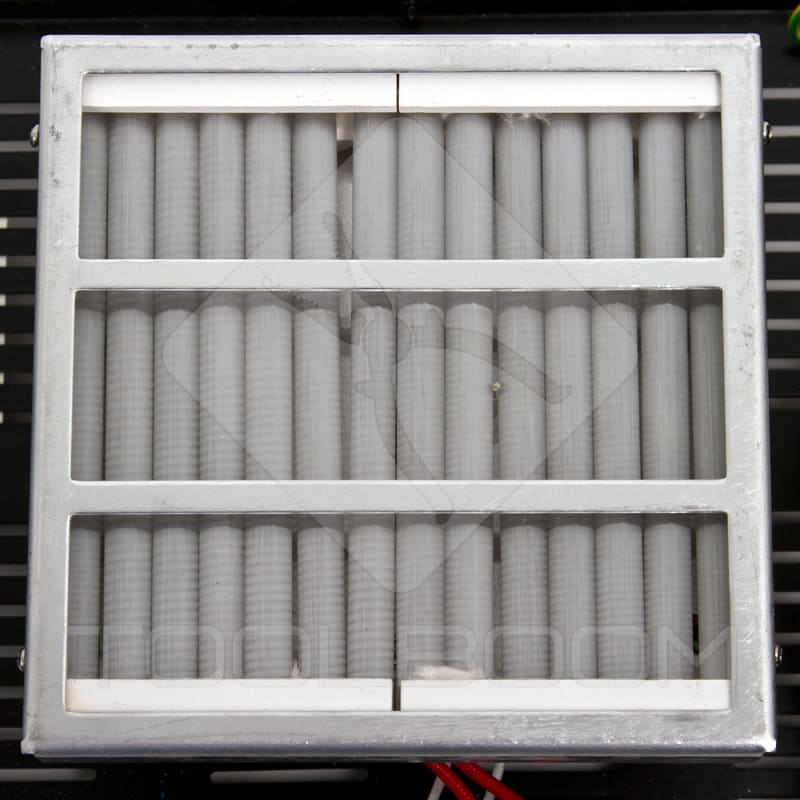 AOYUE Int 853A Quartz Infrared Heating Element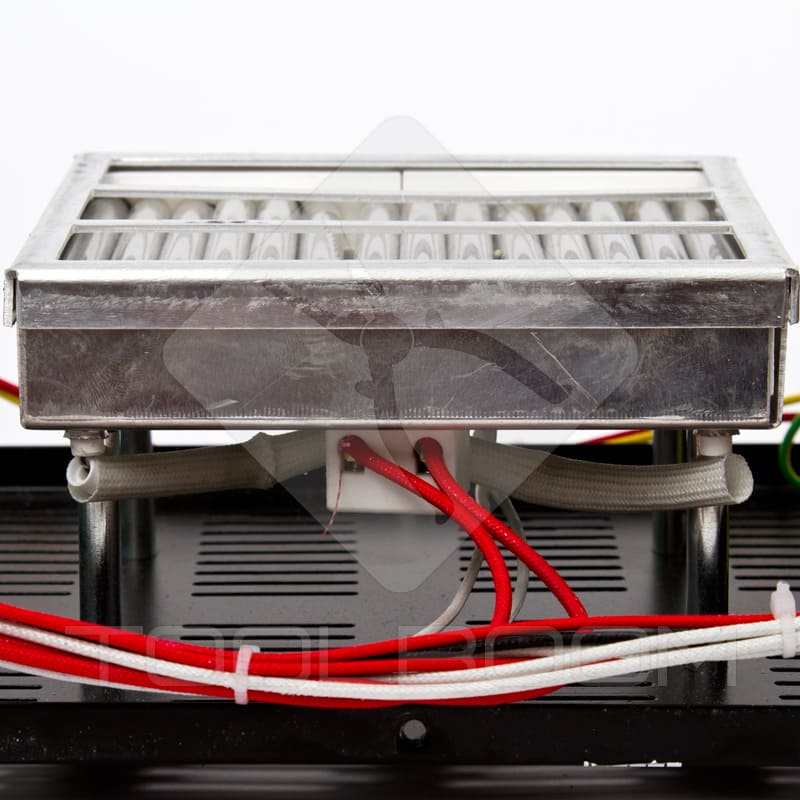 Heating Element of AOYUE Int 853A Quartz Infrared Preheater
The heating element warms up evenly across the surface. It takes up to 1 min 40 s for preheater to reach maximum temperature rate of 380 ºC. Thereby the bottom part of board is warmed up to 160 ºC, and the temperature of upper part is 100 ºC. The temperature sensor installed in the heating element does not show the correct value. The 60 ºC temperature is displayed at the moment when the infrared preheating station is turned on. The actual temperature values differ from displayed ones. I have used UNI-T UT325 digital thermometer to get the correct temperature values. The difference between the readings of two thermocouples was 20 degrees. This should be considered during the work.
Heating process has some peculiarities. The infrared preheater switches to heating mode when the required temperature is set. The heating turns off after system reaches needed temperature level. The heating element cools down to a temperature of about 20 degrees below the set one. Then it starts heating up again. Thus, there are short warming up and long cooling down periods. The temperature of installed PCB surface is stable. A board is preheated evenly.
It is easy to control the AOYUE Int 853A infrared preheater. A power button, a temperature regulator, a set and actual temperature switch and display are located on the back panel. Green light indicates the heating mode and red light informs that the preheater is cooling down.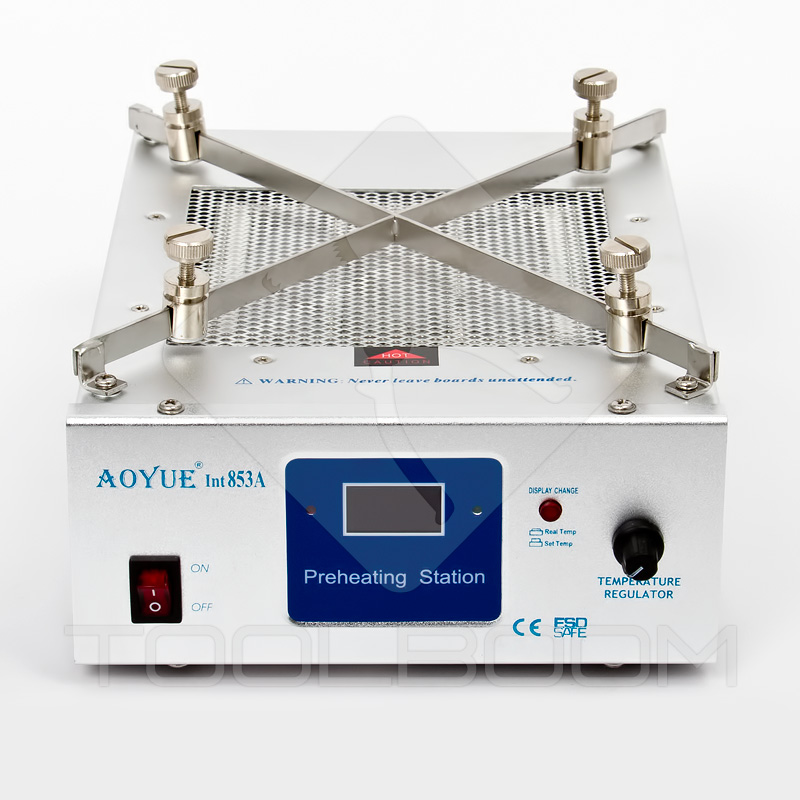 AOYUE Int 853A Infrared Preheating Station Control Panel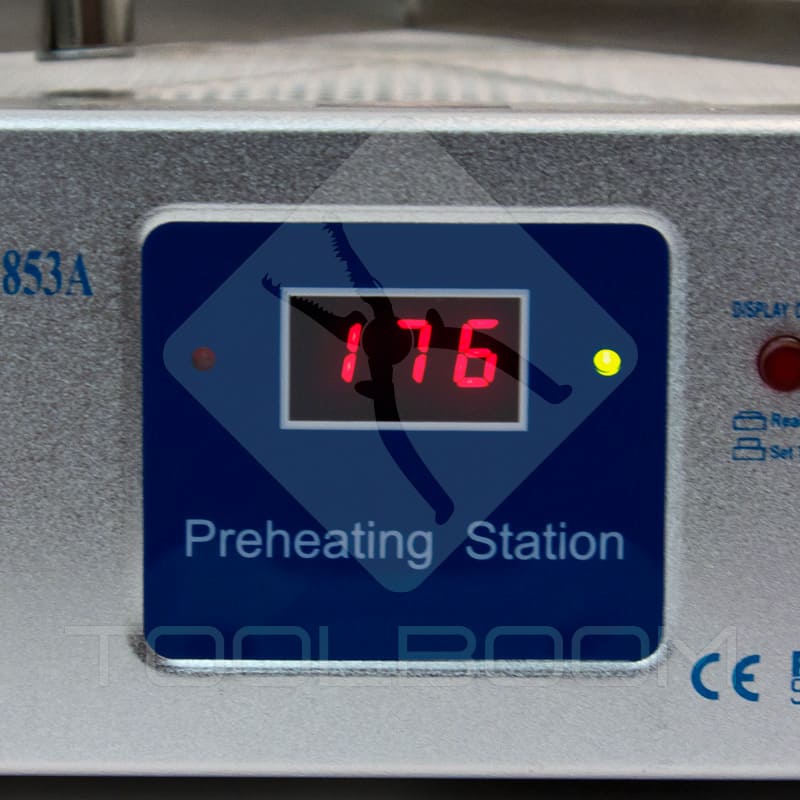 Heating Mode of AOYUE Int 853A Quartz Infrared Preheater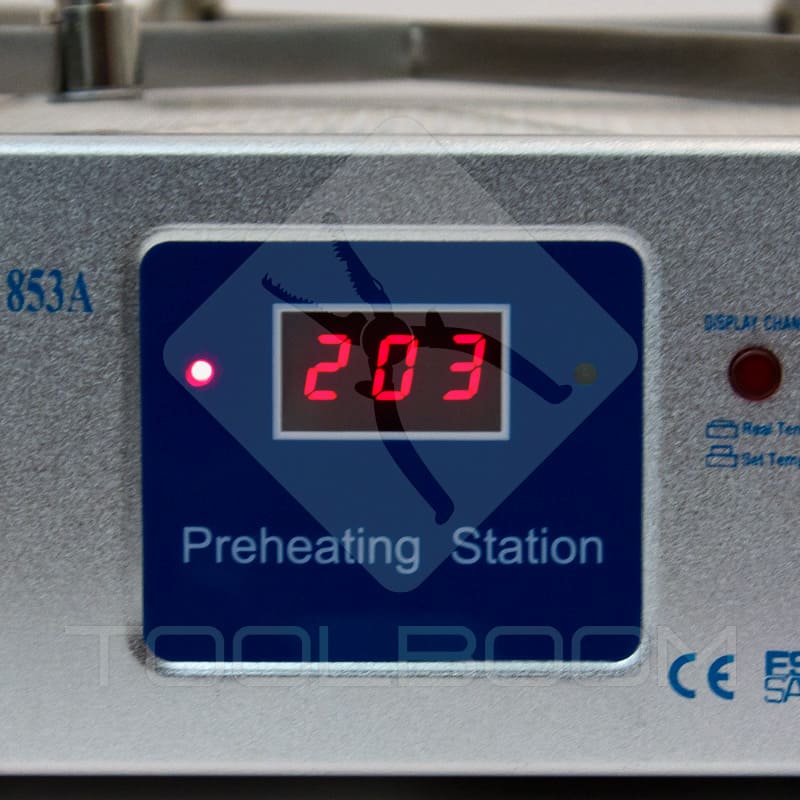 Cooling Mode of AOYUE Int 853A Quartz Infrared Preheating Station
Electrical parts of this PCB preheating station are securely fixed. All elements are connected to a control board with cables. So the control board can be removed if necessary.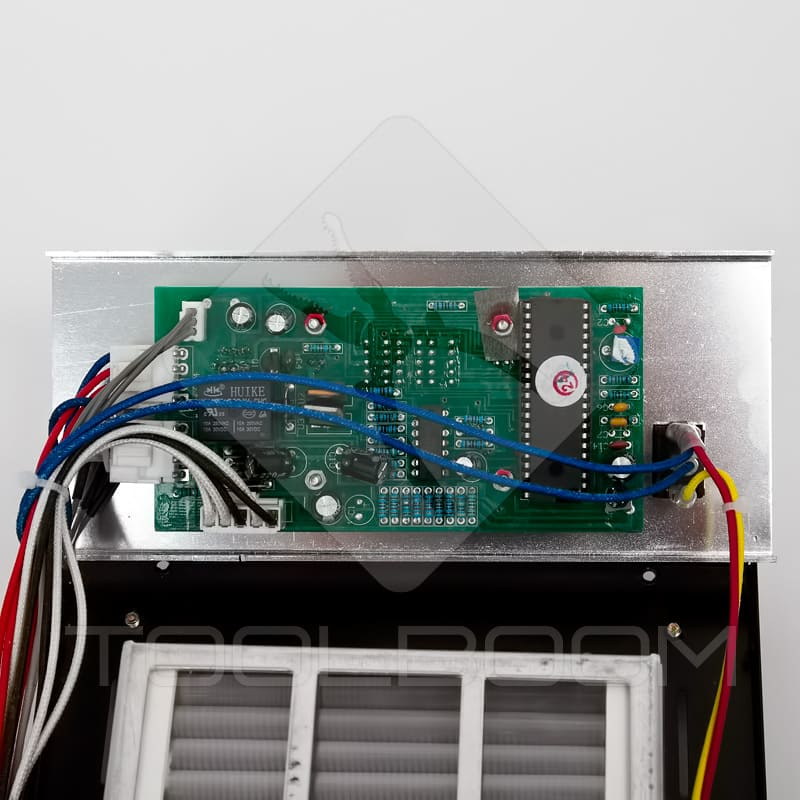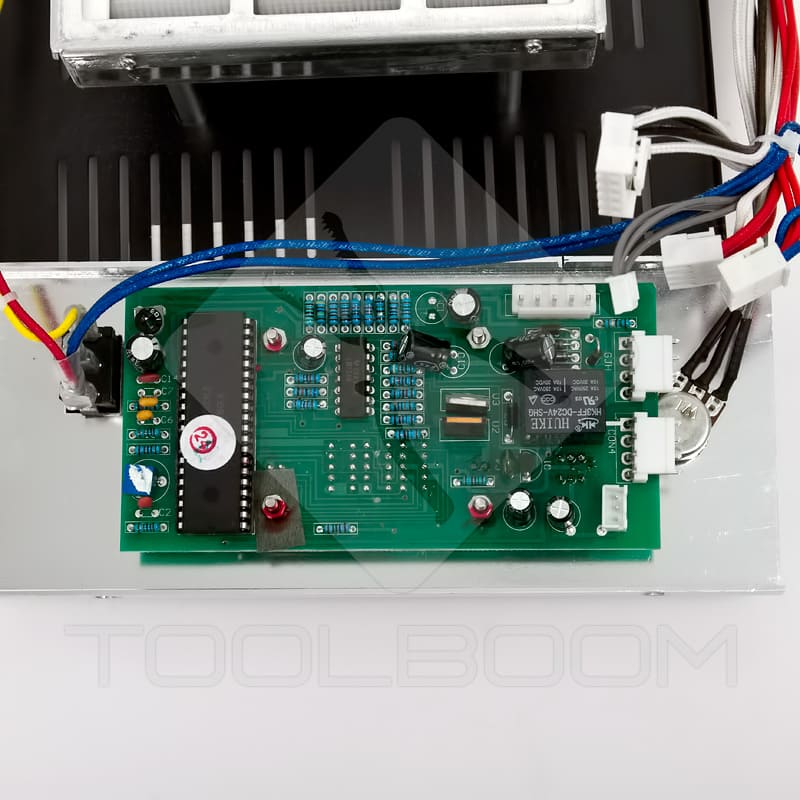 AOYUE Int 853A Quartz Preheater Control Board
Control circuit is powered by transformer.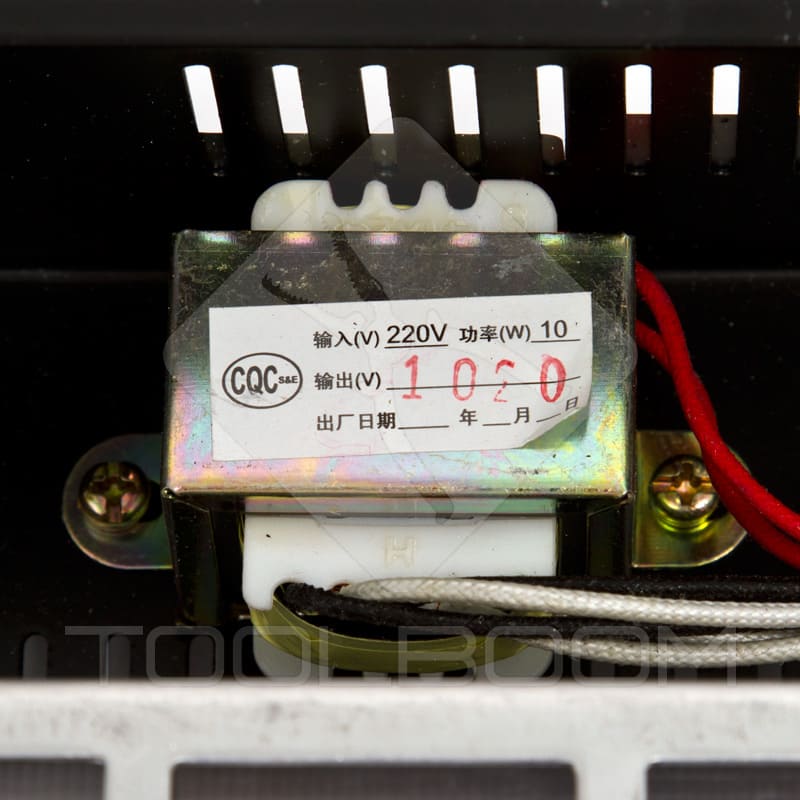 AOYUE Int 853A Infrared Preheating Station Transformer
AOYUE Int 853A board preheater is packaged in a compact cardboard box.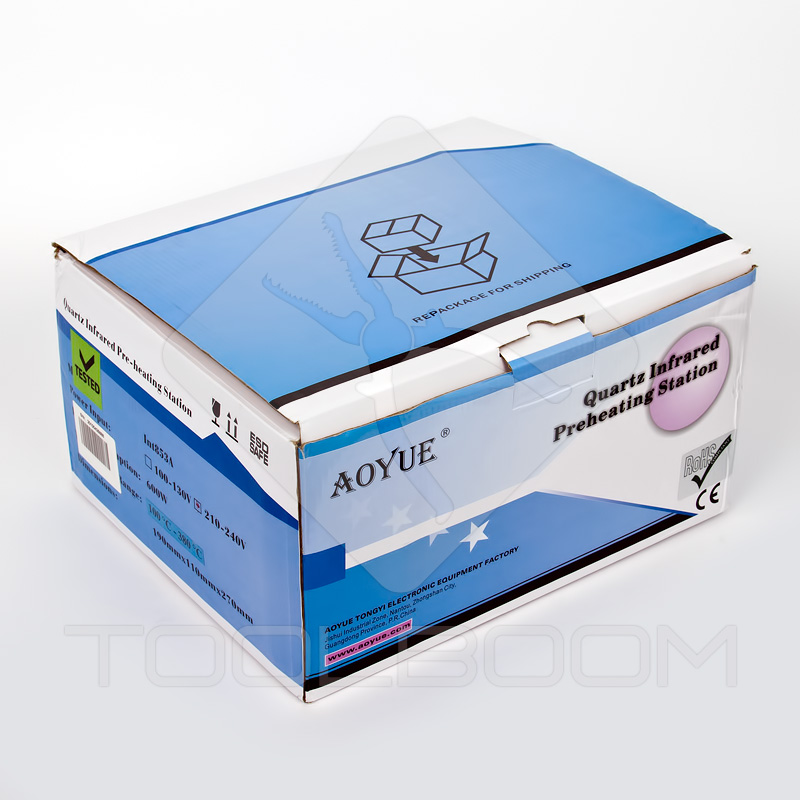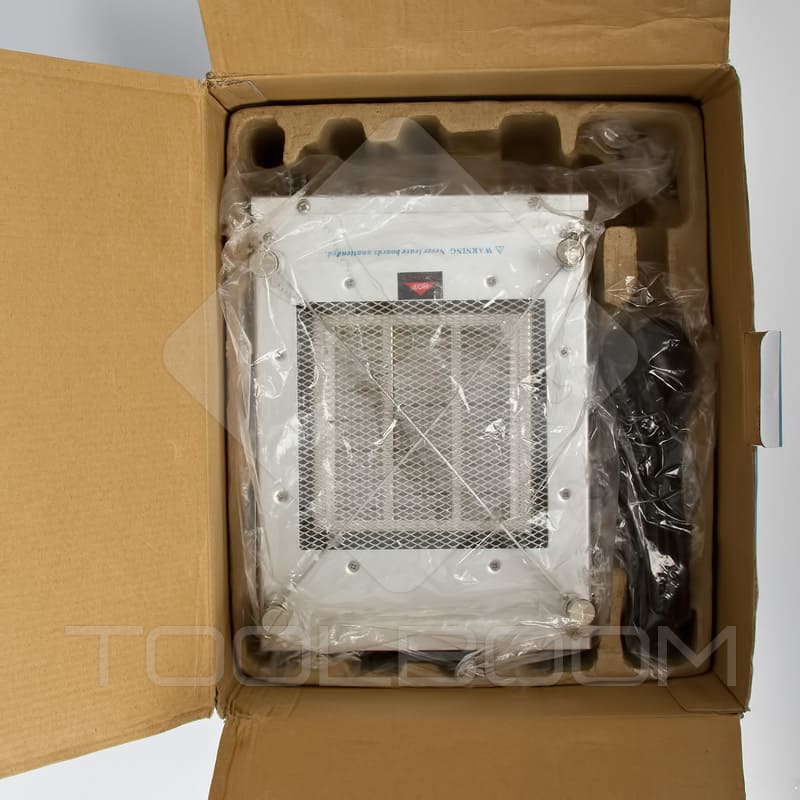 AOYUE Int 853A IR Preheater Packaging
Conclusion
Our testing has shown that AOYUE Int 853A preheater is ideal for repairing small electronic boards. In comparison with more powerful and larger AOYUE Int 863 and AOYUE Int 883 infrared preheating stations this device has a smaller operating temperature range and can't melt the solder by itself. Despite this, it is good for preheating PCBs. Also, the AOYUE Int 853A rework preheater does not allow setting temperature profiles. It is not crucial for tasks this infrared preheating system is usually used for.
You can buy AOYUE Int 853A infrared preheating station at ToolBoom online store.
Sergiy Safonyuk
Technical specialist of ToolBoom online store
See also: Infrared Soldering Station, Soldering Iron, Hot Air Soldering Station.
All rights reserved. This material from toolboom.com web site may not be published, rewritten or redistributed in whole or part without authorship indicated and backlinks provided.
Customers Feedback