BGA Rework System Quick EA-H15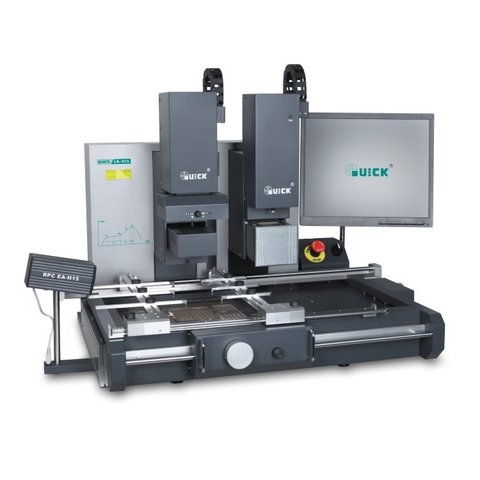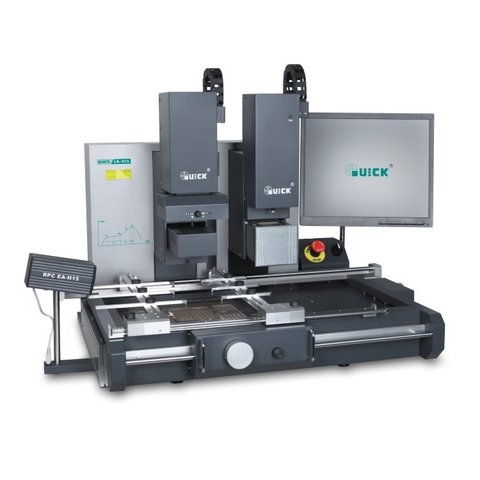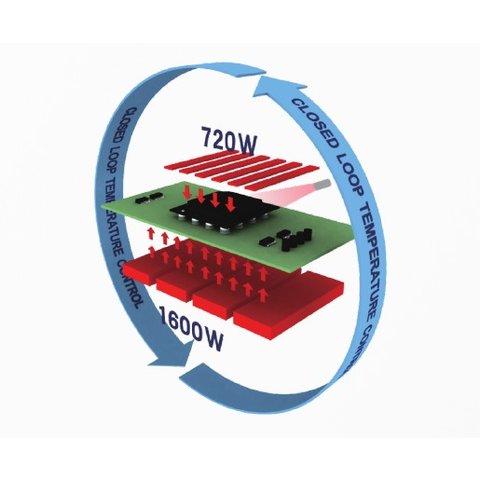 144 kg
220 V
Availability in stock:
HK
Warranty: 12 month (s)
Repair system with the increased power (2400 W) for soldering and desoldering various components.
Note! This item is shipped within 7 working days.
Quick EA-H15 – repair system with the increased power for soldering and desoldering various components.
The system is an upgraded version of QUICK BGA2015 station and consists of the QUICK IR EA-H15 infrared rework station, QUICK PL EA-H15 precise laser mounting system, QUICK RPC EA-H15 visualization camera.
Features
Perfect for soldering and reworking of CBGA, CCGA, CSP, QFN, MLF, PGA and others.
Infrared temperature sensor monitors BGA surface temperature directly, realize close loop control, ensure precise temperature technical window and even heat distribution.
PL Precise aligning and placing system: visible double-colors optical lens alignment, overlap alignment between solder ball and soldering pad is scientific and accurate; easy control, and pick-up and placement.
The whole process can be recorded, controlled and analyzed and then generate curve diagram by connecting to PC using IRsoft Software.
Programmable soldering control system, 10 modes storage memory, password protection
Bottom heater large size prevents the PCB from irregular heating and damage
Microprocessor control and low-inertial heaters ensure the maximum thermal stability
Laser LED pointer to highlight the operation area center
Built-in vacuum pump for component pick-up (max 0.05 MPa)
Upper LED light: blue color, adjustable brightness
Lower LED light: yellow color, adjustable brightness
Multi-purpose holder frame with flexible fixation for tiny and complex-shape PCBs included
Monitor (option)
Upper and bottom cooling fans included
Technical Specifications
General Power
2400 W (max.)
Top Heater Power
720 W (120 W×6, infrared heating tube, wavelength: 2~8 µm)
Bottom Heater Power
1600 W (400 W×4, infrared ceramic heater) – standard
2000 W (500 W×4, infrared ceramic heating tubes) – option
Top heater range size
20 ~ 60 mm (X, Y axes alignment)
Bottom Heater Size
260×260 mm
Max PCB Size
400×400 mm
Max SMD (BGA) Components Size
60×60 mm
Temperature Sensor

Infrared

, 0…300°C
Positioning Camera
Magnification:: 220x (22x optical + 10x digital), Horizontal resolution: 480 TV lines, PAL format, power 12 V/300 mA
RPC Visualization Camera
Magnification: 220x (22x optical + 10x digital), Horizontal resolution: 480 TV lines, PAL format
Dimensions (L×W×H)
850×720×730 mm
Weight
~ 75 kg
Video
User Manual

Download Quick EA-H15 Operation Manual.
Compatibility
Main Unit Quick BGA EA-H15 — 1 pc..
Control box
IR Camera RPC
Video line
USB connect line
Video capture card
BGA tool box
Operation Manual
Note! The monitor is not included in the package and may be ordered as an option.
| | |
| --- | --- |
| Bottom heater size | |
| Total power | |
| Control type | microcontroller / PC synchronization |
| Upper heater type | |
| Bottom heater type | |
| Upper heater power | |