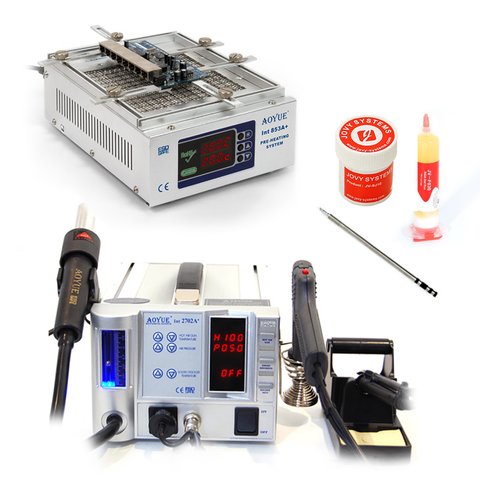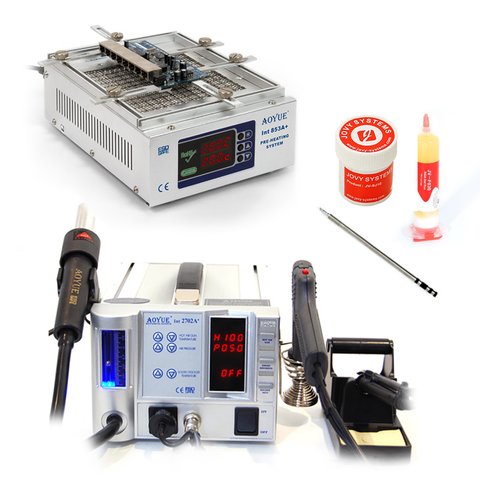 11 kg
220 V
Warranty: 6 month (s)
For electronics repair you will need equipment such as a hot air soldering station, infrared preheater, soldering paste, flux and soldering iron tips. We recommend: AOYUE 2702A+ hot air soldering station, Jovy Systems JV-SJ10 soldering paste, AOYUE Int 853A+ infrared preheater and a Jovy Systems JV-F030 gel flux. When choosing these particular models you will get a 10% discount!

Electronics Repair Equipment Set includes an infrared preheater, a lead-free soldering station and additional consumables for SMD & BGA reballing. The kit will be useful for electronics repair engineers, technicians, hobbyists ets.
AOYUE soldering station, AOYUE infrared preheating station, BGA flux and paste in one kit ensure a wide range of applications for repair works with electronics equipment. This combination of soldering means may satisfy the needs for SMD/BGA rework process, easy and fast DIP IC removal with a desoldering gun, repairing small & middle size PCBs, soldering and desoldering operations.
Applications
BGA / SMD / DIP components rework
Lead-free soldering operations
Cell phone repair
Tablet repair
Photo / video cameras repair
TV repair
Household appliances repair
Medical equipment repair
Package Contents
1. AOYUE 2702A+ (110 V, 220 V) is a 3-in-1 lead-free soldering station which comes with a hot air gun, soldering iron, desoldering gun and smoke absorber. Main features are:
Microprocessor controlled ESD safe unit.
Diaphragm pump.
Hot air gun auto-cooling function.
2. AOYUE Int 853A+ is a powerfull (500 W) quartz infrared preheating station, suitable for the boards up to 120 × 120 mm in size.
3. Jovy Systems JV-F030 (30 ml) is a BGA gel flux with resin-like rheological properties. Excellent solderabillity, with minimal residue, and no need for cleaning.
4. Jovy Systems JV-SJ10 is a paste for BGA ICs soldering (10 ml), containing powder and flux with excellent chemical stability.
5. AOYUE WQ-2BCM is a replacement soldering iron tip for lead-free precision component soldering. It is compatible with AOYUE 720, 732, AOYUE 2900, 2901, AOYUE 2702, 2702A+, 2738, 2738A+, 6031 Sirocco.