Fusion Splicer Fujikura 22S "Kit-A" Plus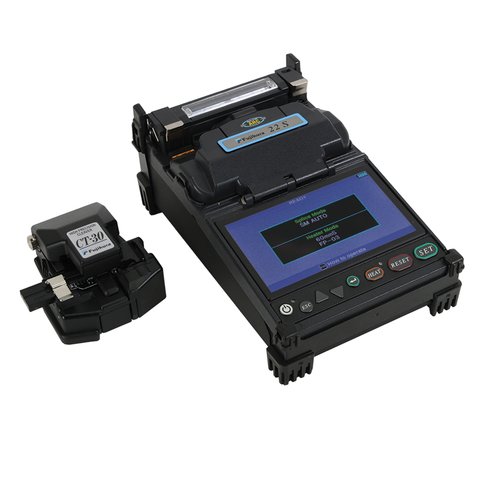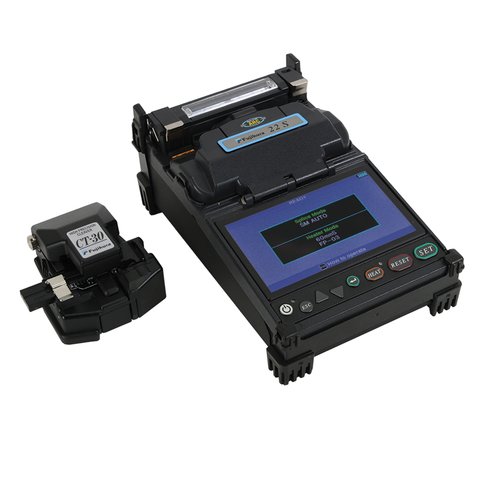 6 kg
110, 220 V
Warranty: 24 month (s)
Fiber optic fusion splicer for SM, MM, DS, NZDS with V-groove fibre alignment. Splicing time: 11 s, tube heating time: 16-25 s.
Fujikura 22S Fusion Splicer is designed for high-end FTTH splicing applications in FTTX, LAN and Access networks.
22s offers an active V-Groove alignment single fibre splicer for reliable and improved splicing performance for a range of different fibres: SMF, MMF, DSF, NZDSF.
Features
World's smallest & lightest active v-groove splicer.
Active V-groove fibre alignment.
11 second splicing in SM-AUTO mode.
200 splicing / tube heating cycles at full battery charge.
Robust and lightweight design plus shock, dust and rain protection.
4.7-inch color LCD for indoor and outdoor use.
Multifunctional carrying case and work table.
USB communication for PC connection.
Technical Specifications
Applicable fibres
Single-mode / SMF (G.652 & G.657), Multimode / MMF (G.651), DSF (G.653), NZDSF (G.655)
Cladding diameter
125 µm / 100 µm to 3 mm with sheath clamp
Cleave length
5 mm to 16 mm
Splice mode / heating mode
Total 100 splice modes / 30 heating modes
Splice loss
0.03 dB (SM), 0.01 dB (MM), 0.05 dB (DS) and 0.05 dB (NZDS). Measured by cut-back method relevant to ITU-T and IEC standards
Splice time / tube heating time
Typical 7 sec with SM / Typical 24 sec with FP-03 (60 mm) sleeve
Splice result storage
Last 2000 splices
Viewing methods / magnification
4.73" TFT colour LCD. 2 axis CMOS camera.
132x magnification. 200x magnification after splicing
Tension test
1.96 N to 2.25 N
Applicable protection sleeve
60 mm, 40 mm and Fujikura micro sleeves
No. of splice / heating per battery full charge
Typical 200 cycles with BTR-11
Electrode life
3000 splices
Size
120 x 189 x 71 mm
Weight
1.14 kg (including battery)
Video
Package Contents
Fujikura 22S Fusion Splicer — 1 pc.
Fujikura CT-30A — 1 pc.
ADC-19 AC adapter — 1 pc.
AC power cord — 1 pc.
CC-29 Carrying case — 1 pc.
ELCT2 -12 Spare electrodes — 1 pair
Instruction manual & PC software CD — 1 pc.
CLAMP S21A Fibre Clamp — 1 pair
USB cable — 1 pc.
Alcoholpot — 1 pc.
Screw driver — 1 pc.
BTR-11 Battery — 1 pc.