Fusion Splicer Fujikura 66S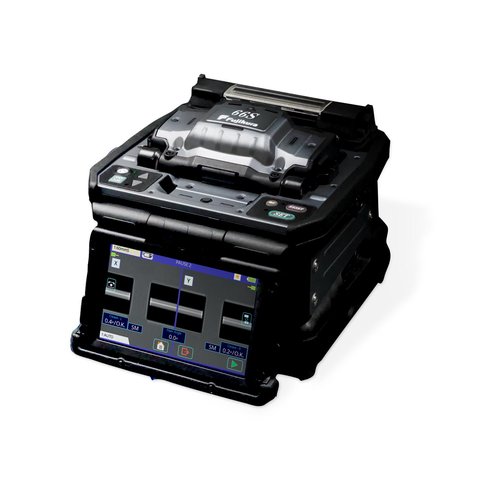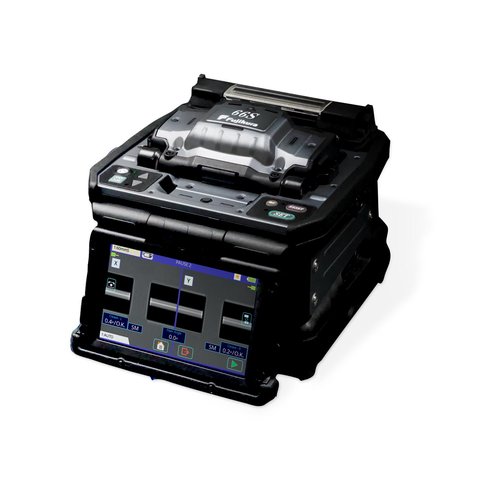 A robust core alignment fusion splicer, providing consistent, low loss, splice performance. Splicing time: 7 sec. Heat time: 25 sec.
Fujikura 66S is a core alignment fusion splicer with PAS (Profile Alignment System) that provides consistence low splice loss and accurate splice loss estimation. Moreover, easy sleeve positioning facilitates a quicker splicing cycle. The fusion splicer is equipped with a 5-inch LCD touch screen.
The compact design and lightweight of the Fujikura 66S make it possible to transport it and use it in the field.
Features
Splicing time: 7 seconds.
Heat time: 25 seconds (for 60 mm sleeves).
Core-to-core alignment by PAS Technology (PAS: Profile Alignment System).
Battery life increased up to 500 recharge cycles.
Increased electrode lifetime – up to 5000 splicing cycles with one set.
5-inch color TFT touch screen display.
Up to 320 times magnifications.
Compact design and high-quality materials.
Technical Specifications
Fiber alignment method
Active core alignment
Fiber count can be spliced
Single fiber
Applicable Fiber
Fiber type
SMF(G.652/657), MMF(G.651), DSF(G.653), NZDSF(G.655)
Cladding dia.
80 um to 150 um
Applicable coating
Sheath clamp
Coating dia.: Max. 3.000 um
Cleave length: 5 mm to 16 mm
Fiber splice performance
Splice loss
ITU-T G.652: Avg. 0.02 dB
ITU-T G.651: Avg. 0.01 dB
ITU-T G.653: Avg. 0.04 dB
ITU-T G.654: Avg. 0.04 dB
ITU-T G.655: Avg. 0.04 dB
ITU-T G.657: Avg. 0.02 dB
Splice time
Typical 7 sec
Applicable protection sleeve
Sleeve type
Heat shrinkable sleeve
Sleeve length
Max. 66 mm
Sleeve dia.
Max. 4.7 mm before shrinking
Sleeve heat performance
Heat time
60 mm mode: typical 25 sec
Fiber tensile test force
Approx. 2.0N
Electrode life
Approx. 5000 splices
Dimensions (W × D × H)
170 × 173 × 150 mm
Weight
2.7 kg (including battery)
Environmental condition
Temperature
Operate: -10°C - +50°C
Storage: -40°C - +80°C
Humidity
Operate: 0% - 95% RH non-condensing
Storage: 0% - 95% RH non-condensing
Altitude
Max. 5.000 m
AC adaptor
Input
AC 100 to 240 V, 50/60 Hz, Max. 1.5 A
Output
Approx. DC 12 V, Max. 7 A
DC adaptor
Input
DC 10 to 15 V, Max. 7 A
Output
DC 10 to 15 V, Max. 7 A
Battery pack
Type
Rechargeable Lithium Ion
Output
Approx. DC 14.4 V / 6,380 mAh
Capacity
Approx. 300 splice and heat cycles
Temperature
Operate: -10°C - +50°C
Recharge: 0°C - 40°C
Storage: -20°C - +30°C
Recharge
5 to 8 hours from empty
Battery life
Approx. 500 recharge cycles
Display
LCD
TFT 5 inches with touch screen
Magnification
200 to 320x
Illumination
V-grooves
LED lamp
Interface
PC
USB2.0 Mini B type
External LED lamp
USB2.0 Mini A type Approx. DC 5 V, 500 mA
Ribbon stripper
Mini DIN 6pin DC12 V, Max. 1 A
Data storage
Splice mode
100 splice modes
Heat mode
30 heat modes
Splice result
20 000 splices
Splice image
100 images
Screw hole for tripod
1/4-20UNC
User Manual

Donwload Fujikura 66S user manual.
Package Contents
Fusion Splicer Fujikura 66S — 1 pc.
Battery pack (BTR-15) — 1 pc.
AC adapter (ADC-20) — 1 pc.
AC power cord (ACC-15, EU type) — 1 pc.
USB cable (USB-01) — 1 pc.
Fusion splicer strap (ST-02) — 1 pc.
Electrodes (ELCT2-16B) — 1 set
Fiber holder set plate (SP-03) — 1 set
Carrying case (CC-38) — 1 pc.
Tripod screw (TS-03) — 1 pc.
Carrying case strap (ST-03) — 1 pc.
Alcohol dispenser (AP-02) — 1 pc.
Quick reference guide (QRG-05-E) — 1 pc.
Wireless, PC and clamp setting guide (SG-06-E) — 1 pc.
Warning and cautions (WAC-02-E) — 1 pc.
Splice test report (eng.) — 1 pc.
Single fiber stripper (SS03) — 1 pc.
Optical fiber cleaver (CT-08 with AD-10-M24) — 1 pc.
Fiber scrap collector (FDB-04) — 1 pc.
Fiber setting plate (AD50) — 1 pc.
Case for cleaver (CC-34) — 1 pc.
Hexagonal wrench (HEX-01) — 1 pc.
Instruction manual (M-CT08-E) — 1 pc.