Fusion Splicer Fujikura 80C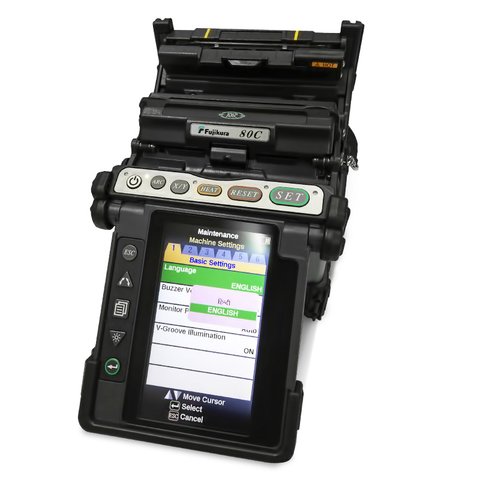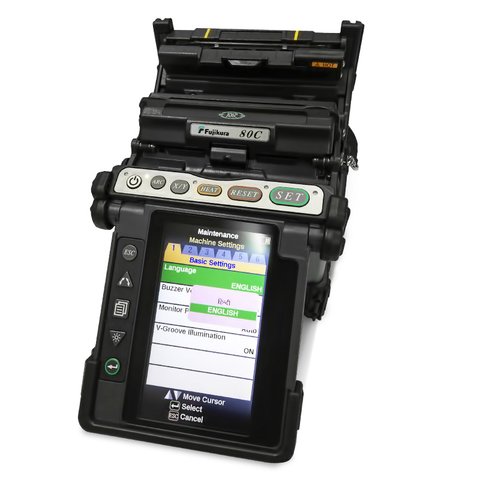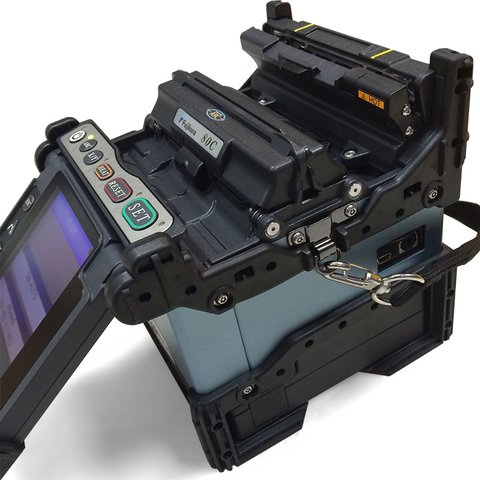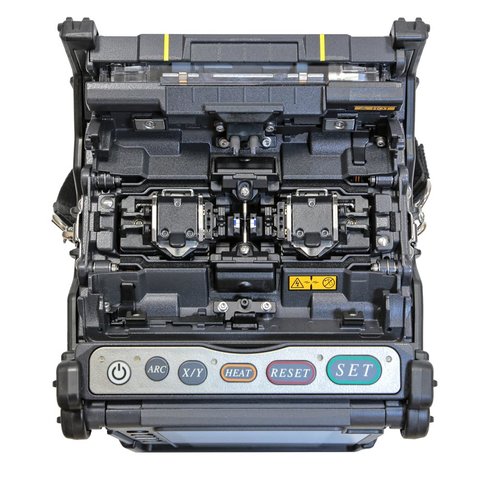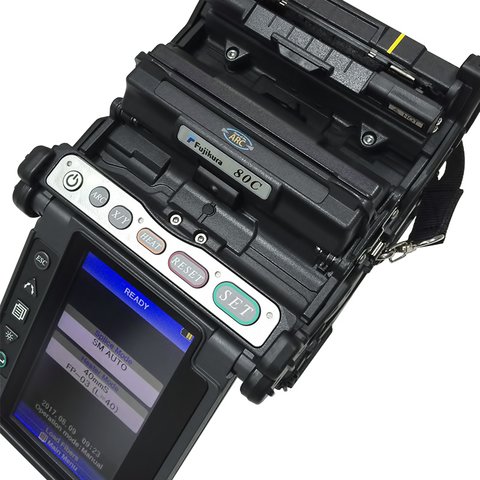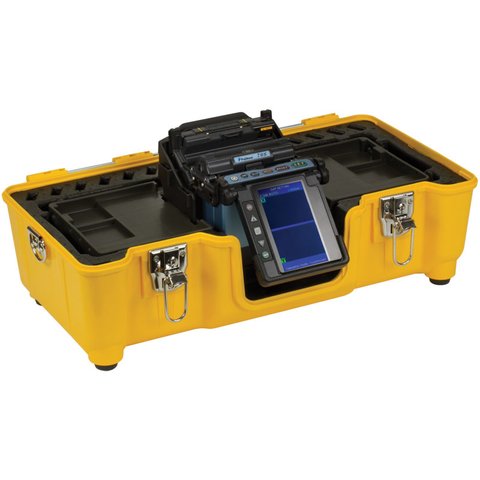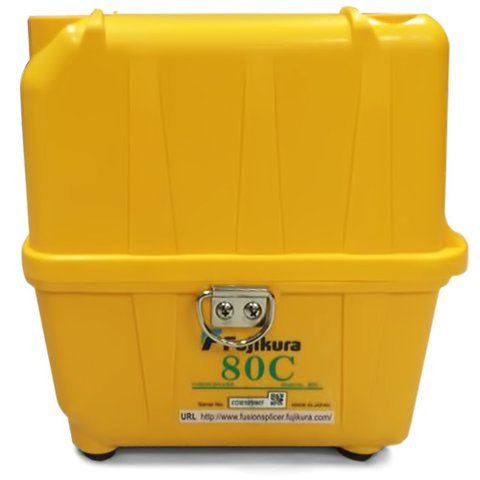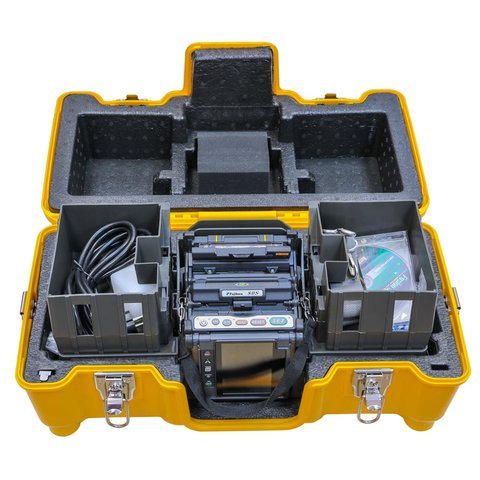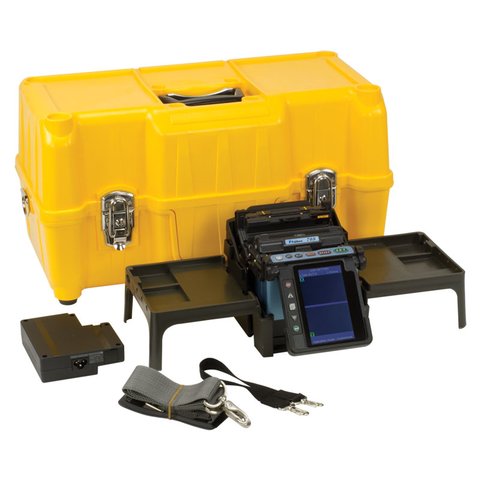 18 kg
110, 220 V
Warranty: 24 month (s)
Core-to-core alignment single fiber splicer for single-count optical fibers: SM (G.652/657), MM (G.651), DSF (G.653), NZDSF (G.655) for telecommunication use, PON/FTTx networks, etc. Splicing time: 6 s, heating time: 9 s.
Fujikura 80C Fusion Splicer is core-to-core alignment single fiber splicer designed for splicing single-count optical fibers: SM (G.652/657), MM (G.651), DSF (G.653), NZDSF (G.655) for telecommunication use, PON/FTTx networks, etc.
Extremely fast splicing takes only 6 seconds, and heating takes only 9 seconds.
The device is optimized for splicing under severe weather conditions, it is protected from stress and shock. It may be powered from 200 V AC, or using a battery (included). For user comfort the package contains a convenient working table, where you may place the needed tools: a cleaver, a stripper, sleeves, etc.
Features
Splices all known types of fibers.
Fiber core alignment.
Typical average splice loss for single mode cable with G.652D fiber is only 0.02 dB.
Highly reduced splicing time – 6 seconds only.
Highly reduced heating time – 9 seconds only.
Increased electrode lifetime – up to 3000 splicing cycles with one set, without splicing quality loss.
Battery life increased up to 200 full splicing/heating cycles.
Rotary color anti-glare LCD 4.73", high contrast and vividness.
Simultaneous display of X and Y axes.
May splice SC, LC, MPO connectors.
Automatic: wind-protective lid, heater, fiber holders.
Increased water, dust and shock resistance, may be used under severe environment conditions.
Automatic arc calibration.
Battery BTR-09 is included.
New comfortable carrying case, optimized for quick operation start.
The case may be used as a working table.
Operation manual is installed into the splicer.
Software update option.
Technical Specifications
Splicing / Heating
Typical Splicing Time
6 sec (for SM)
Typical Heating Time
9 sec (for 60 mm sleeves)
Applicable Fibers
SMF (ITU-T G.652)
MMF (ITU-T G.651)
DSF (ITU-T G.653)
NZDSF (ITU-TG.655)
CSF (ITU-T G.654)
Fiber with low sensitivity to bends (ITU-T G.657)
Erbium-doped fiber
Cladding Diameter
80 μm – 150 μm
Coating Diameter
100 μm – 3,000 μm
Fiber Cleave Length
5 – 16 mm
Typical Average Splice Loss
0,02 dB (SMF)
0,01 dB (mmF)
0,04 dB (DSF)
0,04 dB (NZDSF)
Splice Loss Estimate
core
angular offset
fiber deformation
Return Loss
≤60 dB
Compatible Protection Sleeves
60 mm
40 mm
micro
Splicing Modes
100 user programmable
Heating Modes
30 (10 preset + 20 user programmable)
Internal Memory
up to 2000 splice results and parameters
Additional Options
Mechanical Proof Test
stretching force 1.96 – 2.25 N
Electrodes lifetime
3000 cycles
External Interfaces
USB 1.1, Mini-DIN
Data Display
Screen type
rotary anti-glare LCD
Screen Size
4.73"
Colour
Yes
Viewing
Yes (2 CMOS cameras)
Magnification
х200
Power Supply
Adapter ADC-19
220 V AC
Battery BTR-09
4000 mAh
Battery Cycles
up to 200 splicing/heating cycles
Operation Conditions
Temperature
–10 ~ +50°C
Altitude above sea level
0 ~ 5000 m
RH
0 ~ 95%
Max. wind velocity
34 mph / 15 m/s
Storage Conditions
Temperature
–40 ~ +80 °C
RH
0 ~ 95%
Protection
Shock Resistance
height: 76 cm, any surface
Dust Resistance
dust particles from 0.1 to 500 μm
Rain Resistance
10 mm/h for 10 min
Dimensions & Weight
Width
150 mm
Length
159 mm
Height
146 mm
Weight
2,5 kg (with adapter ADC-18)
2,7 kg (with battery BTR-09)
Data Sheet

Download Fujikura 80C Data Sheet.
Package Contents
Fujikura 80C Fusion Splicer — 1 pc.
ADC-18 power adapter/charger adapter — 1 pc.
AC power cord — 1 pc.
BTR-09 detachable battery pack — 1 pc.
DCC-18 battery charge cord — 1 pc.
JP-06 J-plate — 1 pc.
ELCT2-20A spare electrodes — 1 pair
USB-01 USB cable — 1 pc.
SL-01 sleeve loader — 1 pc.
AP-01 alcohol pot — 1 pc.
SC-01 screwdriver — 1 pc.
CC-30 carrying case — 1 pc.
CD with Data Connection Software and Video Instruction Manual — 1 pc.
Quick reference guide — 1 pc.