Hot Air Soldering Station AOYUE 768 + Soldering Iron + Power Supply (110V)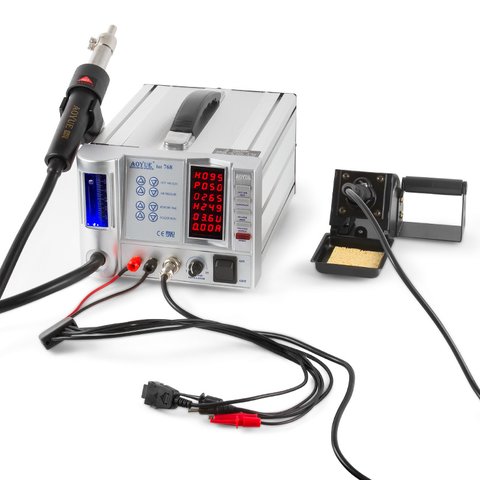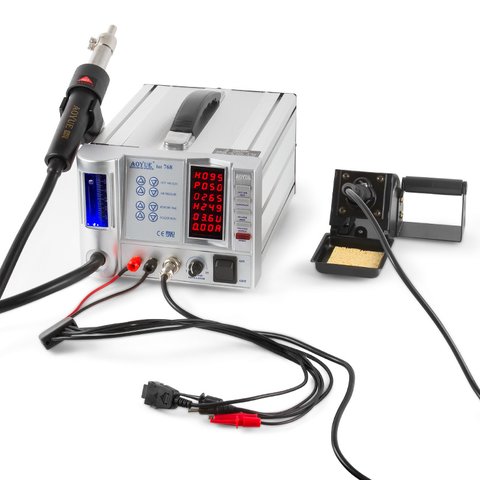 6.55 kg
110 V
Warranty: 12 month (s)
Microprocessor controlled ESD safe unit. All digital display of hot air temperature, soldering iron temperature and air pressure with touch type panel controls.
AOYUE 768 combines the function of a Hot Air Gun, a Soldering Iron and Electric Source. AOYUE 768 is a sufficient system to perform various reworking tasks.
Features
Digital display of hot air gun and soldering iron temperature
Touch type panel controls
Stable power supply of 1.5A / 0-15V
Programmable auto reworking time from 20 to 9999 seconds
Automatic cooling function
Compatible with various type of air nozzles
Compatible with different soldering iron tips
Technical Specifications
General Specifications
Power Input
110 V /  50 Hz
Main Station Dimensions
188 x 126 x 250 mm
Soldering Iron Specifications
Power Consumption
45 W
Temperature Range
200 °C - 480 °C
Heating Element
ceramic heater
Hot Air Gun Specifications
Power Consumption
550 W
Temperature Range
100 °C - 480 °C
Heating Element
metal heating core
Pump Type
diaphragm pump
Air capacity
23 L/min (max)
Power Supply Specifications
Total Current
1.5 A
DC Output Voltage
0-15 V
User Manual
Download AOYUE 768 User Manual.
Application
Complete range of rework applications in medium and large scale service centers
Mobile and radio systems devices repair
Cellular phones, PDAs, handhelds, laptops, notebooks, and motherboards repair
LAN, network nodes, and military communications systems equipment repair
AOYUE 768 main module (1 pc.)
Hot air gun (1 pc.)
Air nozzles (1124, 1130, 1197, 1313, 1818)
Hot air gun holder (1 pc.)
Soldering iron (1 pc.)
Soldering iron holder (1 pc.)
Spare soldering iron heating element (1 pc.)
Vacuum suction pen (1 pc.)
IC extractor (1 pc.)
Power cord (1 pc.)
Compatible Replacement Air Nozzles
Compatible Soldering Tips
| | |
| --- | --- |
| Pump type | |
| Design type | |
| Vacuum pick-up tool | |
| Desoldering Pump | |
| Power Supply | |
| Soldering Iron Power | |
| Hot Air Gun Power | |
| Desoldering Gun | |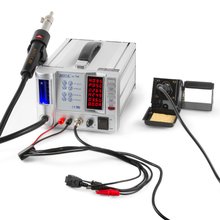 Hot Air Soldering Station AOYUE 768 + Soldering Iron + Power Supply (110V)