Infrared BGA Rework Station Scotle IR-PRO-SC + Reballing Accessories Kit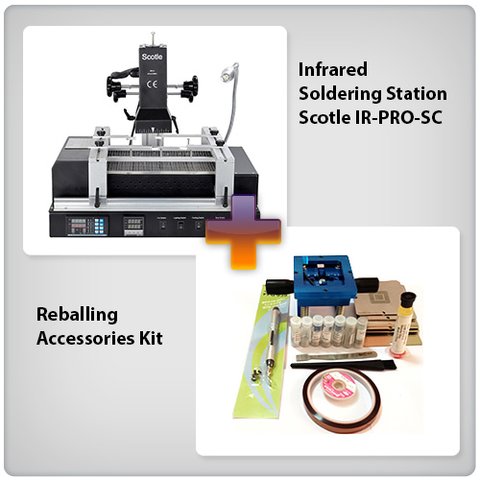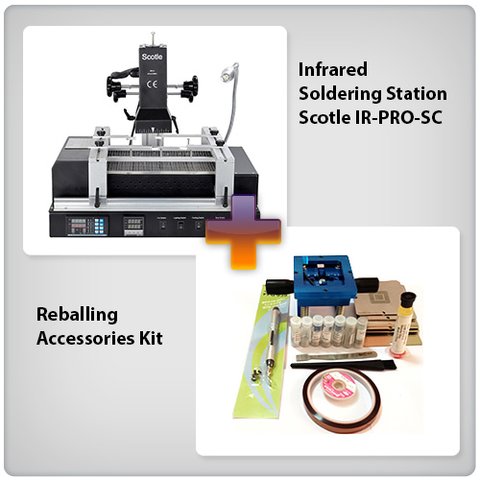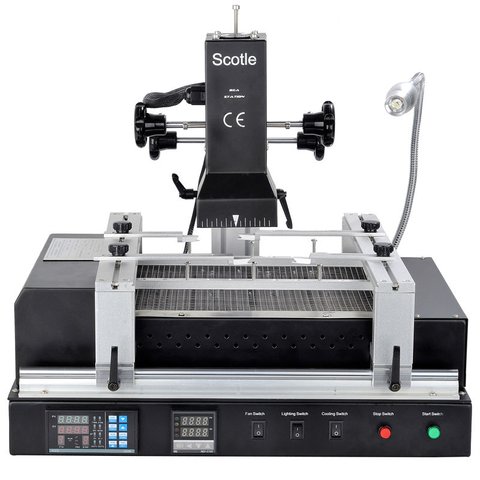 41 kg
220 V
Warranty: 6 month (s)
Rework station, designed specially for recovery of huge circuit plates such as motherboards + reballing accessories kit including a reballing station, 10 BGA stencils and solder balls.
Scotle IR-PRO-SC is a all-purpose rework station, designed specially for recovery of large PCB's such as motherboards. Scotle IR-PRO-SC easily manages to (de)solder chipsets on laptop motherboards, even difficult to repair ACER ones. "Red Ring of Death" - XBOX 360 problem - can be also solved with the help of Scotle IR-PRO-SC.
This infrared soldering station is used for recovering CBGA, CCGA, CSP, QFN, MLF, PGA components and other BGA-chips, as well as replacement of specific components (protective metal shield and plastic connectors).
Features
Good quality heater plates.
Build-in vacuum suction pen.
Upper heater level is adjustable with rotating handle. Big upper infrared heater is used for BGA-chips.
Big lower infrared preheater heats circuit plate equally to prevent it's thermal distortion.
The linear guide-type bracket can be adjusted by rotating handle and fixes the circuit plate, preventing its destortion.
Cooling fan can quickly cool the plate.
Independent temperature sensors for upper and lower heaters and automatic temperature stabilization system with feedback and PID-control.
IR-PRO-SC can be connected to PC through RS232 serial port. The soldering station can be programmed and controlled via software included in package. 10 temperature curves can be stored at the same time.
CE certified
Technical Specifications
| | |
| --- | --- |
| Circuit boards dimensions | 65 × 65 mm |
| Lower preheater dimensions | 260 × 245 mm |
| Power consumption | 2500 W |
| Voltage | 220 V, 50/60 Hz |
| Dimensions | 475 × 480 × 420 mm |
| Weight | 28 kg |
Package Contents
Scotle IR-PRO-SC BGA Rework Station
Scotle IR-PRO-SC infrared rework station — 1 pc.
Data cable — 1 pc.
K-type probe — 1 pc.
Vacuum suction pen — 1 pc.
User manual — 1 pc.
CD with demonstration video — 1 pc.
Reballing Accessories Kit
Reballing station — 1 pc.
Amtech soldering flux — 1 pc.
Solder balls (2500 pcs/pack)

0.3 mm — 1 pc.
0.35 mm — 1 pc.
0.4 mm — 1 pc.
0.45 mm — 1 pc.
0.5 mm — 1 pc.
0.55 mm — 1 pc.
0.6 mm — 1 pc.
0.76 mm — 1 pc.

Vacuum pick-up tool — 1 pc.
Kapton tape — 1 pc.
Goot CP-2015 desoldering wick — 1 pc.
Brush — 1 pc.
Scraper — 1 pc.
BGA stencils — 10 pcs.

Universal 0.3 mm
Universal 0.35 mm
Universal 0.4 mm
Universal 0.45 mm
Universal 0.5 mm
Universal 0.55 mm
Universal 0.6 (pitch = 1.0 mm)
Universal 0.6 (pitch = 0.9 mm)
Universal 0.6 (pitch = 1.1 mm)
Universal 0.76 (pitch = 1.27 mm)
| | |
| --- | --- |
| Upper Heater Size | |
| Bottom heater size | |
| Heater Type | |
| Total power | |
| Control type | microcontroller / PC synchronization |
| Upper heater type | |
| Bottom heater type | |
| Upper heater power | |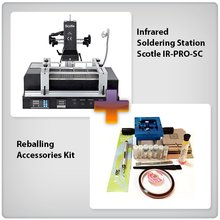 Infrared BGA Rework Station Scotle IR-PRO-SC + Reballing Accessories Kit