Lead-Free Hot Air Soldering Station AOYUE 2702 with Soldering Gun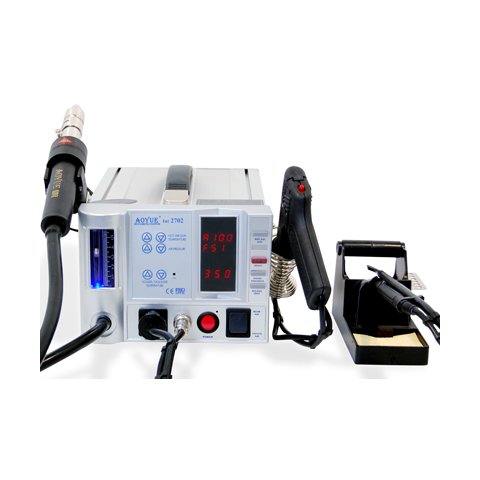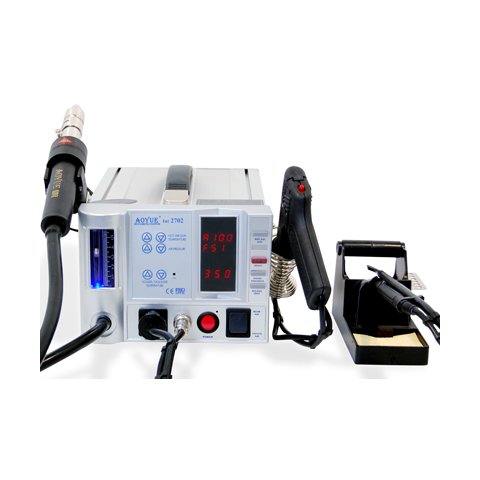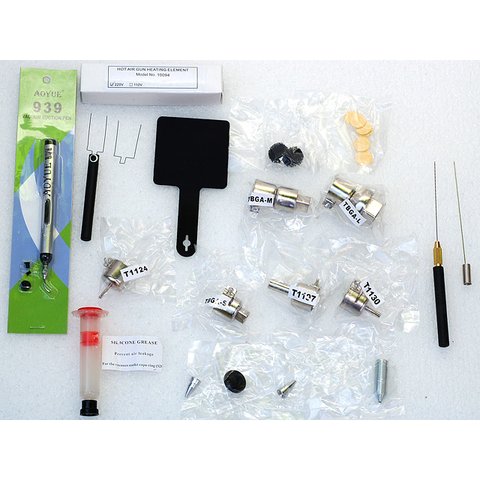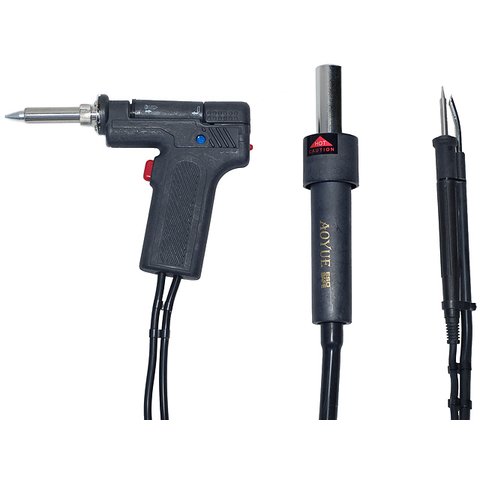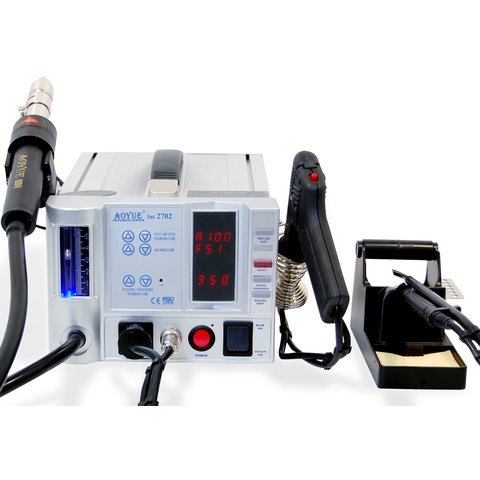 6.75 kg
220 V
Warranty: 12 month (s)
Lead-free compatible repairing system AOYUE 2702 combines the function of a hot air gun, a soldering iron, a smoke absorber and a desoldering gun.
The AOYUE 2702 Lead-Free Repairing System is a reworking equipment with unique innovate design , digital control panel and display.
Features
Microprocessor-controlled ESD safe equipment
4-in-1 repairing system combining Hot Air Gun, Soldering Iron, Desoldering Gun and Smoke Absorber in one sophisticated package
Digital control and display of hot air temperature, soldering iron temperature , desoldering gun temperature and air pressure with touch type panel controls for precision and easy to use
The desoldering gun is equipped with air cylinder type vacuum pump for stronger suction and zero-crossing circuit that prevents electrical surges
Integrated smoke absorber functionally with filter pad to efficiently absorb and filter harmful fumes
Uniquely designed compound tip that integrates the ceramic heating element and sensor in just one component. Replacing tips is as easy as slipping it in/out of compatible 24V soldering iron
User configurable 1 to 20 minute idle-to-auto-stand-by mode (with 5 minutes as default) for additional device protection and power saving
Built-in auto-cooling process that protects the system and its components from excessive heat, prolonging usage life
Built-in auto-sleep mode for soldering iron and desoldering gun
Compatibility with air nozzles of various types
Compatibility with different kind of soldering tips
Technical Specifications
Main Unit
Power Input
220 V
Station Dimensions (W × H × D)
188 × 126 × 250 mm
Weight
5.6 kg
Soldering Iron
Power Consumption
70 W
Temperature Range
250 to 480 °C
Heating Element
Ceramic heater
Output Voltage
24 V
Hot Air Gun
Power Consumption
500 W
Temperature Range
100 to 480 °C
Heating Element
Metal heating core
Pump/Motor Type
Diaphragm pump
Air Capacity
23 l/min (max)
Desoldering Gun
Temperature Range
380 to 480 °C
Heating Element
Ceramic heater
Output Voltage
24 V
Suction Flow
15 l/min (max)
Vacuum Generator
Vacuum Pump
Vacuum Pressure
600 mm Hg
Video
You'll find even more video reviews in the Video tab. Go and check it out!
Package Content
Main station with hot air gun
Air nozzles (1124,1130,1197, 1313, 1919)
Hot air gun holder
Soldering Iron with Smoke Absorber
Soldering Iron Holder with Solder Wire Stand
Tip with Heater Cartridge
Nozzle cleaning pin
Filter spring
Filter packs — 6 pcs.
Silicone Grease
Vacuum suction pen and G001 IC Popper
Power cord
Compatible Soldering Tips
| | |
| --- | --- |
| Pump type | |
| Design type | |
| Vacuum pick-up tool | |
| Desoldering Pump | |
| Power Supply | |
| Soldering Iron Power | |
| Hot Air Gun Power | |
| Desoldering Gun | |