Rigol DSA1030A Spectrum Analyzer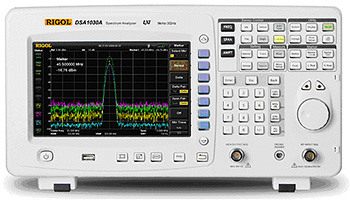 This month Rigol has released a new DSA1030A Spectrum Analyzer offering unique balance of price and quality.Having achieved notable success with its digital oscilloscope designs, Rigol continues using Blackfin processor as a signal processing unit and microcontroller platform for its new family of digital spectrum analyzers.
Rigol's DSA1030A Spectrum Analyzer repeats the advantages of Agilent N9320A and R&S FS300, but, unlike these analogue competitors, offers bench-caliber performance in a handy portable design. The analyzer combines friendly intuitive interface with breadth of measurement functions and automatic settings. Qualitywise, Rigol DSA1030A is not inferior to pricy measurement products, but pleases with its attractive price.
See the DSA1030A full specifications or buy it now at our web store!