Signal Generator FNIRSI SG-003A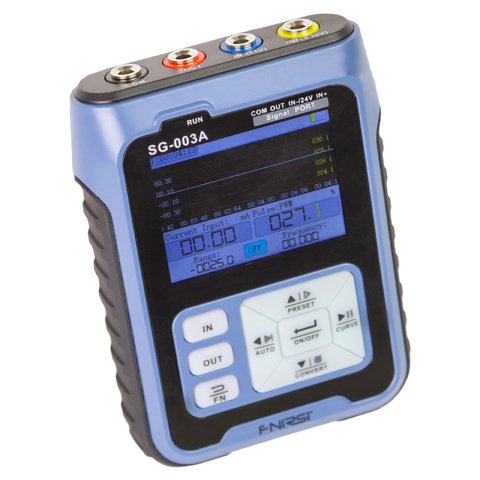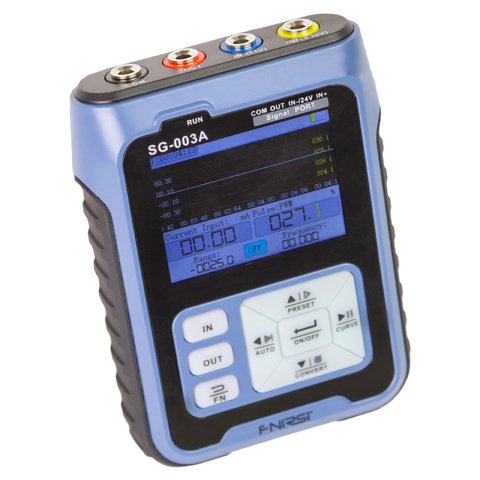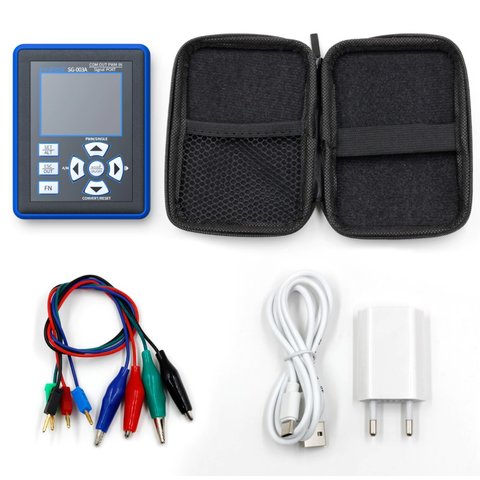 0.5 kg
Availability in stock:
HK
Warranty: 6 month (s)
Compact 1-channel digital signal generator in a protective silicone case. Generates square waveforms with a frequency range of 0.001 Hz - 180 kHz.
FNIRSI SG-003A is a pocket-sized single-channel digital signal generator that is supplied in a protective silicone case. The device generates voltage and current signals, simulating signals from sensors, control systems, and PWM signals. This signal generator is mainly used for debugging of industrial field PLC, process instrumentation, electric valve, etc.  
Features
An easy-to-use device with a user-friendly interface.
Pocket-sized and weight is only 123 g.
Auto power off function.
Low battery indicator.
Overcurrent protection.
Backlight buttons and display.
Built-in 3000 mAh battery; charged by USB-C.
Technical Specifications
Channels
1
Frequency range
0.001 Hz-180 kHz
Waveform
square
Active current output
0-24 mA, accuracy ± (0,1%+0,005), resolution 0.01 mA, maximum load: 750 Ω
Passive current output
0-24 mA, accuracy ± (0,1%+0,005), resolution 0.01 mA, external power supply: 0-30 V
Voltage output
0-15 V, accuracy ± (0,1%+0,005), resolution 0.01 V
PWM output (frequency)
0-20 kHz, 45 kHz, 90 kHz, 180 kHz, accuracy ± 2%, resolution 1 Hz
PWM output (operational cycle)
0-100%, accuracy ± 2%, resolution 1%
Current input measurement
0-24 mA, accuracy ± (0,1%+0,05), resolution 0.01 mA
Voltage input measurement
0-30 V, accuracy ± (0,1%+0,05), resolution 0.01 V
General Specifications
Display
2-inch LCD, 320×240
Interface
USB Type-C (5 V)
Power
built-in 3.7V lithium battery with 3000 mAh capacity
Continuous battery life
around 8 hours
Working temperature
-0℃ ~ 50℃
Dimensions
92 mm × 72 mm × 30 mm
Net weight
123 g
Gross weight
160 g
Package Contents
Signal Generator FNIRSI SG-003A — 1 pc.
Storage Bag — 1 pc.
Power Cable — 1 pc.
USB Cable — 1 pc.
Alligator Clips — 1 set
| | |
| --- | --- |
| Channels | |
| Max. signal frequency | |