Arbitrary Waveform / Function Generator SIGLENT SDG5122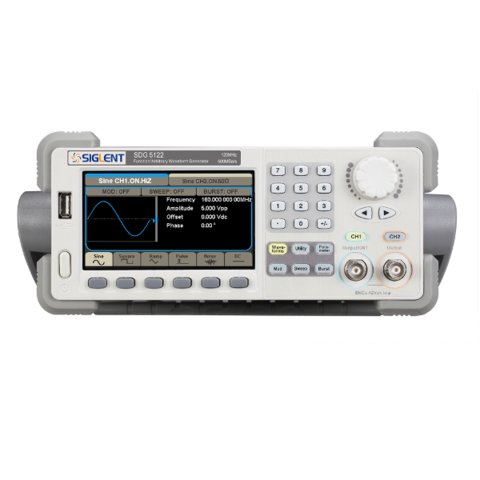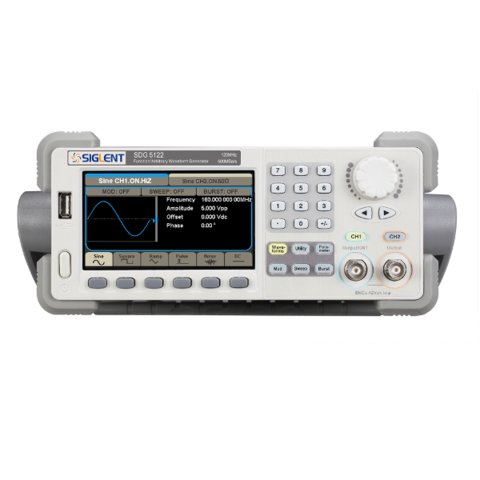 6 kg
110, 220 V
Warranty: 36 month (s)
Dual-channel function/arbitary waveform generator, with 120 MHz max. output frequency, 500 MS/s sample rate, 14 bits vertical resolution, 16 K waveform length.
SDG5000 series arbitrary waveform / function generator is a new family member of SIGLENT with friendly design: 4.3 inch LCD display, USB and internal storage support, file management.
SIGLENT SDG5122 is a dual-channel arbitrary waveform / function generator which is designed for providing of the stable, precise, pure and low distortion signal. The user-friendly interface design and panel layout of the SIGLENT SDG5122 gives users exceptional experience. The remote control of the generator can be easily done through different standard configuration interfaces, which provides more solutions for users.
Features
Standard waveforms:

Sine
Square
Ramp
Pulse
Gaussian Noise
DC

Built-in arbitrary waveforms
DDS technology, dual-channel output
500 MSa/s sample rate, 14-bit vertical resolution
Unique channel coupling and duplication function
Built-in accurate frequency counter enables to measure ranges 100 mHz - 200 MHz (single channel)
Supplied with powerful arbitrary editable software
Remote control support
Technical Specifications
Standard waveforms
Waveforms
Sine, Square, Ramp, Pulse, Gaussian Noise, DC, Built-in arbitrary waveforms
Sine
1 μHz ~ 120 MHz
Square
1 μHz ~ 40 MHz
Pulse
1 μHz ~ 30 MHz
Ramp/Triangular
1 μHz ~ 3 MHz
Gaussian noise
100 MHz (-3 dB)
Arbitrary waveform
1 μHz ~ 30 MHz
Max. output frequency
120 MHz
Sample rate
500 MSa/s
Modulation
A, DSB-AM, FM, PM, FSK, ASK, PWM, Sweep, Burst
General specification
Display
4.3-inch TFT LCD, 480×272
Interfaces
USB Host, USB Device, GPIB (optional), LAN (optional)
Power
100 V ~ 240 V, CATII
Dimentions
261 × 105 × 344 mm
Additional Information
Download SIGLENT SDG5122 Data Sheet.
Video
You'll find even more video reviews in the Video tab. Go and check it out!
Package Contents
SIGLENT SDG5122 arbitrary waveform / function generator (1 pc.)
Power cord (1 pc.)
USB cable (1 pc.)
Optional Accessories
BNC cable
GPIB-USB adapter
| | |
| --- | --- |
| Max. signal frequency | |
| Channels | |