RIGOL Selects Analog Devices' Blackfin Processors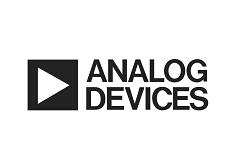 Blackfin's converged signal and control processing capabilities reduced system complexity and accelerated time to market for Rigol's DS series oscilloscopes and DSA1030A spectrum analyzer.
On 9th of September, 2009 Analog Devices, Inc. announced that test and measurement equipment maker Rigol has selected ADI's Blackfin® BF531 processor as the signal processing platform within its DS Series digital oscilloscopes and new DSA1030A series spectrum analyzers.
Leveraging Blackfin's converged platform for advanced signal and control processing, Rigol was enabled to develop high-performance test and measurement equipment that offers high-end features and functionality at affordable price points.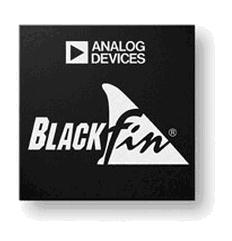 "Our instruments are distinguished by their robust capabilities and cost-effective designs, giving us a competitive edge that has enabled us to grow our presence in the test and measurement equipment market at a fast rate," said Arthur Chen Ph.D, Vice President, Research and Development, Rigol. "Blackfin gives us the performance and peripheral connectivity we need to enable sophisticated functions, and the unified signal processing and microcontroller platform to help us reduce system complexity and get to market quickly."
Designed to enable waveform observation via full-color TFT liquid-crystal displays, Rigol's DS Series oscilloscopes equip designers, programmers and technicians with all of the capabilities they need to effectively test and debug electronic devices. Rigol DS 1000 series digital oscilloscopes scale bandwidth as high as 300 MHz with up to 2G Sa/s real time sample rates for high performance signal acquisition enabled by ADI analog-to-digital converters (ADCs). Supporting powerful, easy-to-use triggering functions for event isolation and offering up to 2000 waveforms per second update rates, Rigol DS1000 series digital oscilloscopes feature capabilities that frequently match those of more expensive DSO's.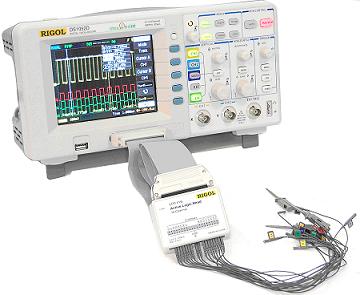 Rigol's DS1000E digital oscilloscope was honored with a 2008 Product of the Year Award from Electronic Products magazine on the strength of its performance, Blackfin-enabled digital filtering capabilities, and overall value in the entry-level oscilloscope market. Underpinning the DS1000E is a Blackfin processor architecture that enables flexible peripheral connectivity, with a parallel peripheral interface (PPI) port, serial ports (SPORTs) and a serial peripheral interface (SPI) allocated for the oscilloscope's LCD, ADI ADC, and keyboard, respectively.
Having achieved great success with its digital oscilloscope designs, Rigol again turned to Blackfin for the signal processing and microcontroller platform within its new family of digital spectrum analyzers. Rigol's new entry-level (9 kHz to 3 GHz) DSA1030A spectrum analyzer is optimized for RF spectrum analysis applications requiring bench-caliber performance and intuitive controls in a portable, low cost design.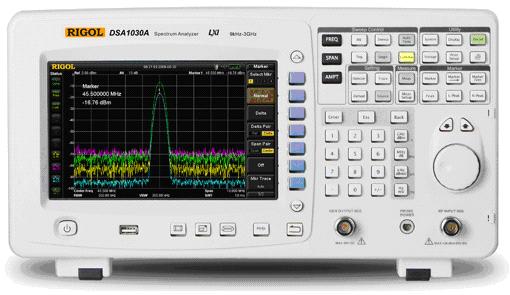 RIGOL oscilloscope
Within the DSA1030A, Blackfin provides the signal processing engine for advanced digital filtering, and system controller capabilities that manage the system's user interface, remote control and Ethernet functions. Blackfin's convergent architecture reduces system power consumption by minimizing off-chip component communication, and its low-power features further enabled Rigol's system designers to maximize the DSA1030A's battery life.
"Blackfin is renowned among test and measuring equipment vendors for its price-to-performance, low-power and connectivity attributes, all of which are critical elements for product designs that enable rich functionality in compact form factors," said Anders Frederiksen, global industrial marketing manager, GPDSP division, Analog Devices. "Innovative companies like Rigol count on Blackfin's convergent architecture to simplify the product development process and realize significant design efficiencies, which ultimately enables them to provide greater value to their customers."
A Convergent Future Demands Blackfin-Class Processing
Analog Devices' Blackfin 16/32-bit embedded processors enable engineers to advance the intelligence, functionality and connectivity of any application that benefits from a convergence of digital signal processing and control processing in a unified architecture. Delivering exceptional price/performance and energy efficiency, and complemented by a rich ecosystem of development tools, applications and third-party support, Blackfin is the processor of choice for a wide range of innovative applications including industrial, medical, automotive, security, digital home entertainment and portable devices. Blackfin can be found on Twitter: @Blackfin or the LinkedIn Group: Analog Devices Blackfin
About Analog Devices
Innovation, performance, and excellence are the cultural pillars on which Analog Devices has built one of the longest standing, highest growth companies within the technology sector. Acknowledged industry-wide as the world leader in data conversion and signal conditioning technology, Analog Devices serves over 60,000 customers, representing virtually all types of electronic equipment. Celebrating over 40 years as a leading global manufacturer of high-performance integrated circuits used in analog and digital signal processing applications, Analog Devices is headquartered in Norwood, Massachusetts, with design and manufacturing facilities throughout the world. Analog Devices' common stock is listed on the New York Stock Exchange under the ticker "ADI" and is included in the S&P 500 Index.
Toolboom Team
All rights reserved. This material from toolboom.com web site may not be published, rewritten or redistributed in whole or part without authorship indicated and backlinks provided.
Customers Feedback