Test solution for LED industry
Featuring a long service life, high efficiency, bright colors, and quick illumination, the LED lamp is widely used in automotive electronics, indoor and outdoor decoration, advertising design, and other fields. The rapidly growing market demand has led the entire LED industry chain to flourish. Technical requirements for the production of a LED lamp are less demanding, which leads to the emergence of multiple small and medium-sized enterprises. Many varied products with different characteristics flood the market. At the beginning, manufacturing these products underwent an explosive growth, but nowadays, competition among enterprises has led to the focus being shifted from "quantity" to "quality", thus the measurement test has started to attract attention of many manufacturers. So what can RIGOL do to better serve its customers' needs? Our article will report on a series of test and measurement schemes from the aspects of research, development, production, and application of the LED industry chain.

Research on LED Luminescence Properties
When you conduct LED-related researches in college or university, a research institute, enterprise laboratory or another research unit, you will often need to study LED luminescence properties. In such studies, two types of equipment are required:
Optical measurement equipment, such as integrating sphere and spectrometer;
Electronic measurement equipment.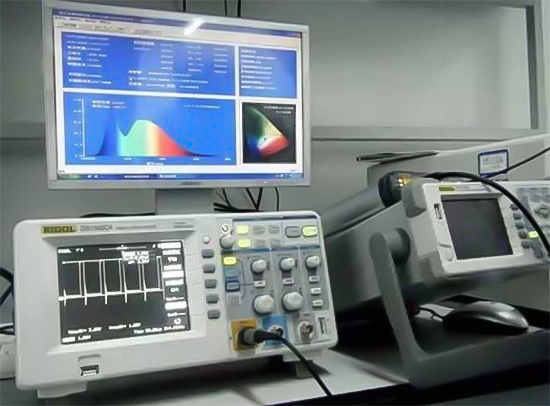 The major functions of electronic measurement equipment are to provide a LED lamp with a stable drive power supply whose drive waveform can be adjusted arbitrarily and to monitor the drive power supply. In this regard, RIGOL's signal generators have been popular with the customers, from RIGOL DG3000 Signal Generators earlier to now prevalent DG5000 Signal Generators. At present, the configuration scheme widely adopted by engineers is as follows:
DG5072 Arbitrary Waveform / Function Generator is used to generate PWM waveforms. The instrument can produce arbitrarily adjustable PWM waveforms whose frequency is between 1 uHz and 50 MHz, and whose duty ratio is between 0% and 100%;
PA1011 Power Amplifier is used to amplify the PWM signal power and provide a maximum of 10 W power output;
DS2072A Digital Oscilloscope is mainly used to observe drive waveforms and other signal waveforms.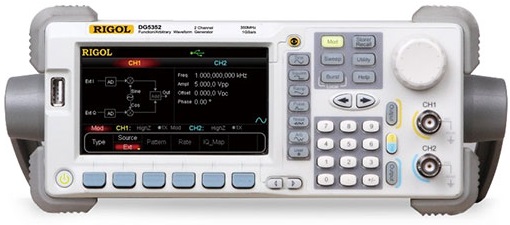 LED Power Supply R&D and Production Test
In traditional industries, various test schemes for the power supply are relatively reliable. Yet there are some new requirements for a LED lamp power supply, which influence mainly the cost. In fact, a LED lamp cost is much higher than that of an ordinary energy-saving lamp.
The cost for a lamp bead and heat dissipation cannot be streamlined, so a lot of small and medium-sized enterprises (SMEs) seek to simplify the power supply module. Therefore, developing an optimized scheme for the applicable LED power supply module with good heat dissipation has become an important issue.
As of the power supply R&D / design, RIGOL has developed the "Ultra Power Analyzer" software for engineers. Combined with the RIGOL DS4000 Digital Oscilloscope and voltage/current probes, this software can perform the test and analyze the power supply overall performance.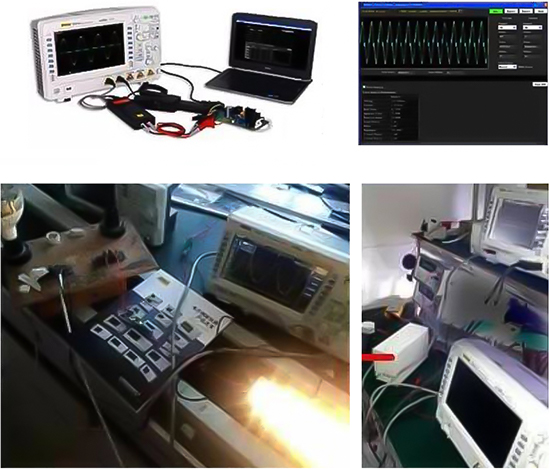 In the production line test for a power supply, customers impose high requirements on the speed and cost of the test equipment. Due to the complexity of the power supply test and production capacity, customers have a high requirement for speed in particular. It is known that a regular production line test for the power supply tests more than 50 parameters for each product.
Therefore, most of power supply manufacturers use the automatic test system to perform the test. Among the instruments for the test system, the two RIGOL products especially popular with customers are the DM3058E Digital Multimeter and DS1000B/Z 4-channel Digital Oscilloscope. These devices owe their popularity to their superior cost-efficiency and perfect stability.
DM3058E Digital Multimeter. Its main advantages are the following. First, compared to products offering the same precision, a DM3058E Digital Multimeter is more stable and faster; second, having the standard VISA interface, the tool is easily integrated and is compatible with the command set of mainstream brands; third, this desktop instrument is featured with 5. digit resolution, but its price is very affordable.
DS1000B/Z 4-channel Digital Oscilloscope. This product series offers the only cost-efficient 4-channel digital oscilloscope with the standard VISA interface. Over the past few years, DS1000B Digital Oscilloscope has been popular with multiple power supply test system integrators for its stability in particular.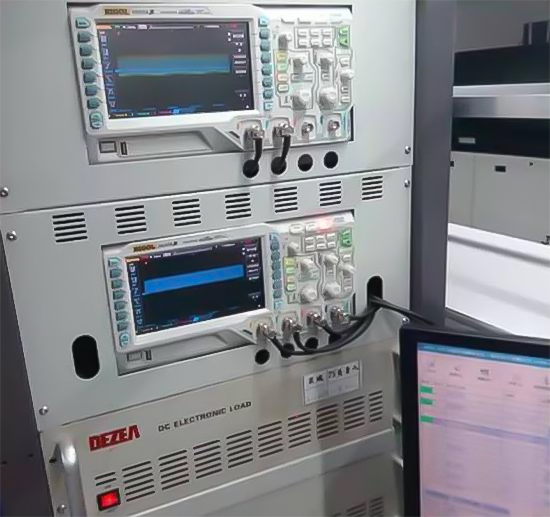 LED Power Conduction and Radiation Test
In the field of LED power supply test, the EMC test has also attracted attention of a vast number of customers. Facing increasingly strict legislations and rules on EMC, as well as costly test fees at a metrology laboratory, RIGOL was the first in China to suggest using the DSA1000 Spectrum Analyzer for developing the EMI pre-test scheme in 2009. This solution has been well recognized by the customers.

The launch of a DSA815 Spectrum Analyzer has greatly reduced the costs of an EMI conduction test, which does not require using a high-frequency instrument. Since there are not so many high-frequency components in a LED power supply test, engineers often concentrate more on the conduction test. RIGOL has a lot of successful cases and profound test experience in this field.
LED Application Circuit Test
Currently, LED is mainly applied to three areas: lighting, display, and decoration. For these applications, the remote control and dimming are two extremely important periphery circuits. To learn more about the test scheme for remote control, refer to the "Test Scheme for the Remote Control Module Production Line" article.
The LED dimming is usually performed by controlling the change rate and change mode of the PWM signals to control the brightness of multiple LED lamp beads, thus forming a dynamic picture change effects. At present, most customers do not test this item, but if they set higher requirements or need to make a fine adjustment for the screen image, customers have to test the control signal. The main technical requirements for this test are as follows:
Multiple channels
Since an advertisement or a picture is composed of many LEDs, the test needs to be conducted on multiple channels simultaneously, so that to observe the sequence and the change mode of the driving signal on various channels.
Long-time recording
In advertising design, it usually takes more than 10s for pictures or texts to change. Therefore, to record the whole process of changes, you need to have a test instrument capable of recording precise waveform changes for a long time. To meet such requirements, you need to check the instrument characteristics to see whether it has a deep storage function.
In view of the above requirements, MSO4000 Series Digital Oscilloscope has become a priority choice for engineers. It has 16 channels, each of which has a storage depth of 28 Mpts. It can be used to test a 10 KHz PWM signal for up to 28s with at 16 channels simultaneously.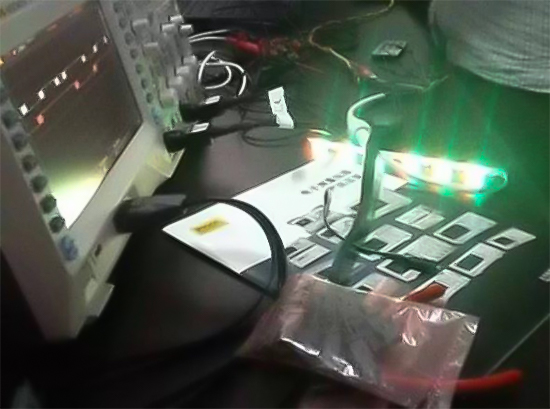 Toolboom Team
All rights reserved. This material from toolboom.com web site may not be published, rewritten or redistributed in whole or part without authorship indicated and backlinks provided.
Customers Feedback