Developement and Testing Set RIGOL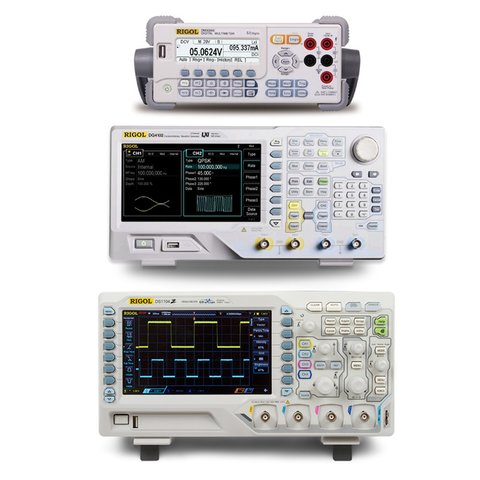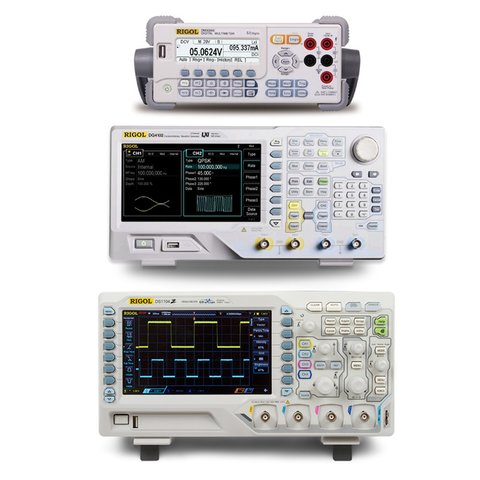 23 kg
Warranty: 6 month (s)
To develop and test instruments and devices you will need equipment such as a digital oscilloscope, arbitrary waveform/function generator and multimeter. We recommend the following models: RIGOL DS1104Z oscilloscope, RIGOL DM3058E multimeter and a RIGOL DG4102 function/arbitary waveform generator. When choosing these particular models you will get a 10% discount!

Developement and Testing Equipment Set includes a digital oscilloscope, a digital multimeter and a function/arbitary waveform generator. The kit will be useful for engineers, scientists, researchers. You may use this kit for precision electrical parameters measuring, waveform modelling and signal control.
Applications
Engineering
PCB modelling
Electronic device troubleshooting
Precision medical equipment troubleshooting
Equipment diagnostics
Research & development
Education & training
Precision electronic parameters measurements and tests:

AC/DC voltage measurement;
AC/DC current measurement;
resistance measurement (2 and 4 wire);
capacitance measurement;
frequency measurement;
temperature measurement;
diode test.

Arbitrary waveform generation
Amplitude, frequency, etc. modulation
Digital signal control
Analog signal control
Video signal control
Package Contents
1. RIGOL DS1104Z is a four-channel digital oscilloscope with 100 MHz bandwidth, 1 GSa/s real-time sample rate, 7" display and up to 30,000 waveforms/sec capture rate.
2. RIGOL DM3058E is a high precision, cost effective, 5 ½ digit bench type digital multimeter for measuring AC/DC voltage, AC/DC current, resistance (2 and 4 wire), capacitance, frequency, temperature, and performing diode test.
3. RIGOL DG4102 is a dual-channel function/arbitary waveform generator, with 100 MHz frequency, 500 MS/s sample rate, 14 bits vertical resolution, 16 K waveform length, and modulation functions: AM, FM, PM, ASK, FSK, PSK, BPSK, QPSK, 3FSK, 4FSK, OSK, PWM.
Data Sheet
Download Data Sheet.
Video
Rigol DS1000Z Series Digital Oscilloscopes