Digital Oscilloscope SIGLENT SDS1102CML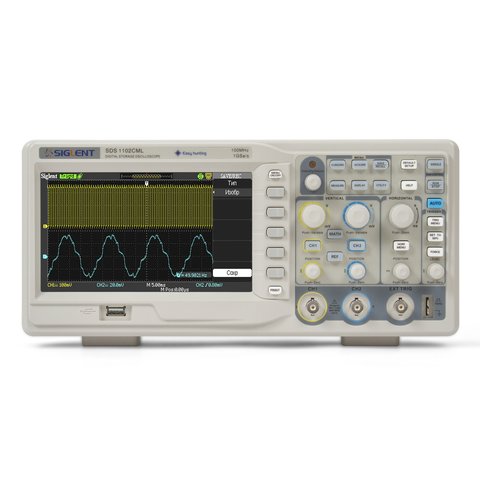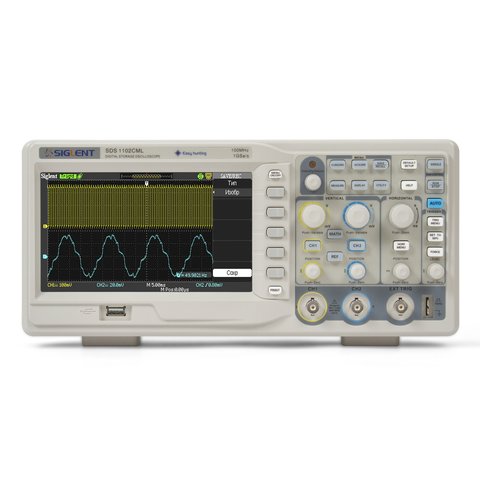 5.1 kg
110, 220 V
Warranty: 24 month (s)
Desktop dual-channel digital oscilloscope with 100 MHz bandwidth, 1 GSa/s real-time sample rate, 50 GSa/s equivalent sample rate, 2 M memory.
SIGLENT SDS1102CML Digital Oscilloscope is a compact desktop dual-channel digital oscilloscope with a 100 MHz bandwidth. 7-inch TFT color liquid-crystal display of the oscilloscope ensures bright and vivid waveform representation and backlit buttons ensure user comfort. 2 Mpts memory allows storing up to 20 waveforms and 10 setups. SIGLENT SDS1102CML has a multi-language user interface and online help.
SIGLENT SDS1102CML Digital Oscilloscope is a good choice for industrial control and measurements, R&D, electronic circuit design and testing and all other applications involving testing and troubleshooting, as well as education and training.
Software
Download SIGLENT SDS1102CML digital oscilloscope software
Features
Bandwidth: 100 MHz.
2 channels + 1 external triggering channel.
Real-time sample rate: 1 GSa/s.
Equivalent sample rate: 50 GSa/s.
Memory: 2 Mpts.

Vertical sensitivity range

: 2 mV/div – 10 V/div.
Versatile trigger modes: Edge, Pulse, Slope, Video and Alternate.
7" TFT color LCD, bright and vivid waveform display.
Backlit buttons.
Unique digital filter and data recorder function.
USB Host, USB Device, RS-232.
Pass/Fail Output.
Direct print to PictBridge compatible printers via USB Device interface.
Multi-language display (12 languages): English, French, Spanish, Portuguese, German, Italian, Russian, Arabic, Japanese, Korean, Simplified Chinese, Traditional Chinese.
Online help.
Safety standards: EMC: EN61326; LVD: EN61010-1.
Compact design for saving desktop space.
Technical Specifications
Bandwidth
100 MHz
Channels
2 + 1 ext. ch.
Real time sample rate
Single channel mode: 1 GSa/s
Dual channel mode: 500 MSa/s
Equivalent sample rate
50 GSa/s
Memory depth
2Mpts
Vertical sensitivity range
2 mV/div – 10 V/div
Vertical resolution
8 bits
Rise time
≤3.5 ns
Time base range
2.5 ns/div – 50 s/div
Input impedance
1 MΩ || 17 pF
Cursor measurements
Manual, Track, Auto measure
Math
Add, Subtract, Multiply, Divide, FFT
Trigger modes
Edge, Pulse, Video, Slope, Alternate
Storage
Internal: 10 setups, 20 waveforms (storage/recall), 2 reference waveforms
USB: BMP, CSV, waveforms and setups
Input coupling
DC, AC, GND
General Characteristics
Display
7" TFT color LCD (480 × 234)
Interface
USB Host, USB Device, RS-232, P/F output
Power source
AC100 ~ 240 V, 47 ~ 440 Hz, 50 VA Max
Max. input voltage
1 MΩ 17 pF 400 V (DC + PK-PK) CATI, CATII
Weight
2.5 kg
Dimensions
305 × 133 × 154 mm
Additional Information
Download SIGLENT SDS1102CML Data Sheet.
Video Review
You'll find even more video reviews in the Video tab. Go and check it out!
| | |
| --- | --- |
| Screen Size | |
| Number of channels | |
| Storage Capacity | |
| Bandwidth | |
| Type | |
| Sample Rate | |