Hot Air Rework Station Accta 501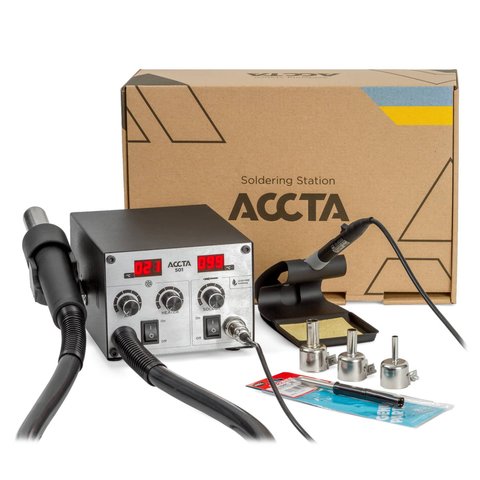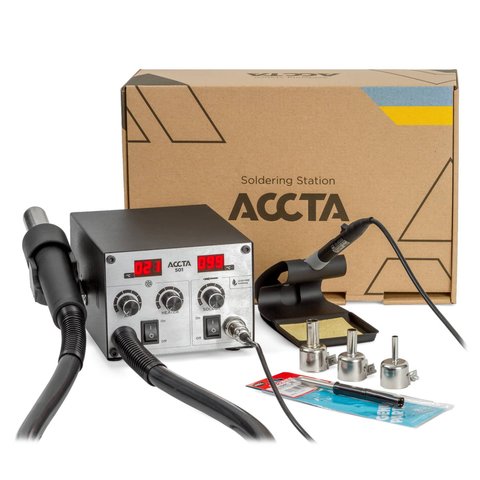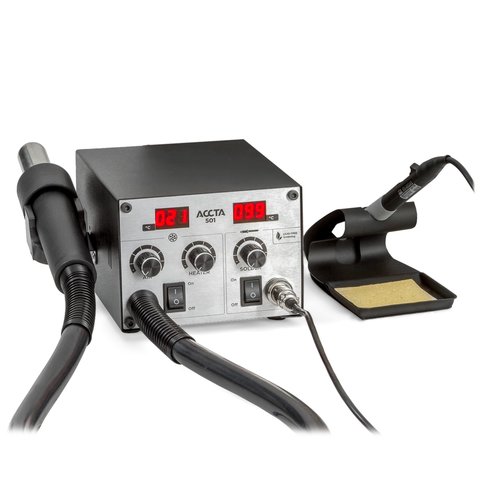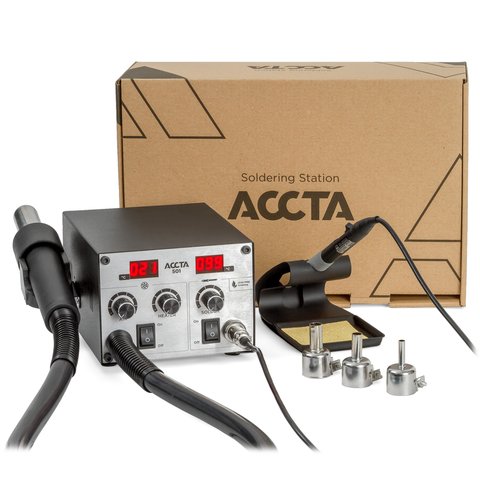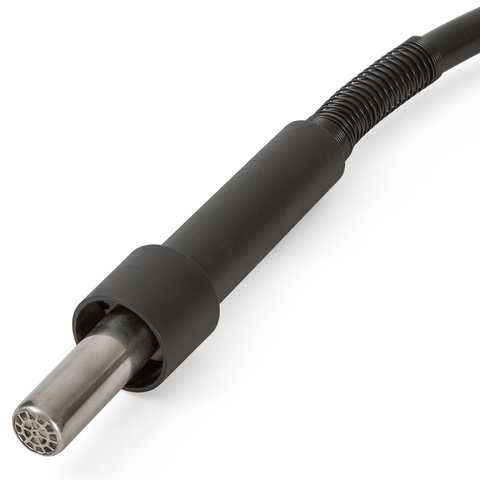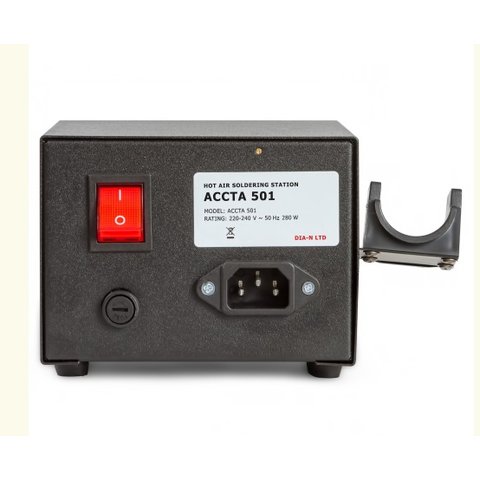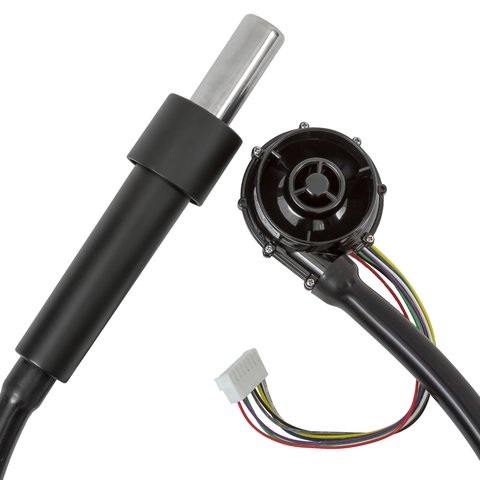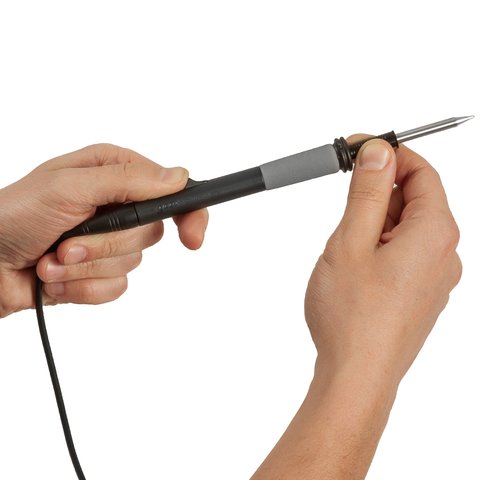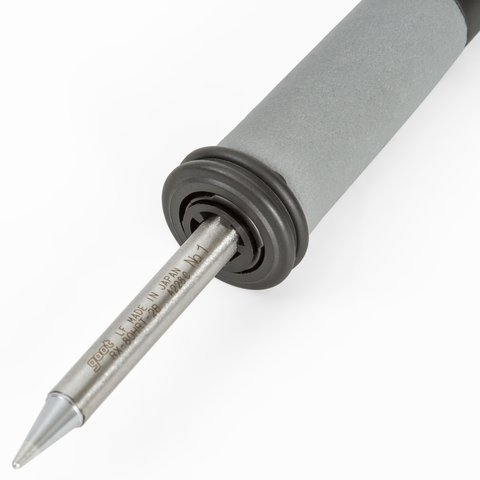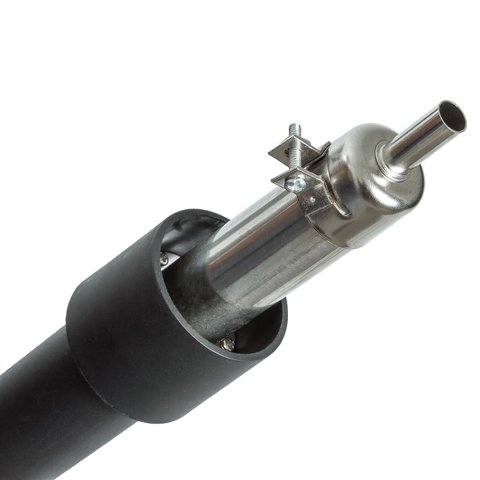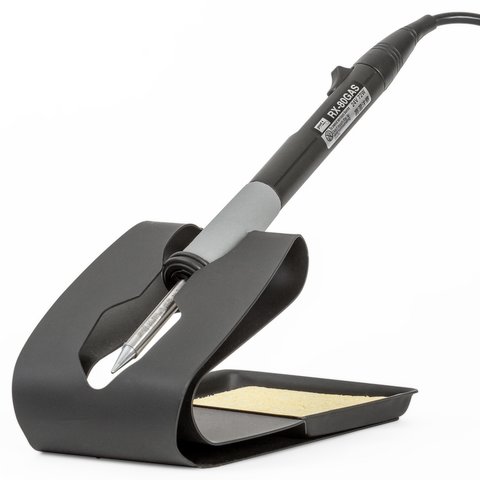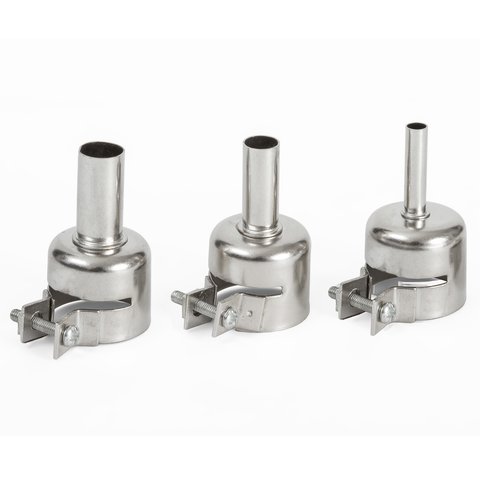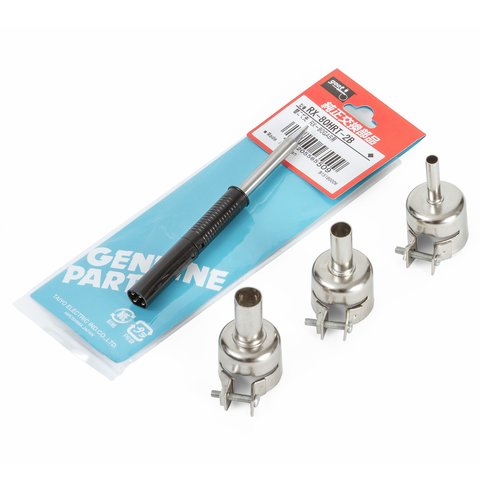 Bestseller
Made in Ukraine
4 kg
Availability in stock:
HK
Warranty: 12 month (s)
Temperature display, hot air gun auto switch-off, 72 W soldering iron, 350 W hot air gun, soldering iron and hot air gun temperature range: 80-480°C.
Accta 501 is a dual-channel hot air soldering/desoldering station with a powerful hot air gun and a soldering iron for lead-free SMD components soldering. The station displays the actual temperature of the soldering iron and hot airflow. The package includes the main unit, the hot air gun, the soldering iron, the hot air gun and soldering iron holders, original soldering tip, and hot air nozzles.
This is a new generation of Accta soldering stations! The experience of the best products on the market enspired the manufacturer to create a hot air rework station that deals with lead-free solder alloys in no time. The powerful centrifugal fan is installed in the station main unit, so it allows multiple adjustments and low noise levels. The station features the hot air gun temperature stabilization, which would allow you to monitor and regulate the temperature of hot air flow extremely precisely. Once the hot air gun is placed on its holder, the station automatically goes into the heating element cooling mode and then puts the hot air gun into standby mode.
Accta 501 is equipped with Goot RX-80GAS soldering iron (invention of a Japanese company with no analogues) with original Goot soldering iron tips. The soldering iron has a power of 72 W and is characterized with increased performance – the heating up speed is only 6 seconds. Apart from ergonomic design and high-quality soldering the soldering iron has one more advantage: you may quickly change the tips without any tools needed. You will be able to pick one of the various soldering tips from Goot RX-80HRT series for different tasks.
Accta 501 hot air rework station also features multi-level overload protection. In case of emergency, the protection system shuts the station off. The station is equipped with separate switches for each channel (soldering iron and hot air gun channels). The large power reserve of the toroidal transformer guarantees stable operation of the station, even in case of the highest network loads. The transformer provides complete galvanic isolation of all circuits from the network.
By purchasing Accta soldering equipment, you get a 12-month warranty on the soldering station, as well as the soldering iron and the hot air gun heating element. This is an exclusive option other manufacturers do not offer. Moreover, we provide technical support and advice.
Comparative Specifications
| | | | |
| --- | --- | --- | --- |
| | Accta 301 | Accta 401 | Accta 501 |
| Hot Air Gun Power | 350 W | 350 W | 350 W |
| Hot Air Gun Heating Element | Metal heating core | Metal heating core | Metal heating core |
| Air Pump Type | Turbine blower | Turbine blower | Centrifugal blower |
| Soldering Iron Power  | 50 W | 70 W | 72 W |
| Soldering Iron Heating Element | Nichrome in ceramics | Ceramic | Nichrome |
| Soldering Tip Type | Hakko 900M | Hakko T12 | Goot RX-80HRT |
| Soldering Tip Heating Time | up to 12 seconds | up to 10 seconds | up to 6 seconds |
Features
Ultra-compact design.
Microprocessor control system.
Soldering iron calibration system.
Real-time temperature display.
Allows temperature monitoring when the tip touches with the surface.
Temperature parameters control using analog adjusting potentiometers.
Hot air gun overheating protection.
Soldering iron temperature accuracy ±5 °C.
Soldering iron linear temperature characteristic.
Soldering iron heat-up time up to 6 seconds (depends on the tip).
Soldering iron auto sleep mode function.
Hot air gun auto switch-off.
Soldering iron compatibility with Goot RX-80HRT standard replacement soldering tips.
Video
Technical Specifications
Hot Air Module
Hot Air Gun Power
350 W
Hot Air Gun Temperature Range
80 – 480 °C
Hot Air Gun Heating Element
Metal heating core
Air Pump Type
Centrifugal blower
Air Capacity
120 l/min
Soldering Module
Soldering Iron Power 
72 W
Soldering Iron Temperature Range
100 – 480 °C
Soldering Iron Heating Element
Nichrome
General Specifications
Power Consumption
280 W
Power Input
220-240 V, 50 Hz
Main Unit & Hot Air Gun Holder Size
190 × 194 × 103 mm
Main Unit Size (without holder)
128 × 194 × 100 mm
Weight
2.3 kg
Package Contents
Accta 501 Hot Air Rework Station – 1 pc.
Hot Air Gun Holder – 1 pc.
Hot Air Nozzles – 3 pcs.
Soldering Iron – 1 pc.
Goot RX-80HRT-2B Soldering Tip – 1 pc.
Soldering Iron Holder – 1 pc.
Tip Cleaning Sponge – 1 pc.
User's Manual – 1 pc.
Compatible Soldering Tips
Manufacturer

This device was developed and manufactured in Ukraine.
| | |
| --- | --- |
| Pump type | |
| Design type | |
| Vacuum pick-up tool | |
| Desoldering Pump | |
| Power Supply | |
| Hot Air Gun Power | |
| Desoldering Gun | |
| Soldering Iron Power | |