BGA Reballing and Installation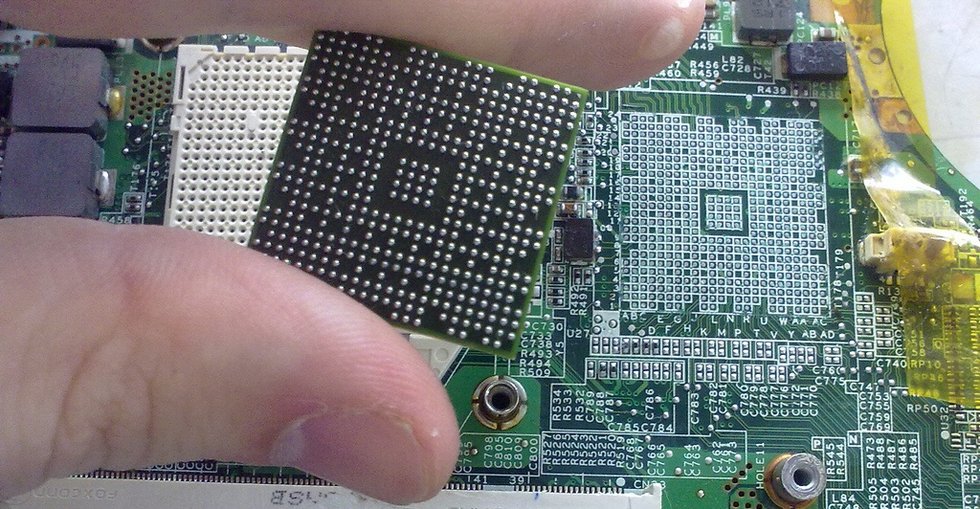 Ball grid arrays (BGAs) are the cause of headache of any engineer who is repairing modern electronics. With each coming year they are becoming more and more popular than QFPs, TQFPs and other integrated circuit packages. All of this is because BGAs have advantages over the others in the following characteristics:
Package density
Thermal conductivity
Resistance to interference
However, despite all of their advantages, BGAs also have one main disadvantage – they are difficult to repair in case of malfunction. BGA malfunction is encountered quite often these days, especially in cellphones and laptops.
A contact may be lost between a chip and a PCB as a result of mechanical or thermal damage (for example, constant stress on the place where BGA is located or overheating of the chip during work). Obviously, the pin needs to be repaired in order for the BGA to continue working.
There are two ways of repairing: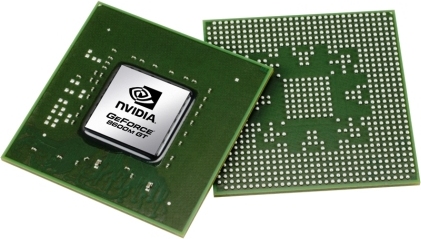 A warm-up option will never be used by any major service center. No one can guarantee that this method will result in successful and high quality repair.
Therefore, reballing is the only recommended way to restore BGA pins.
Reballing is a process of putting all of the pins on the BGA, after it was removed from a PCB with the help of an appropriate soldering station. As a result, if the chip works it may be used again, if not then the pins are put on the new chip that works.
Two factors play an important role in the success of reballing:
Engineer skillfulness
Equipment and consumables used
Unfortunately, we cannot help with choosing an engineer in this article. However, we can help with choosing correct equipment and consumables.
What is needed for reballing:
An appropriate soldering station.
Reballing stand and a stencil set.
BGA solder balls or solder paste
BGA flux.
Adhesive foil and thermal protective tape.
Soldering station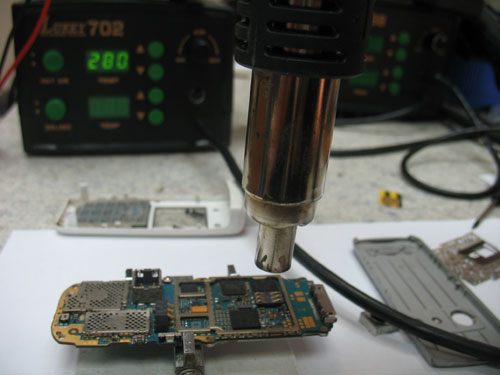 In this article, we would like to describe which type of soldering station should be used. We will talk about which specific model should be chosen in one of our next publications.
For successful soldering/ desoldering small BGA chips (for example, the ones that are used in cellphones) a hot air soldering station Lukey 852D+FAN will be sufficient. A portable infrared soldering station Tornado Infra Pro can provide a more convenient alternative.
| | |
| --- | --- |
| Lukey 852D+FAN | Tornado Infra Pro |
However, if a laptop motherboard with big BGA chips and a large textolite area needs to be repaired, a repair station with upper and lower preheaters is necessary(for example, Jovy Systems RE-8500). You can find more detailed information about choosing a soldering station in the corresponding article.
Jovy Systems RE-8500
Reballing stand and a stencil set
| | |
| --- | --- |
| Jovy Systems JV-RMS | Jovy Systems JV-RMP |
Placing BGA solder balls on the pin surfaces without a stencil is very difficult and can take hours to complete. Matrix stencils were created to make this process quicker and less difficult. A stencil is basically a metal plate with holes in it. The holes' size corresponds to the diameter of BGA solder balls that are used ("diameter" parameter) while the spacing between the stencil holes corresponds to the spacing between pin surfaces of the chip ("pitch" parameter).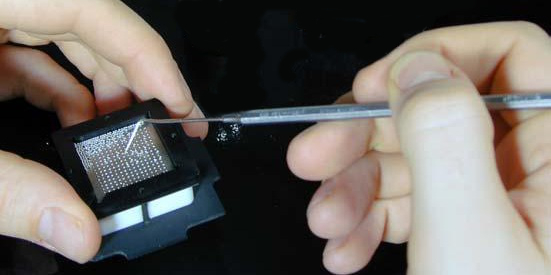 There are universal and specialized stencils.
Universal stencil is a square matrix with holes of the same size. It can be used for reballing chips that have the same diameter and pitch as the stencil.
Specialized stencils are similar to universal ones but their holes arrangement is the same as the pins arrangement of the chip. They are very convenient but are mostly used in cases when there is frequent reballing of the same type of chip. This is why universal stencils are more popular and included in almost any reballing kit.
Two methods exist for creating stencils: laser (laser cutting) and chemical (chemical melting). Laser method provides better quality but is also more expensive.
The most important thing to keep in mind when choosing a stencil is its resistance to deformation during heating. The majority of stencils used for reballing computer chips are not heat-resistive, in contrast to the ones that allow using a BGA-paste. Because of this, they can only be used for placing the balls and should be removed when the chip is being heated.
This popular set (ACHI LP-37) is an example of non-heat-resistive stencils, while this one is heat-resistive.
| | |
| --- | --- |
| ACHI LP-37 | ACHI BGA-stencil set(150 pcs) |
BGA soldering balls and soldering paste
| | |
| --- | --- |
| Jovy Systems JV-PB60 | Jovy Systems JV-LFSB050 |
| | |
| --- | --- |
| Jovy Systems JV-PB40 | BGA Balls 0,6 mm |
As we have mentioned before, both BGA balls and BGA paste may be used as solders. This being said, the process of reballing will be completely different in each case.
Using a BGA paste significantly simplifies the process but also has a negative effect on the quality. Pin surfaces are inhomogeneous and their size may differ. This is why this method is more appropriate for repairing cellphones as their chips size is quite small.
BGA balls are commonly used in motherboard reballing.
Both BGA balls and BGA paste can be lead or lead free. Use of lead free consumables is only justified in authorized service centers.
BGA flux
One of the most important factors for successful reballing is choosing the correct flux. A lot of things depend on the properties of the flux: whether the balls will stick to the chip before heating, whether the flux will boil and foam during heating and if there will be a need to wash it off after the chip was installed on the PCB.
Therefore, the most expensive and high quality type of flux is BGA flux. Using other types of flux is not recommended as it may have negative consequences of the repair.
Adhesive foil and thermal protective tape
Adhesive foil is a great insulator for unwanted heating. It can help avoid desoldering of the components that are close to the chip that is being removed.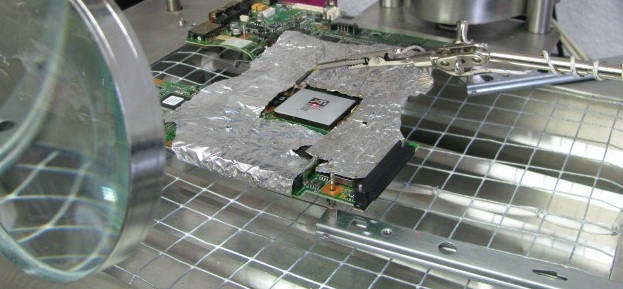 Thermal protective tape is mainly used for fixing a thermocouple in the soldering area. It is also often placed on the surface of the crystal of the chip when soldering with an infrared soldering station for better thermal conductivity. Another function that it may serve is combining a BGA stencil and a BGA chip when working without a reballing stand.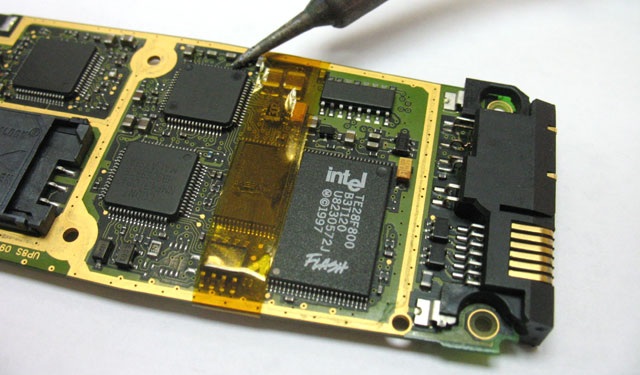 This is what a short reballing equipment set looks like. It may vary depending on different preferences of the engineer. However, for guaranteed successful repair we recommend to follow the provided instructions.
Yuri Stakhniak,
Technical expert of Toolboom online store
All rights reserved. This material from toolboom.com web site may not be published, rewritten or redistributed in whole or part without authorship indicated and backlinks provided.
Customers Feedback