Hot Air Rework Station Accta 301A (110 V)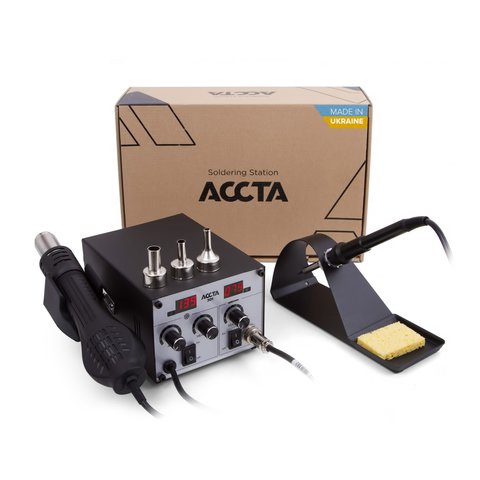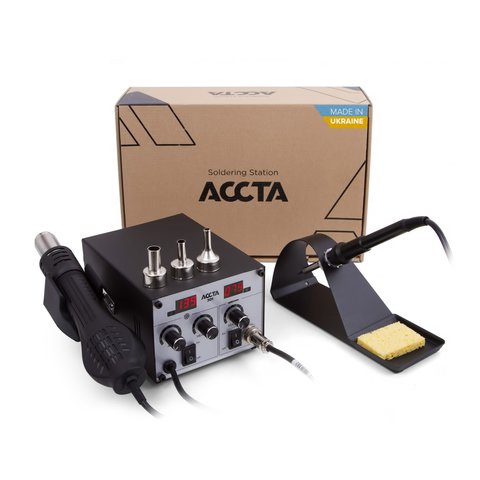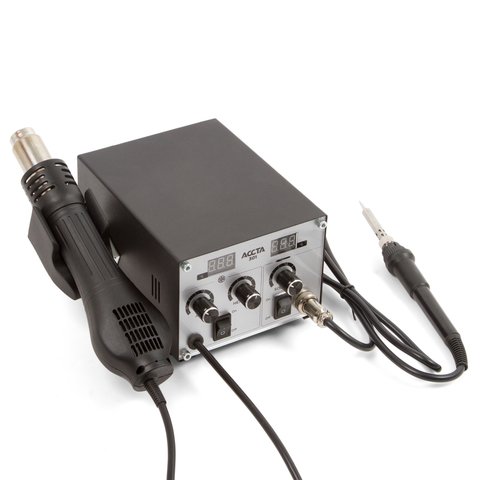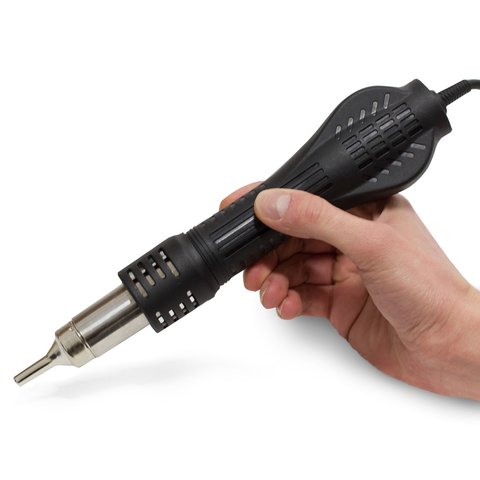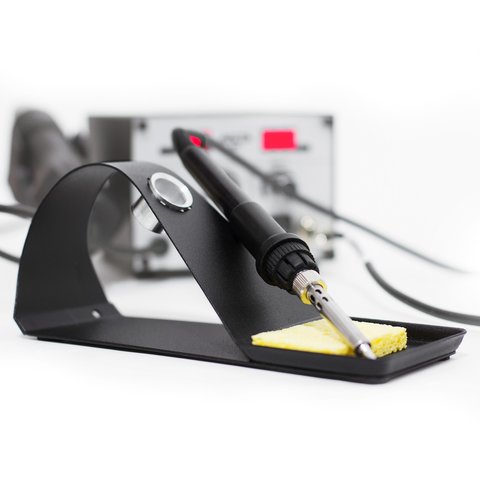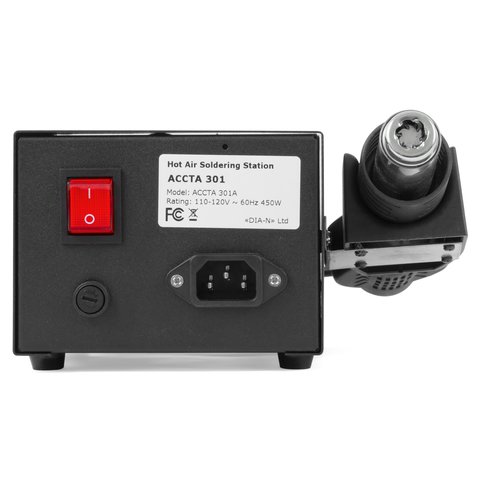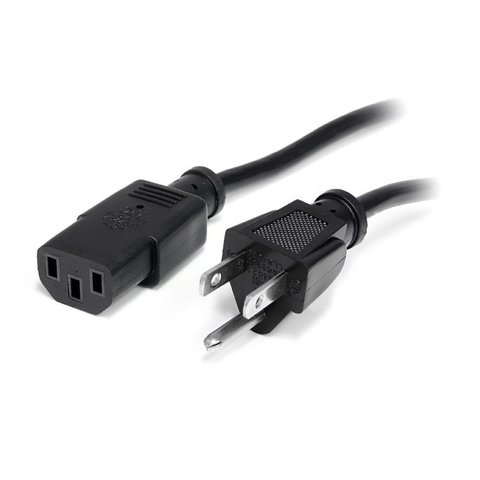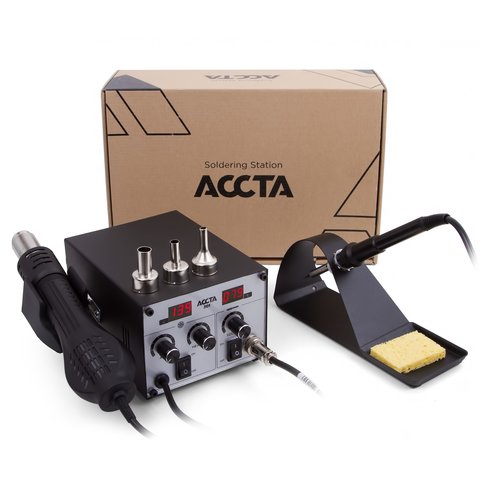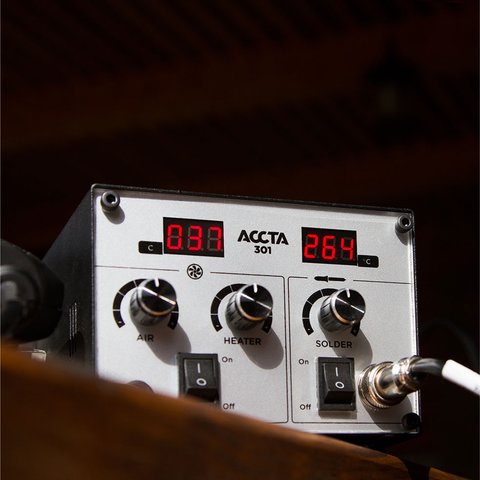 2.75 kg
110 V
Availability in stock:
HK
Warranty: 12 month (s)
Accta 301 offers compact design, temperature display, hot air gun auto switch-off, 50 W soldering iron, 350 W hot air gun, soldering iron and hot air gun temperature range: 80-480°C.
Accta 301A is a dual-channel hot air turbine soldering/desoldering station. Apart from the hot air gun, the package includes a soldering iron, hot air gun and soldering iron holders, a soldering tip, and hot air nozzles. The station is powerful enough to be used for the lead-free soldering of SMD components.
Tired of problems with cheap soldering stations? Try Accta! This is a budget-friendly soldering station that, in terms of quality and specifications, corresponds to a much higher class of soldering equipment. The engineers have used their experience of working with dozens of stations from different manufacturers and taken into account even the smallest details to improve the design. This is why Accta stations do not have any defects that are so common for the low-budget hot air soldering stations.
The hot air gun won't go wrong! Accta 301A soldering station features the hot air gun temperature stabilization, which would allow you to monitor and regulate the temperature of hot air flow as precisely as you could only imagine. Once the hot air gun is placed on its holder, the station automatically goes into the heating element cooling mode and then puts the hot air gun into standby mode.
More than just a soldering iron! The soldering iron of the station is well-known for its effective heat transfer and excellent operation stability. Besides, it features a heat-resistant cable as well as a secure connector. Accta 301A displays the actual temperature of the soldering iron and hot airflow. Moreover, for different tasks, you will be able to pick one of the various soldering tips from Hakko 900M series.
Safety comes first! The Accta 301A soldering station features a hard metal body and is equipped with separate switches for each channel (soldering iron and hot air gun channels). The large power reserve of the toroidal transformer guarantees stable operation of the station, even in case of the highest network loads. The transformer provides complete galvanic isolation of all circuits from the network, including the heating element of the soldering iron and the hot air gun. The soldering station also features multi-level overload protection. In the event of an emergency, the safety system shuts the station off.
What is the difference between Accta 301 & Accta 401?

The main difference is that Accta 301A is compatible with Hakko 900M soldering tips while Accta 401A is compatible with Hakko T12 soldering tips.
Video
Features
Ultra-compact device.
Microprocessor control system.
Real-time temperature display.
Allows temperature monitoring when the tip touches with the surface.
Temperature parameters control using analog adjusting potentiometers.
Hot air gun overheating protection.
Soldering iron temperature accuracy ±5 °C.
Soldering iron linear temperature characteristic.
Soldering iron heat-up time up to 12 seconds.
Hot air gun auto switch-off.
Soldering iron compatibility with Hakko 900M standard replacement soldering tips.
FCC certified.
The power cord may be disconnected and replaced. The connection type is IEC cord (C13/C14).
CE certified.
Technical Specifications
| | |
| --- | --- |
| Power Consumption | 450 W |
| Soldering Iron Power  | 50 W |
| Hot Air Gun Power | 350 W |
| Soldering Iron Temperature Range | 80 – 480 °C |
| Hot Air Gun Temperature Range | 80 – 480 °C |
| Soldering Iron Heating Element | ceramic |
| Hot Air Gun Heating Element | metal heating core |
| Air Pump Type | turbine blower |
| Air Capacity | 120 l/min |
| Power Input | 110 V, 60 Hz |
| Main Unit & Hot Air Gun Holder Size | 190 × 194 × 103 mm |
| Main Unit Size (without holder) | 128 × 194 × 100 mm |
| Weight | 2.3 kg |
The default plug type is Type A. In case you need a different plug please contact our manager.
Package Contents
Accta 301A Hot Air Rework Station – 1 pc.
Hot Air Gun Holder – 1 pc.
Hot Air Nozzles – 3 pcs.
Soldering Iron – 1 pc.
AOYUE T-I Soldering Tip – 1 pc.
Soldering Iron Holder – 1 pc.
Tip Cleaning Sponge – 1 pc.
User's Manual – 1 pc.
Compatible Soldering Tips
Manufacturer

This device was developed and manufactured in Ukraine.
| | |
| --- | --- |
| Pump type | |
| Design type | |
| Vacuum pick-up tool | |
| Desoldering Pump | |
| Power Supply | |
| Soldering Iron Power | |
| Hot Air Gun Power | |
| Desoldering Gun | |