Super Phosphor Oscilloscope SIGLENT SDS1102X-S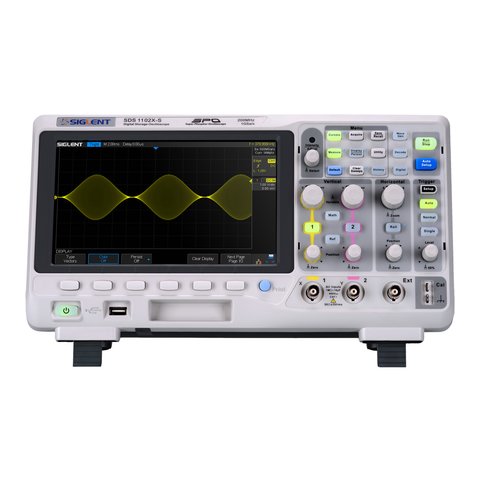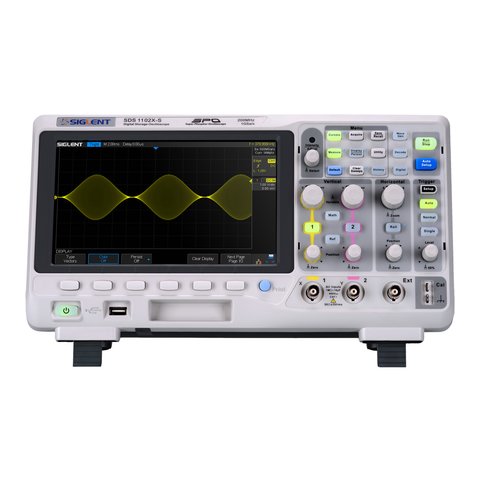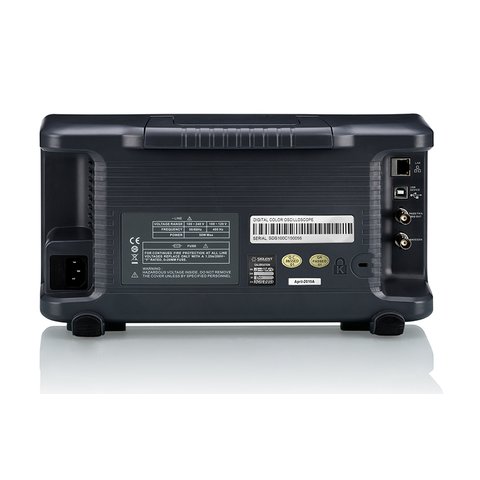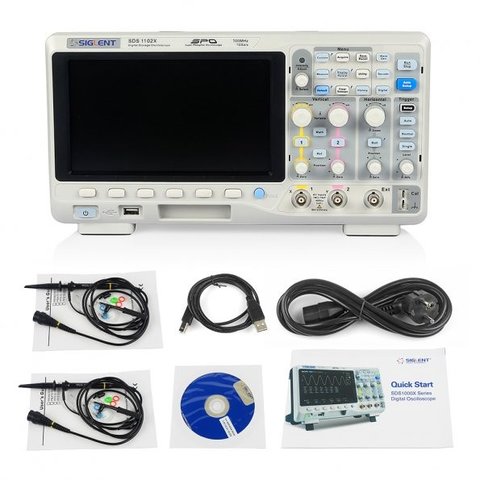 7 kg
110, 220 V
Warranty: 36 month (s)
Desktop 2-channel phosphor digital oscilloscope with 100 MHz bandwidth, 1 GSa/s real-time sample rate, 14 MB memory, 8.0" display and up to 60,000 waveforms/sec capture rate. Built-in Waveform Generator.
SIGLENT SDS1102X-S is a dual-channel Super Phosphor Oscilloscope with a bandwidth of 100 MHz, a sample rate of 1 GSa/s, and a standard record length of 14 Mpts.
Features
25 MHz DDS arbitrary waveform generator, built-in 10 kinds of waveforms
New generation of SPO (Super Phosphor Oscilloscope) technology
Low background noise, supports 500 μV/div to 10 V/div voltage scales
10 types of one-button shortcuts
36 automatic measurement function
Supports statistics calculations, Gating  measurement, Math measurement, Ref measurement
Waveform math function (FFT, addition, subtraction, multiplication, division, integration, differentiation, square root)
High Speed hardware based Pass/Fail function  
Large 8 inch TFT-LCD display with 800*480  resolution
Abundant interfaces: USB Host, USB Device (USBTMC), LAN (VXI-11), Pass / Fail, Trigger Out
Supports  SCPI remote control commands
Supports multi-language display and embedded online help
Technical Specifications
Model
SDS1102X
SDS1102X-S
SDS1202X
SDS1202X-S
Bandwidth
100 MHz
100 MHz
200 MHz
200 MHz
Channels
2 + 1 EXT
Real-time sampling rate
1 GSa/s 
Waveform Generator
NO
YES
NO
YES
Memory depth
7Mpts/CH (Dual-Channel); 14Mpts/CH (Single-Channel)
Waveform Capture Rate
60,000 wfms/s
Trigger types
Edge, Slope, Pulse, Window, Runt, Interval,Time out (Dropout), Pattern, Video trigger, supports HDTV
Language
English, French, German, Russian, Spanish, Simplified Chinese, Traditional Chinese, Portuguese, Japanese, Korean, Italian, Arabic
I/O
USB Host, USB Device, LAN, Pass/Fail, Trigger Out, 1KHz Cal
Display
8 inch TFT LCD (800x480)
Power
AC 100-240 V, 45 Hz - 440 Hz, 50 VA Max
Weight
Net weight 3.26 kg, Gross weight 4.25 kg
Additional Information
Download SIGLENT SDS1102X-S Data Sheet.
Video
You'll find even more video reviews in the Video tab. Go and check it out!
Package Contents
SIGLENT SDS1102X-S Super Phosphor Oscilloscope — 1 pc.
Passive Probe 1x 10x — 2 pcs.
USB Cable — 1 pc.
Power Cord — 1 pc.
Quick Start — 1 pc.
Certification — 1 pc.
CD (Includes User Manual and EasyScopeX software) — 1 pc.
Number of channels
Bandwidth
Type

desktop
with built-in generator
phosphor

Sample Rate
Screen Size
Storage Capacity