Arbitrary Waveform Generator OWON AG1022F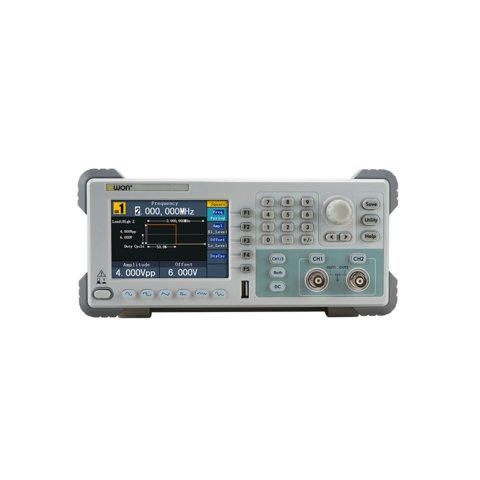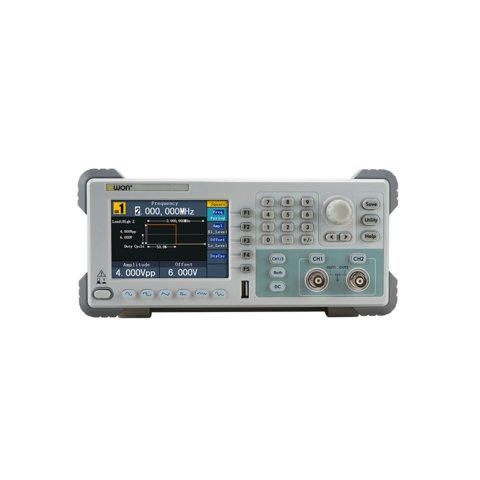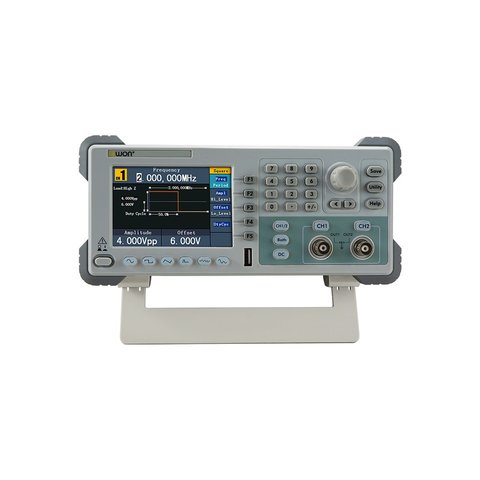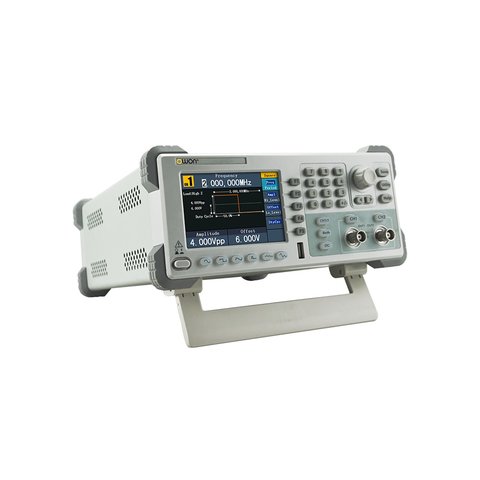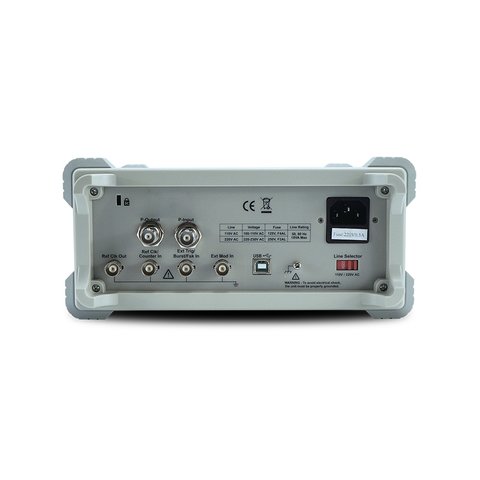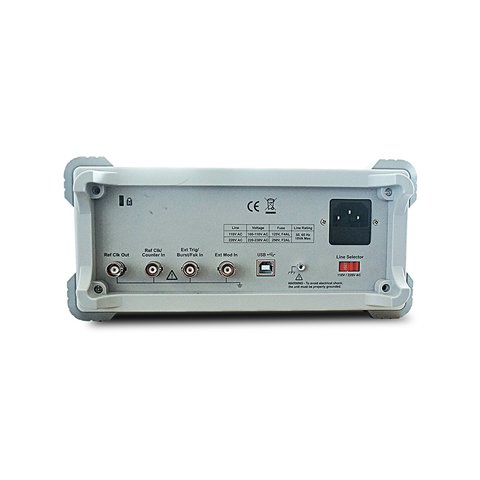 3 kg
Availability in stock:
HK
Warranty: 12 month (s)
Dual-channel function/arbitary waveform generator, with 25 MHz frequency, 125 MS/s sample rate, 14 bits vertical resolution, 2 pts to 8K pts wave length.
Note! This item is shipped within 7 working days.
OWON AG1022F is a dual-channel arbitrary waveform generator with frequency counter function. The device has 50 preset waveforms. The user also has the possibility to create custom waveforms through the Ultrawave software. The amplitude of the output signal is 10 V (50 Ω), and 20 V at a high impedance. OWON AG1022F is the true independent model that provides adjustable phases between the two channels.
Features
25 MHz Bandwidth.
Built-in hardware frequency counter: up to 200 MHz.
Advanced DDS technology.
125 MB/s maximum real-time sample rate.
14 bits / 1 mB vertical resolution.
Modulation modes: AM, FM, PM, FSK, PWM.
Logarithmic and linear sweep, burst generation.
There are 5 standard signals for quick access (sine, rectangle, triangle, pulse and noise).
48 arbitrary signals (trigonometric, mathematical and others).
Wave length: 2 pts to 8K pts.
Large display 4" (480 × 320 pixels) TFT LCD.
Interfaces: USB, SCPI support.
Technical Specifications
Preset Waveforms

Standard Waveforms

Sine, Square, Pulse, Ramp, and Noise
Arbitrary Waveform
Exponential Rise, Exponential Fall, Sin(x)/x, Step Wave, and others, total 45 built-in waveforms, and user-defined arbitrar y waveform
Frequency
Sine
1 μHz - 25 MHz
Square
1 μHz - 5 MHz
Pulse
1 μHz - 5 MHz
Ramp
1 μHz - 1 MHz
Noise
25 MHz (-3 dB) (typical)
Arb
1 μHz - 10 MHz
Amplitude
Amplitude
1 mV - 10 V (50 Ω), 1 mV - 20 V (high impedance)
DC Offset Range (AD+DC)
5 V (50 Ω), 10 V (high impedance)
DC Offset Range Resolution
1 mV or 4 digits
Load Impedance
50 Ω (typical)
Arbitrary Waveform
Wave Length
2 pts to 8K pts
Sample Rate
125 MS/s
Vertical Resolution
14 bits
Nonvolatile memory
26 waveforms
Modulation
Modulation Waveform
AM, FM, PM, FSK, Sweep, and Burst
Modulation Frequency
2 mHz to 20.00 KHz (FSK 1 μHz - 100 KHz)
Frequency
Function
Frequency, Period, Positive pulse duration, Negative pulse duration, Filling factor
Frequency Range
100mHz ~ 200MHz 
Frequency Resolution
6 digits/s
Input / Output
Display
4 inch (480 × 320 pixels) LCD
Type
Counter, External modulation input, External trigger input, External reference clock input / output
Communication Interface
USB host, and USB device, RS232 (option)
General Characteristics
Display
4 inch (480 × 320 pixels) LCD
Dimension (W×H×D)
235 × 110 × 295 mm
Device Weight
3 kg
User Manual

Download OWON AG1022F User Manual.
Sofware
Download OWON AG1022F Software.
Download OWON AG1022F USB Drivers.
Download OWON AG1022F USB Driver installation guide.
Package Contents
Function/Arbitrary Waveform Generator OWON AG1022F — 1 pc.
| | |
| --- | --- |
| Channels | |
| Max. signal frequency | |