DC Power Supply HYelec HY3010E (0-30V;0-10A)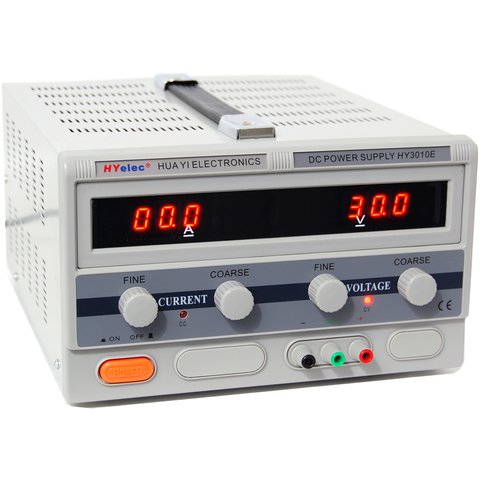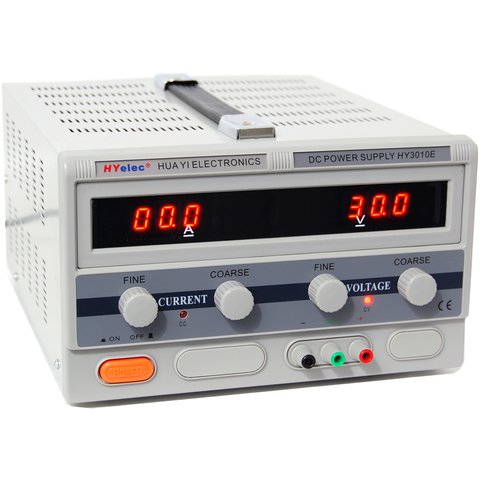 7.2 kg
220 V
Warranty: 6 month (s)
LED display,short-circuit protection, output voltage 0-30 V, provides with current up to 10 A
Power supply unit HY3010E provides current strength up to 10 A under output voltage from 0 to 30 V. Provides with power supply electronic schemes and devices with great power consumption. Power supply unit provides continuous adjustment of each parameter (of current and voltage) in two modes: coarse and fine. 
Features
Output current values and output voltage values in the power supply unit HY3010 are controlled on 3-digit LED matrices. Measurement accuracy constitutes no more than 2%.
Power source HY3010E equipped with overload protection by current and by voltage on each channel. Relevant indicator is lighting up when any protection is operating. Before device failure  the security system switches off channel's secondary voltage, where protection functioned, to prevent device breakdown.
Output terminals, from which one can turn off the voltage and device's ground connector, are in the bottom of power supply faceplate HY3010E.
Power supply is made from the 220 V AC. Power supply source HY3010E switching on/off is made with the big key switch with safe position fix.
Technical specifications
Output voltage, V
0-30
Output current, A
0-10
Ripple level
Por voltaje, mV
≤ 3
Load effect, %
Por corriente
≤0,02 ± 10 mA
Supply voltage effect, %
Por corriente
≤ 0.02 ± 3 mA
Output current value and voltage indication
Two 3-digits LED matrices 
Dimensions
365 × 265 × 164 mm
Power supply
~ 220/110 V ± 10 %
| | |
| --- | --- |
| Type | |
| Number of channels | |
| Max. Voltage | |
| Max. Current | |
| Indicator type | |