Digital Oscilloscope OWON SDS1022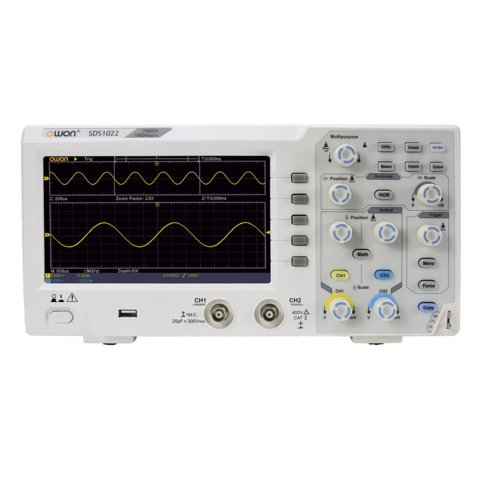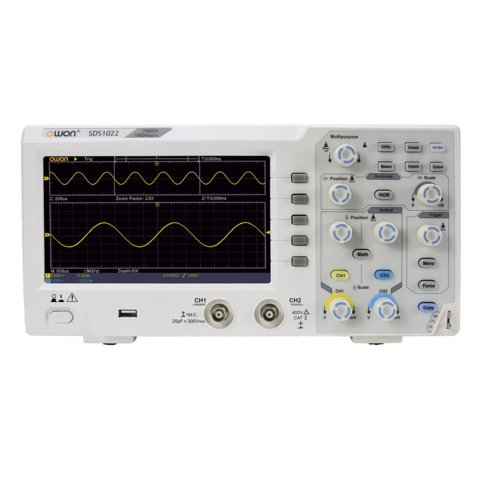 2 kg
Warranty: 12 month (s)
2-channel desktop digital oscilloscope with 20 MHz bandwidth, 100 MSa/s sample rate, 10K pts wavelength, 8 bits vertical resolution.
OWON SDS1022 is a desktop digital oscilloscope. The 2-channel device at an affordable price with 20 MHz bandwidth, 100 MSa/s sample rate and 10K pts wavelength. OWON SDS1022 has a simplified synchronization system which supports two trigger types: level and edge. Designed to solve problems that do not require large amounts of memory and complicated trigger types.
Features
20 MHz bandwidth.
2-Channel.
Sample rate: 100 MSa/s (Real time).
10K pts wavelength.
Display 7" TFT, 800 × 480 pixels.
Communication Interface: USB.
Technical Specifications
Bandwidth
20 MHz
Horizontal Scale (s/div)
5 ns/div - 1000 s/div
Channel
2
Vertical Sensitivity
5 mV/div - 5 V/div (at input)
DC Gain Accuracy
3%
Vertical Resolution (A/D)
8 bits (2 channels simultaneously)
Input
Input Impedance
1 MΩ, 10 pF
Input Coupling
AC, DC, GND
Max Input Voltage
± 400 V, CATI, CATII
Passive probes
х1; х10
Probe Attenuation Factor
х1; х10; х100; х1000
Trigger System
Trigger Mode
Auto, Normal, Single
Trigger Type
Edge, Video
Edge Trigger Source
CH1, CH2
Video Trigger
Sampling Type
real-time
Sample Rate
100 MSa/s
Equivalent Sample Rate
no
Wavelength
10K pts
Interpolation
sin(x)/x
Measurement and Mathematical Treatment System
Automatic Measurement
Vpp, Vavg, RMS, Frequency, Period, Vmax, Vmin, Vtop, Vbase, Width, Overshoot, Pre-shoot, Rise time, Fall time, +Width, -Width, +Duty, -Duty, Delay A→B, Delay A→B, area, cycle area
Math Functions
Addition, Subtraction, Multiplication, Division, FFT
General Characteristics
Display type
7" color LCD
Display Resolution
800 × 480
Power
100-240 V, 45-440 Hz, <15 W
Dimensions
301 × 70 × 152 mm
Weight
1,1 kg
Package Contents
Digital Oscilloscope OWON SDS1102 — 1 pc.
Probes — 2 pcs.
Probe Adjust — 1 pc.
Power cord — 1 pc.
USB cable — 1 pc.
User Manual — 1 pc.
Guarantee card — 1 pc.
| | |
| --- | --- |
| Screen Size | |
| Number of channels | |
| Storage Capacity | |
| Type | |
| Bandwidth | |
| Sample Rate | |