LED Standalone Controller H801TC (150000 px)
No results found for your request.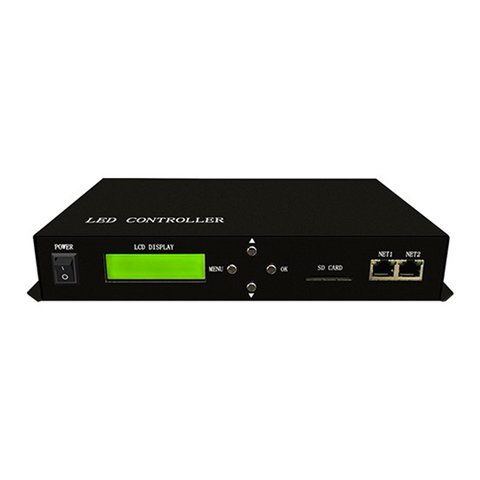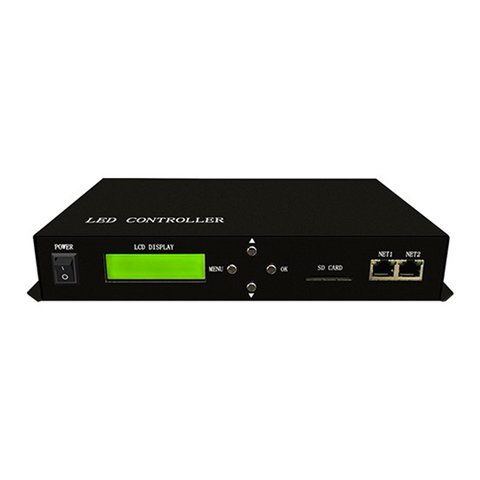 Availability in stock: CN
---
Note! This item is shipped within 7 working days.
---
LED RGB controller with SD card, supports DMX 512 and various types of ICs. Control via Ethernet connection.
H801TC is a LED controller which is specially designed for controlling various ICs with 3 channels via Ethernet connection. Compatible with DMX 512 protocol.
Downloads
Download H801TC controller user manual
Download LedBuild software manual
Features
Max. number of pixels: 150000
Control via Ethernet connection
Built-in LCD display
SD card support (max 64 GB, FAT16/FAT32)
Compatible ICs
LPD6803, LPD8806, LPD6812, LPD6813, LPD1882, LPD1889, LPD1883, LPD1886, DMX512, HDMX, APA102, P9813, LD1510, LD1512, LD1530, LD1532, UCS6909, UCS6912, UCS1903, UCS1909, UCS1912, WS2801, WS2803, WS2811, WS2812, DZ2809, SM16716, TLS3001, TM TM1809, TM1804, TM1803, TM1914, TM1926, TM1829, TM1906, INK1003, BS0825, BS0815, BS0901, LY6620, DM412, DM413, DM114, DM115, DM13C, DM134, DM135, DM136, 74HC595, 6B595, MBI6023, MBI6024, MBI5001, MBI5168, MBI5016, MBI5026, MBI5027, TB62726, TB62706, ST2221A, ST2221C, XLT5026, ZQL9712, etc.
Technical Specifications
| | |
| --- | --- |
| Voltage | AC 220 V |
| Power consumption | 3 W |
| Output | max. 150000 pixels |
| Dimensions | 270 × 150 × 43 mm |
| Weight | 1450 g |
Package Contents
H801TC controller — 1 pc.
| | |
| --- | --- |
| Control type | |
| Number of controlled pixels | |
| Voltage | |
| SD-card present | |
| Wi-Fi present | |
| Remote control present | |
| Bluetooth | |