Get Your Bonus for Every Purchase
ToolBoom Online Store launches a Loyalty Program. The advantage of this program is that all our retail customers may benefit from it. When you buy at our store you get 2% of the purchase total added to your bonus account.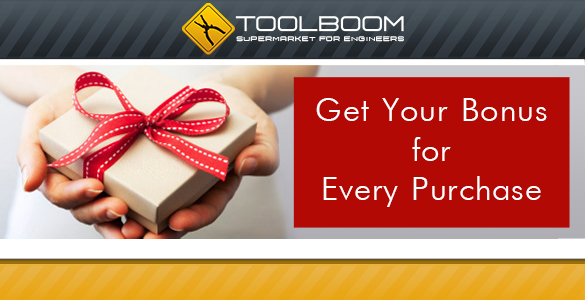 ToolBoom Loyalty Program Rules
HOW TO JOIN THE PROGRAM?
All the retail customers who made a purchase from ToolBoom.com website automatically become the Loyalty Program participants.
HOW TO GET BONUSES?
The sum equal to the 2% of purchase total is added to your bonus account with every purchase at the ToolBoom.com website.
HOW TO USE BONUSES?
Every next purchase can be partialy paid for using the accumulated bonuses.
Bonuses are activated in 14 days after the purchase.
Bonuses are valid for 6 months.
Unused bonuses are automatically canceled after 6 months.
You can pay for up to 50% of the order using bonuses.
Bonuses on your account can only be used to purchase products in the ToolBoom online store and can not be converted into cash.
HOW TO CHECK THE AMOUNT OF AVAILABLE BONUSES?
All the information about the bonuses (the amount, history, and validity) is available on the "My Account" page on our website.
It's very simple! Buy products at ToolBoom.com, increase the amount of bonuses on your account, and save on the next purchase.
Enjoy your shopping!