PC Based USB Digital Oscilloscope Hantek 6022BE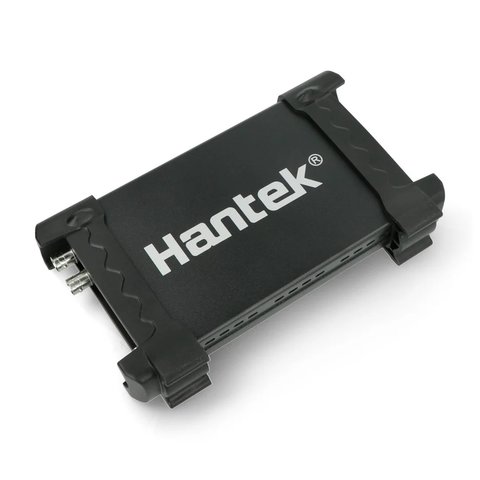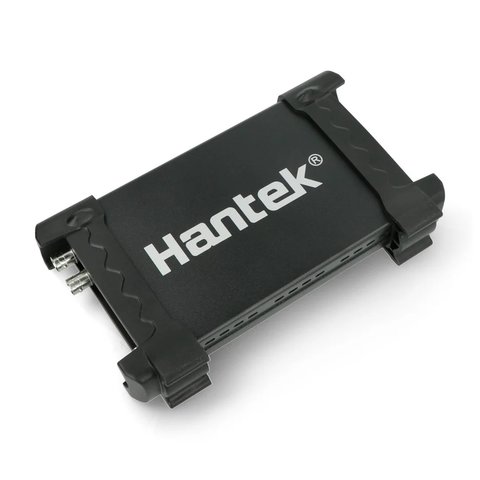 0.78 kg
110, 220 V
Availability in stock:
HK
Warranty: 12 month (s)
PC-based dual-channel USB digital oscilloscope with 20 MHz bandwidth, 48 MS/s sampling rate, and up to 1 Mpts memory depth.
Hantek 6022BE is a flexible dual-channel PC based USB digital oscilloscope. Control and data display is conducted with the help of a personal computer, laptop, netbook, or tablet under the Windows operating system via a USB interface.
Be careful! While measuring voltage, be sure to set the attenuator on the probe correctly! If the measured voltage is too high, it will damage the tool and may be dangerous for you and the connected computer. Do not measure the voltage over 35V in 1X probe mode!
Features
USB 2.0 interface, no external power required.
May be used with laptop computers.
Aluminium body.
The device can be positioned both horizontally and vertically.
Takes up a minimum of table area.
48 MS/s real time sampling rate, 20 MHz bandwidth.
The software supports Windows 7, Vista, XP, 2000.
23 measurement functions, self-test.
Waveform average, intensity, inverting, electronic luminophor emulation, addition, subtraction, multiplication, division, X-Y graph.
Signals may be saved in text, jpg/BMP, MS excel/word formats.
Cursor measurements.
Math functions:

Signal A + Signal B.
Signal A — Signal B.
Signal A × Signal B.
Signal A / Signal B.
Fast Fourier Transform

Automatic measurements.

actual frequency amplitude
total harmonic amplitude
noise
signal/noise ratio
bits effective number (the number of ADC/DAC bits needed to give the same signal/noise ratio)
signal/noise ratio (with harmonics included in the noise)
harmonic distortion ratio
entire signal RMS value
actual frequency RMS value
harmonic and noise RMS value
maximum voltage
minimum voltage
total amplitude
top voltage of the statistical maximum (excluding outliers)
base voltage of the statistical minimum
middle 50% from top to base
entire measurement RMS value
base — top amplitude
entire measurement average
first cycle average
overshoot up (max-top *100%)
overshoot down
period duration
frequency
front
fall
duty cycle (logical 1 and logical 0, in percent)
duration log. 1 and log. 0

Multiple devices can be connected to one computer.
Technical Specifications
Channels
2
Bandwidth
20 MHz
Sample rate
48 MS/s (single-channel mode)
24 MS/s (dual-channel mode)
Impedance
1 MΩ 25 pF
Vertical resolution
8 bit
Ranges
20 mV - 5 V, 8 steps
DC Accuracy
±3%
Time ranges
1 ns-5000 s, 39 steps
Vertical position control
yes
Input protection
diode (35 V peak)
Trigger mode
Auto, Normal and Single
Trigger level adjustable
yes
Trigger type
Rising edge, falling edge
Trigger source
CH1, CH2
Buffer size
10 K-64 KB/Channel
Vertical mode
CH1, CH2, Dual, ADD
Power Supply
USB
Dimensions
200 mm × 100 mm × 35 mm
Package Contents
PC Based USB Digital Oscilloscope Hantek 6022BE — 1 pc.
Probes — 2 pcs.
Cable USB — 1 pc.
CD with Software — 1 pc.
| | |
| --- | --- |
| Number of channels | |
| Type | |
| Bandwidth | |
| Storage Capacity | |
| Sample Rate | |