Ratchet Screwdriver Set Pro'sKit PK-3018B 43-In-1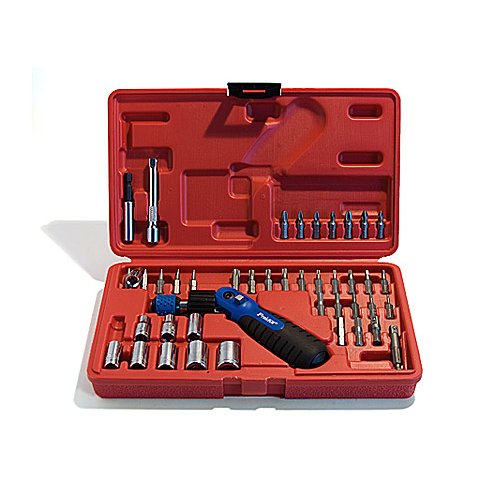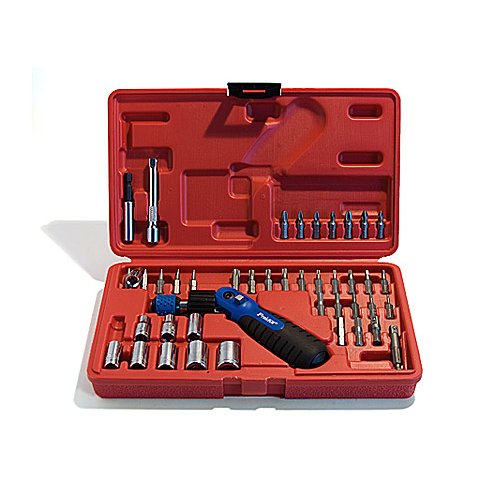 Double rattle-lock and handle joint connection enable easy work in hard to reach places
Pro'sKit PK-3018B – ratchet screwdriver set.
Features
Comfort ergonomic TPR handle does not slide in hand.
Double rattle-lock and handle joint connection enable easy work in hard to reach places.
Storing tips inside of a handle helps to save space and keep your instrument in order.
High momental load: 220 kg/cm.
Technical Specifications
Set
Set contains
H2, H2.5, H3, H4, H5, H5.5, H6 mm
5, 5.5,6, 7, 8, 9, 10,12,13 mm

PK-3018B

(metric)


#1, #2, #3

1/8" , 5/32" , 3/16" , 1/4" , 9/32"

#1, #2, #3

1/8" , 5/32" , 3/16" , 1/4" , 9/32"

Magnetic tip holder (60 mm)

Flexible extension (190 mm)

Measurements: 257x150x46
Torx Size

T20H
T10H
T15H
T25H
T27H
T30H
T40H

Phillips Size
Slot width

SL 3.2 mm
SL 4 mm
SL 7 mm
SL 4.7 mm
SL 6.3 mm

Robertson Size
Hex Size

H 2.0 mm
H 2.5 mm
H 3.0 mm
H 4.0 mm
H 5.0 mm
H 6.0 mm
H 5.5 mm

Nutdriver Size

M5
M5.5
M6
M7
M8
M9
M10
M12
M13