Soldering Station SUNKKO 942+ Dual Pen Intellegent Leadfree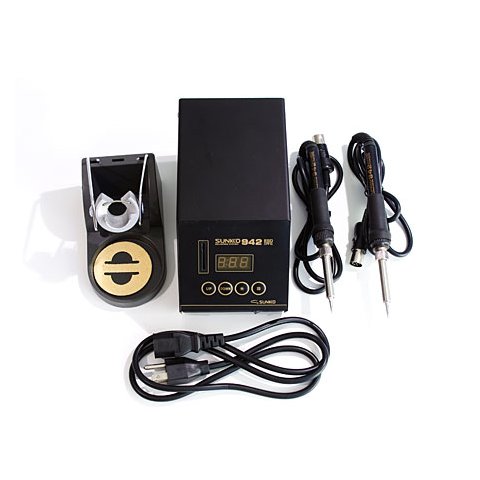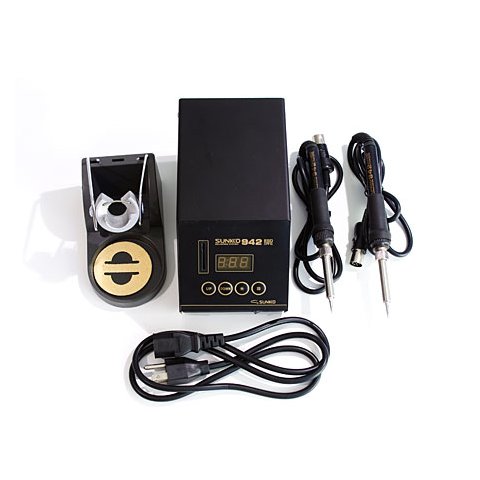 3.05 kg
220 V
Warranty: 6 month (s)
digital leadfree soldering station designed for assembling/dismantling
Sunkko 942+ – digital leadfree soldering station designed for assembling/dismantling.
Features
Soldering station consists of main unit and soldering iron with ceramic heating element. Digital microcontroller provides control unit full functionality. Automatic heating element type identification and operating temperature calculation of soldering iron, compatible with 3 types of electronic heaters.
Switch on/off button, soldering iron connector, 3-digits display, buttons to set operating modes and slot for special magnetic block-key of station operating settings are located on the front panel of the  main unit.
Power cord slot with fuse is on the back panel of the main unit.
"Sleep mode" when standby for 30 minutes to prolong operating life of the heater.
Magnetic block-key is purpose-built magnetic card to prevent temperature settings and other changes by mistake. To ensure stability of soldering station the stand is made from metal. On the base stand is a cleaning sponge deepening.
There is spare cleaning multi-purpose sponge with 57mm diameter and two semicircular cuts to set on the others stand models.
Standard soldering iron with one ceramic heating element and one replacement nozzle. Soldering iron is equipped with original Japanese or Chinese analogue heating element.
Technical Specifications
Soldering iron
Temperature range
200–450 °C
Power consumption
70W
Supply voltage
24 V, AC
Heating element
ceramic, analogue
Replacement tip
conic, analogue 
Ground Resistance
2 Ω
Ground Potential
2 mV
Length  (w/o cord)
170 mm
Weight (with cord)
90 g
Main unit
Soldering iron temperature control
discrete
Soldering iron temperature indication
3-digits
Settings protection
Magnetic key-card
Power consumption
75 W (max)
Operating voltage
220V, 50 Hz
Fuse
1A × 220V
Dimensions
100 × 100 × 190 mm
Weight
2 kg
Contents
Main unit Sunkko 942+ – 1 pc.
Soldering iron Sunkko 942+ – 1 pc.
Soldering station stand – 1 pc.
Magnetic key-card for station settings blocking – 1 pc.
Power cord – 1 pc.
| | |
| --- | --- |
| Power | |
| Heater type | |
| Control type | |
| Soldering iron voltage | |