Technician's Tool Kit Pro'sKit PK-2052TB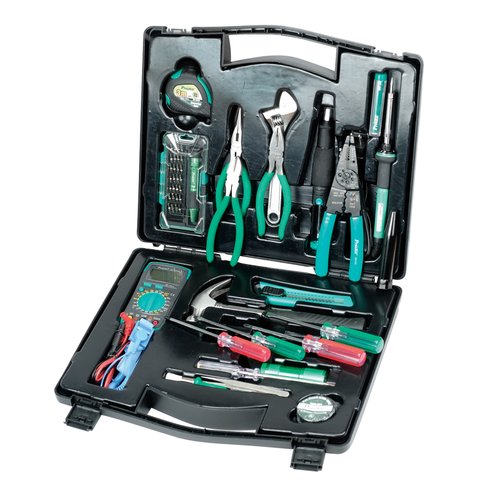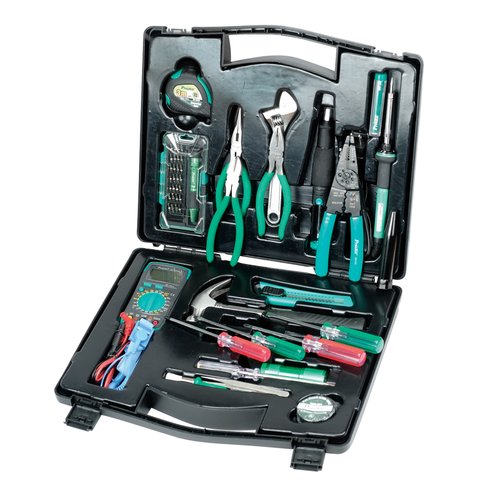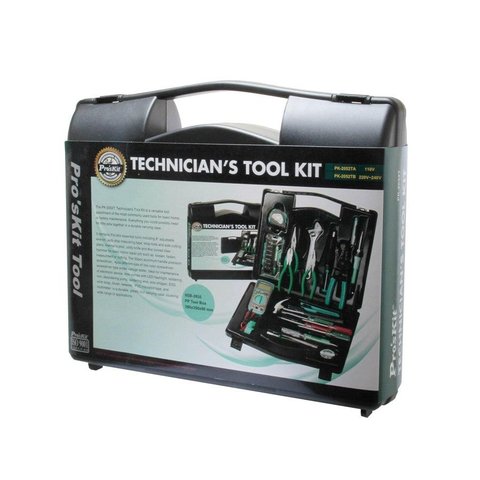 Most commonly used tools: pliers, screwdrivers, a multimeter, a soldering iron. Stored in a carrying tool case (390x350x90 mm).
Pro'sKit PK-2052TB is a technician's tool kit with a range of the most commonly used tools for basic home or office maintenance.
Features
Case size

: 390x350x90 mm.
Contents & Specifications
| | |
| --- | --- |
| Pro'sKit 1PK-052 | Lineman's Pliers (165 mm) |
| Pro'sKit 1PK-067 | Side Cutting Pliers (160 mm) |
| Pro'sKit 1PK-125T | Super Fine Tip Straight Tweezers (120 mm) |
| Pro'sKit 1PK-709 | Long Nose Pliers (160 mm) |
| Pro'sKit 8PK-154 | Brush |
| Pro'sKit 9DK-2060 | Auto Stop Measuring Tape (3 m) |
| Pro'sKit 9DP-S001 | Pen Solder 63% |
| Pro'sKit 9MS-001 | PVC Insulated Tape |
| Pro'sKit 9SD-329H | Screwdriver Probe Voltage Tester |
| Pro'sKit AS-611 | Wrist Strap (10 ft) |
| Pro'sKit CP-412G | Heavy Duty Wire Strippers/Crimpers (8") |
| Pro'sKit DP-366D | Desoldering Pump |
| Pro'sKit FL-516 | LED Flashlight |
| Pro'sKit HW-008N | Adjustable Wrench (8") |
| Pro'sKit MT-1210 | 3 1/2 Compact Digital Multimeter |
| Pro'sKit PD-2612 | Curved Claw Hammer (8 oz) |
| Pro'sKit PD-513 | Utility Knife |
| Pro'sKit SD-5105A | Slotted Screwdriver (3.0 x 100 mm) |
| Pro'sKit SD-5105B | Phillips Screwdriver (PH0 x 100 mm) |
| Pro'sKit SD-5107A | Slotted Screwdriver (6.0 x 100 mm) |
| Pro'sKit SD-5107B | Phillips Screwdriver (#2 x 100 mm) |
| Pro'sKit SD-9608 | Aluminum Handle Precision Screwdriver set (30 pcs) |
| Pro'sKit SI-130B-20 | Ceramic Soldering Iron (220 V) |
| Pro'sKit 9SB-3935 | Tool Box |