Torx screwdriver set Pro'sKit SW-2125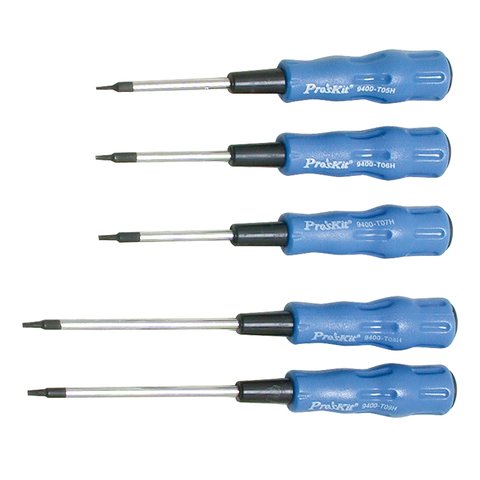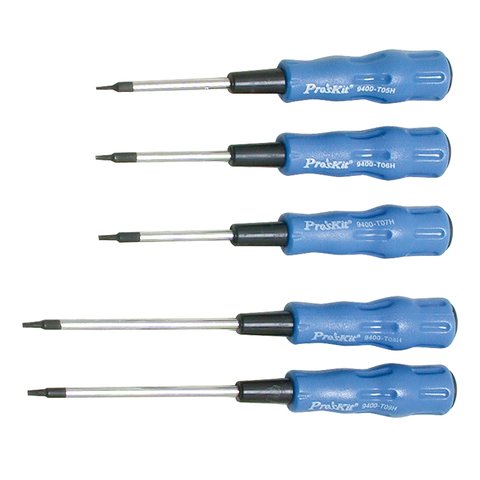 A set of 5 Torx screwdrivers with soft handles: T05, T06, T07, T08, T09.
Pro'sKit SW-2125 is a Torx screwdriver set.
Features
Tamper-proof holes are provided for screws such as torx screws with a projection in the screw head. These screws are used in cases where tampering could be a problem.
Select the size for working with mobile telephones, communications equipment, radios and precision equipment.
Weight: 175 g.

Contents and Specifications
Model
Type
Size
Working length
Diameter
Grip length
Total length
Pro'sKit 89400-T05
T05
50 mm
4,0 mm
85 mm
135 mm
Pro'sKit 89400-T06
T06
50 mm
4,0 mm
85 mm
135 mm
Pro'sKit 89400-T07
T07
50 mm
4,0 mm
85 mm
135 mm
Pro'sKit 89400-T08
T08
80 mm
4,0 mm
85 mm
165 mm
Pro'sKit 89400-T09
T09
80 mm
4,0 mm
85 mm
165 mm