Ultra Phosphor Digital Oscilloscope UNI-T UPO5204CS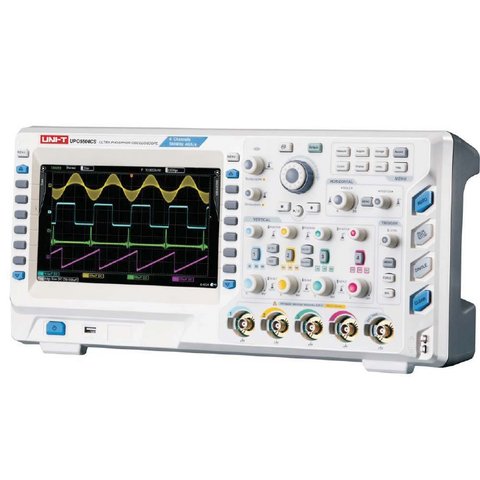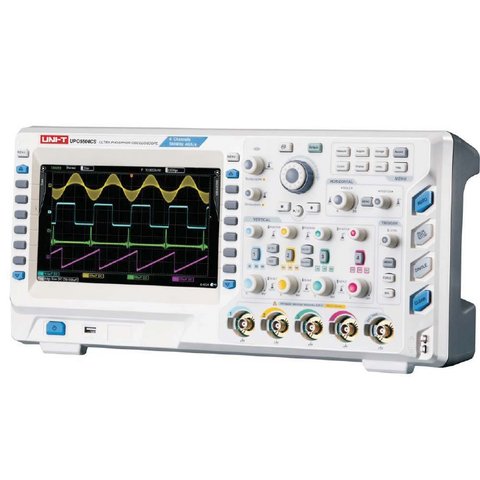 7 kg
110, 220 V
Warranty: 24 month (s)
Desktop 4-channel phosphor digital oscilloscope with 200 MHz bandwidth, 4 GSa/s real-time sample rate, 256 MB memory, 9.0" display and up to 200,000 waveforms/sec capture rate.
UNI-T UPO5204CS is a desktop 4-channel ultra phosphor digital oscilloscope.
Features
Sample Rate up to 4 GS/s
4 Channels
Bandwidth 200 MHz
Memory Depth 256 Mpts (Standard)
Waveform Capture Rate up to 200,000 wfms/s
With 256 levels intensity grading display
Up to 300,000 frames for Waveform Record
Supports serial bus trigger and decoding
9 inch TFT LCD, WVGA (800*480)
Interfaces: USB Host, LAN, VGA, Pass/Fail, 10 MHz input/output
Technical Specifications
Channels
4
Bandwidth
200 MHz  
Sample Rate
4 GS/s (Single-channel), 2 GS/s (Dual-channel)
Max. Memory Depth
256 Mpts (Single-channel), 128 Mpts (Dual-channel)
Waveform Capture Rate
200,000 wfms/s
Time Base Scale
2 ns ~ 1000 s
Input Coupling
(1MΩ±1%)//(14pF±3pF); (50Ω±2%)//(14pF±3pF)
Vertical Scale
1 mV/div ~ 5 V/div(1 MΩ); 1 mV/div ~ 1 V/div(50 Ω)
DC Gain Accuracy
±3%
Waveform Record
Max. 300,000 Frames
Trigger
Edge, Pulse Width, Runt, Nth Edge, Slope,Video, Pattern, RS232/UART, I2C, SPI, CAN, USB, FlexRay
Bus Decode
Standard: Parallel; Optional; RS232/UART, I2C, SPI, CAN, USB, FlexRay
Waveform Operation
A+B、A-B、A×B、A/B、FFT、Editable Advanced
Auto Measurement
Peak-Peak Value, Amplitude, Maximum, Minimum, Top Value, Bottom Value, Mean, Average, Root Mean Square Value, Overshoot, Preshoot, Frequency, Cycle, Rise Time, Fall Time, Positive Pulse, Negative Pulse, Positive Duty Ratio, Negative Duty Ratio, Delay 1->2, and Delay 2->1.
Number of Measurements
Display 5 measurements at the same time
Measurement Statistics
Average, Max, Min, Standard Deviation, Number of Measurements
Frequency Counter
Hardware 6 bits counter (Channels are selectable)
Standard Interface
USB-Host (×2), LAN, VGA Output, 10MHz Input/Output, AUX Output (TrigOut, GND, Pass/Fail)
General Characteristics
Power
100 V ~ 240 V AC rms, 45 Hz ~ 440 Hz
Display
9 inches, TFT LCD, WVGA (800×480)
Size (W×H×D)
456 × 218 × 128 mm
Weight
4.4 Kg ± 0.2 Kg
Video
Package Contents
UNI-T UPO5204CS Digital Oscilloscope – 1 pc.
Probes (1×, 10× switchable) – 4 pcs.
Power Cord – 1 pc.
USB Cable – 1 pc.
PC Software CD – 1 pc.
| | |
| --- | --- |
| Number of channels | |
| Bandwidth | |
| Type | |
| Sample Rate | |
| Screen Size | |
| Storage Capacity | |