Goot GP-101S Gas-Heasted Soldering Iron Review
Page Content
Many technicians surely had cases where they needed a stand-alone soldering iron. Gas-heated soldering iron is the most reliable and practical solution in such cases. People that are familiar with this device are also familiar with its advantages. However, for people that have not had much experience with such devices and are unsure about their main features we have prepared a review of the Goot GP-101S gas-heated soldering iron (which is available in our store).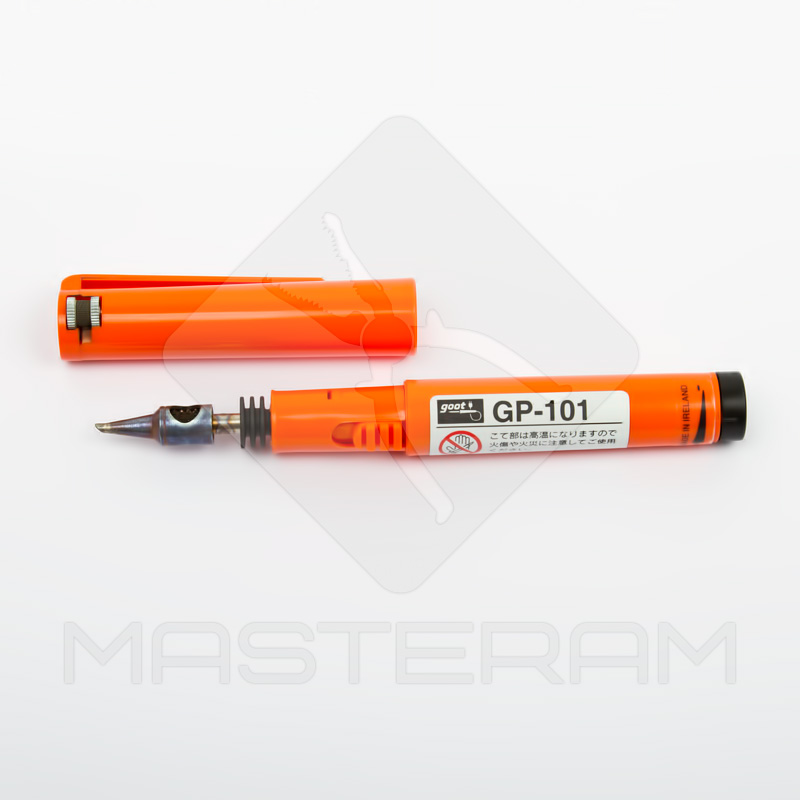 Goot GP-101S Gas-Heated Soldering Iron
Goot GP-101S Gas-Heated Soldering Iron Technical Specifications
| | |
| --- | --- |
| Heating system | Gas |
| Gas type | Butane, isobutane |
| Length | 157 mm (without cap) |
| Weight | 50 g (with cap) |
| Continuous operation time | Approximately 45 min. |
| Soldering iron tip temperature | 100 – 400 ºC |
| Heat power | 10 - 60 W |
Goot, a company form Japan, takes both design and technological functionality of their devices very seriously. It's not surprising that Goot GP-101S gas-heated soldering iron can be distinguished from their cheaper analogs by a very nice appearance. A pyrophoric flint with a drum to produce sparks, similar to the ones used in regular lighters, is installed in the cap of the device. Also, the cap is equipped with a clamp which can be used to attach the soldering iron to clothing, belts etc.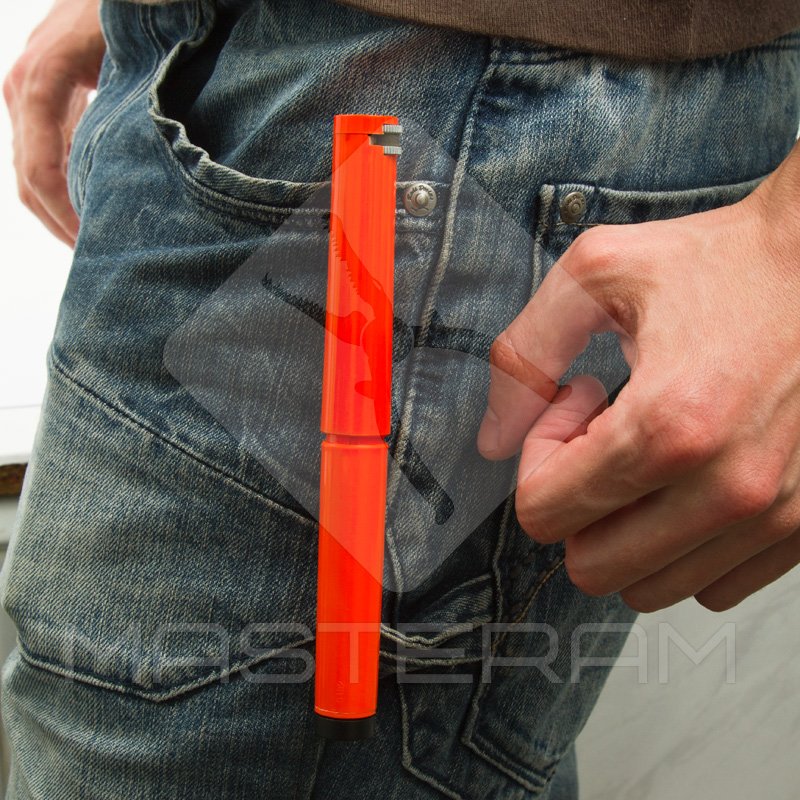 Goot GP-101S Gas-Heated Soldering Iron Attached to Clothing
Soldering Iron Design
The construction of the Goot GP-101S Gas-Heated Iron is quite simple. It consists of a gas cylinder and a removable nozzle which is attached to a soldering iron tip.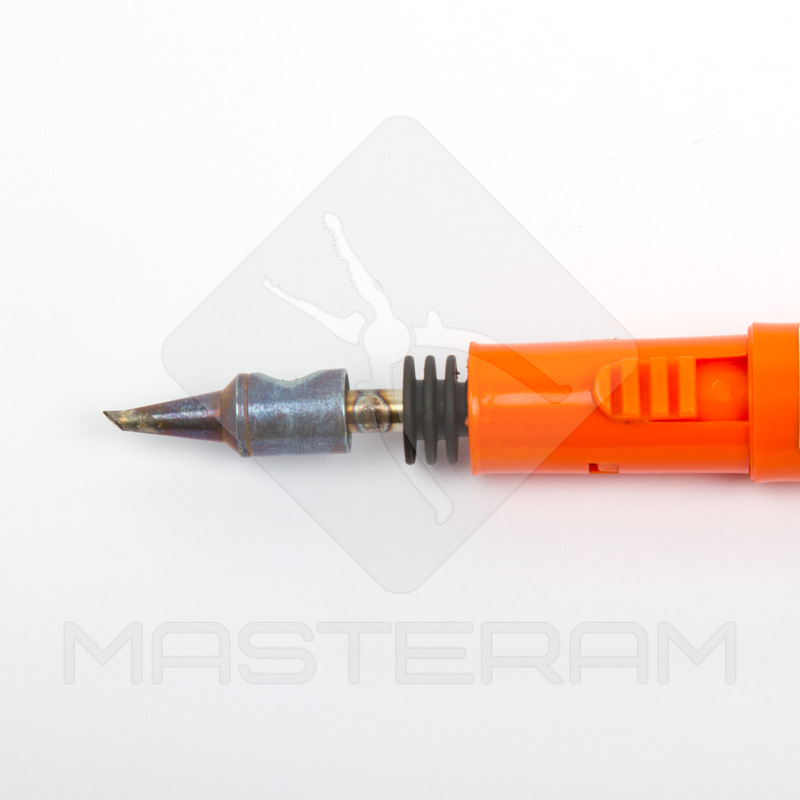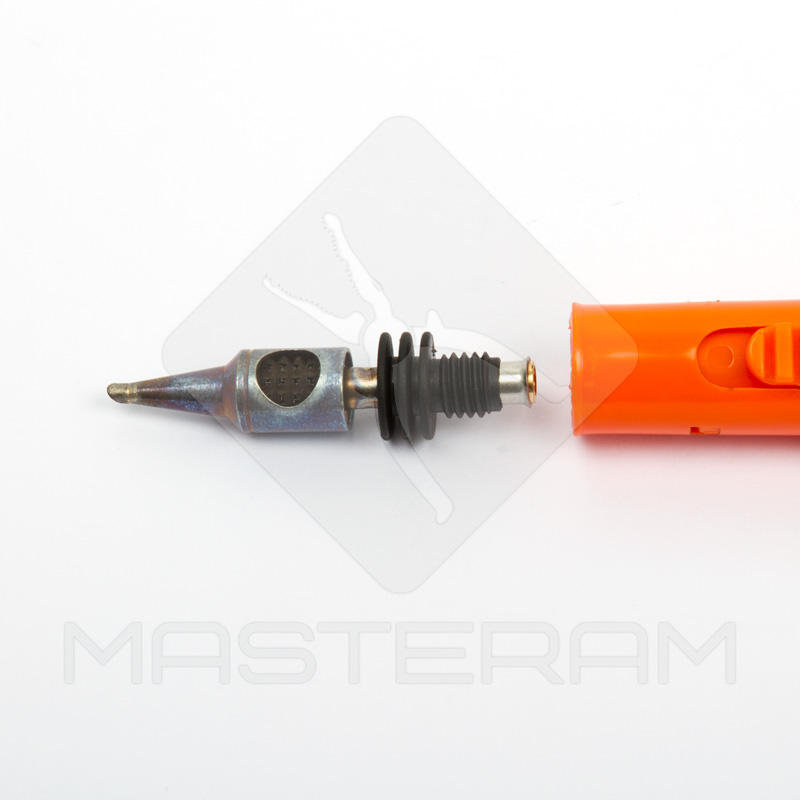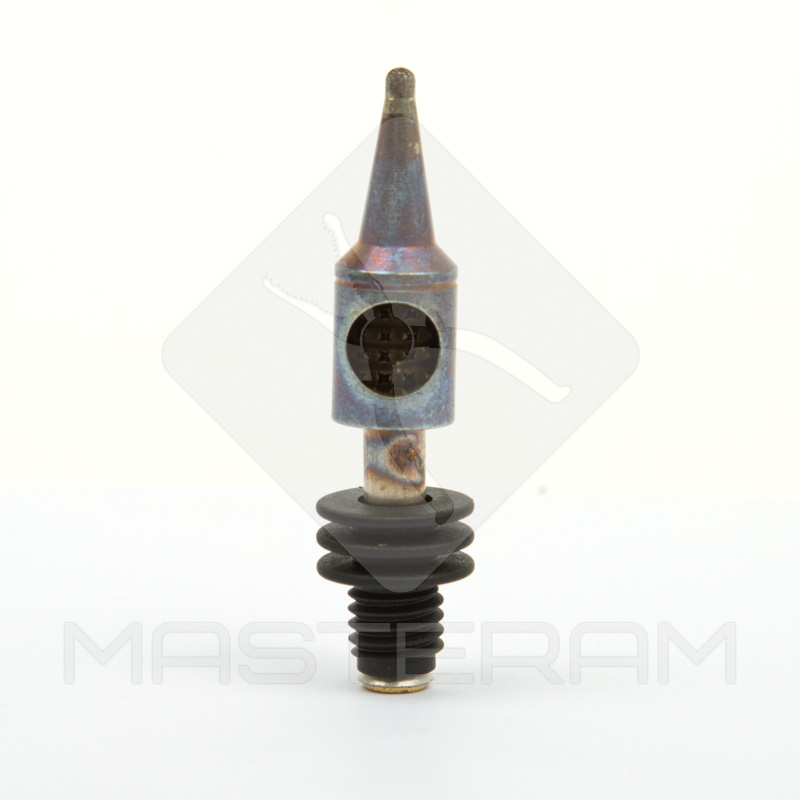 Goot GP-101S Gas-Heated Soldering Iron Tip
There is a valve in the bottom part of the device which is used to fill the cylinder with gas.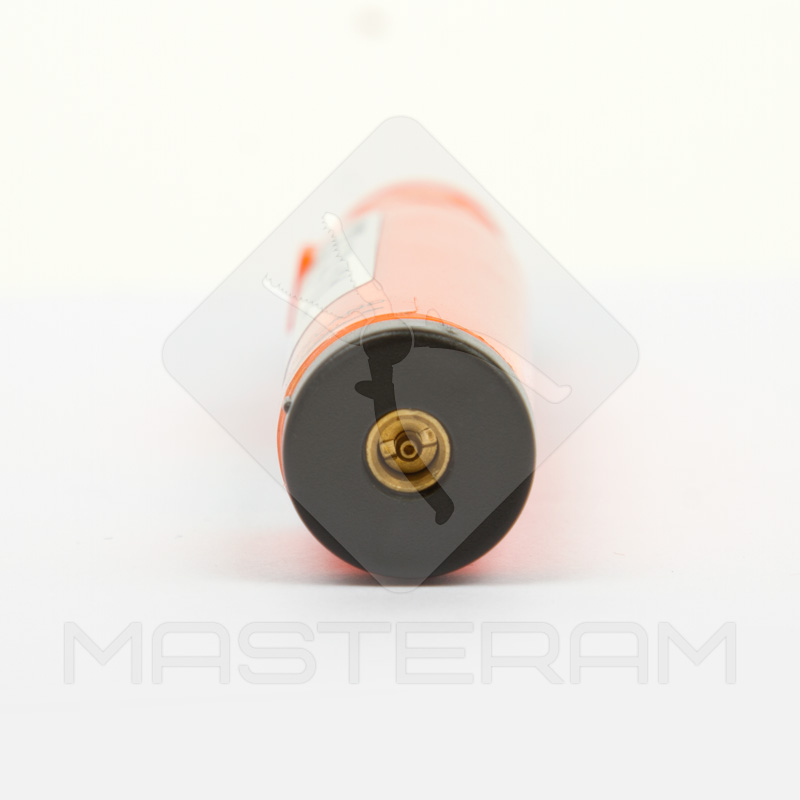 Goot GP-101S Gas-Heated Soldering Iron Valve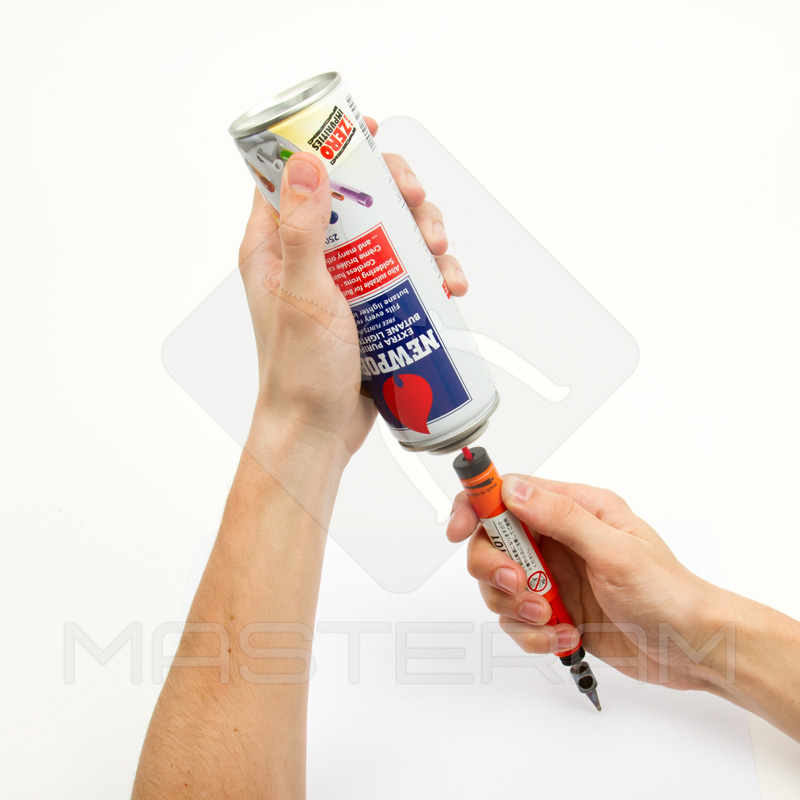 Putting Gas in Goot GP-101S Gas-Heated Soldering Iron
Gas supply control is also located here. It can be rotated both clockwise and counter-clockwise. A significant amount of force needs to be applied to rotate the control, as its surface is smooth, not very comfortable to grip and has only one indicating strip that can prevent the fingers from slipping.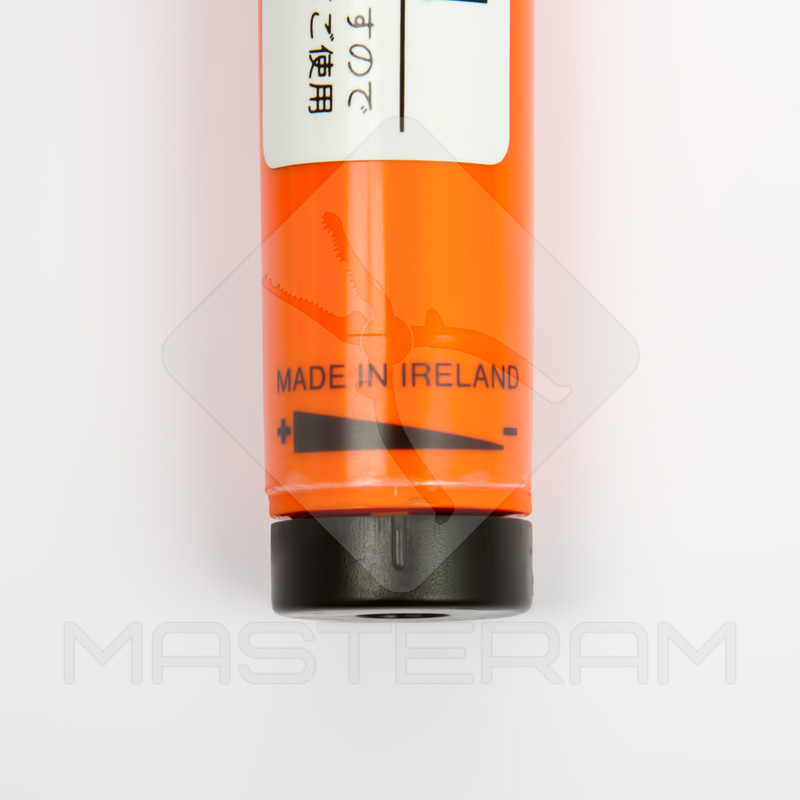 Goot GP-101S Gas-Heated Soldering Iron Gas Supply Control
There is a release valve on the upper part of the Goot GP-101S Gas-Heated Iron which can be opened with a special lever.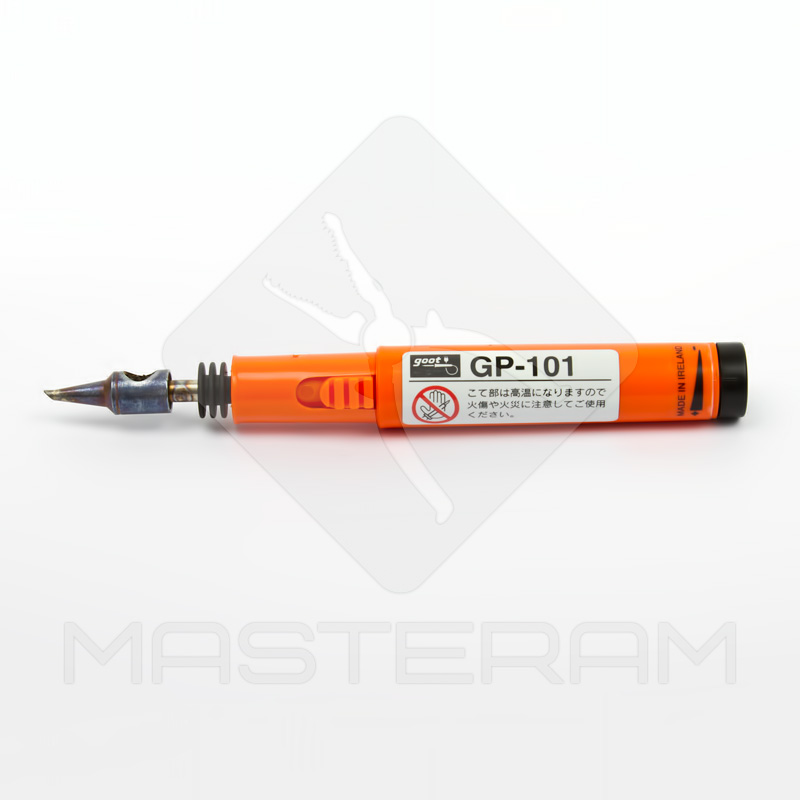 Gas Supply Closed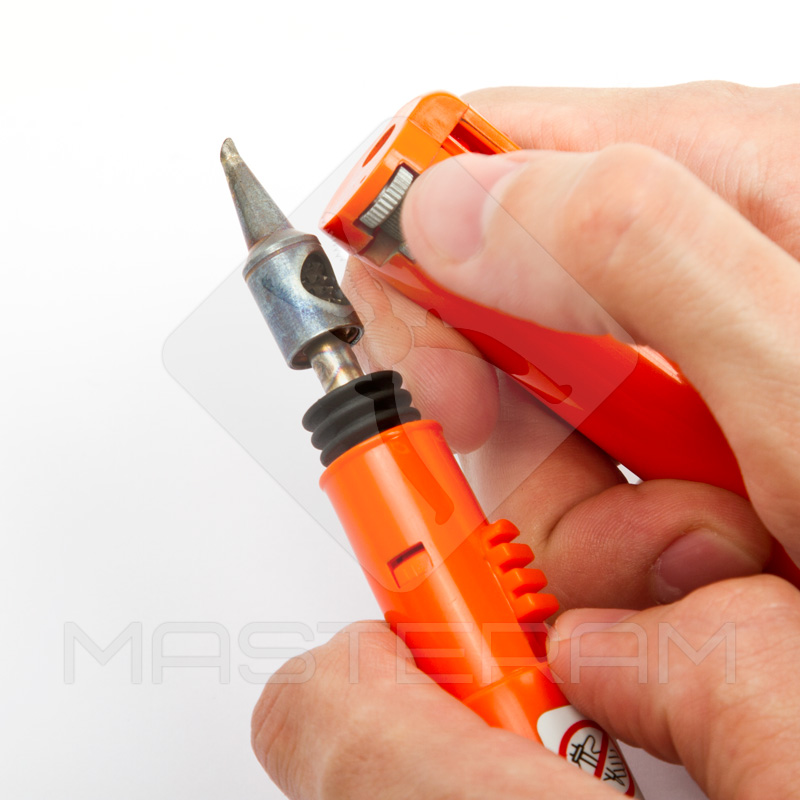 Gas Supply Opened
Nozzle of the Goot GP-101S gas-heated soldering iron is removable. This provides a possibility to install various types of soldering iron tips. The outlet can be adjusted in any position for convenient gas ignition. One of the advantages that Goot GP-101S has over its cheaper analogs is that plastic near the nozzle does not get warm if the device is used for a long time. This allows the operation time to be quite lengthy.
Usage Specifics
It should also be pointed out how practical Goot GP-101S is in use. It's very light, convenient and economical. Gas is ignited after the top valve is opened, there is a clear hissing sound if the gas supply control is not set to minimum.
Hold a lighter near the nozzle, produce a spark and check if the gas is ignited. It will be burning with blue flame at first, then the flame will disappear and the inner part of the nozzle will start to glow in yellow. All of the heat from the burnt gas will be transferred through the nozzle to the tip.
Temperature increases very fast at maximum power. A temperature of 200 ºC, which is significant enough for lead-tin soldering, can be obtained within 15 seconds. More time is required to get to the maximum 400-420 ºC point. The device's ability to maintain a stable temperature was a very pleasant surprise. Set the gas supply control slightly above minimum after the device was warmed up with maximum gas flow and you can rest assured that the tip will not cool down. The tip doesn't lose energy even after a continuous contact with solder.
We used a UNI-T UT325 digital thermometer to test the temperature of the soldering iron tip. The result was 140 ºC with a minimum gas supply setting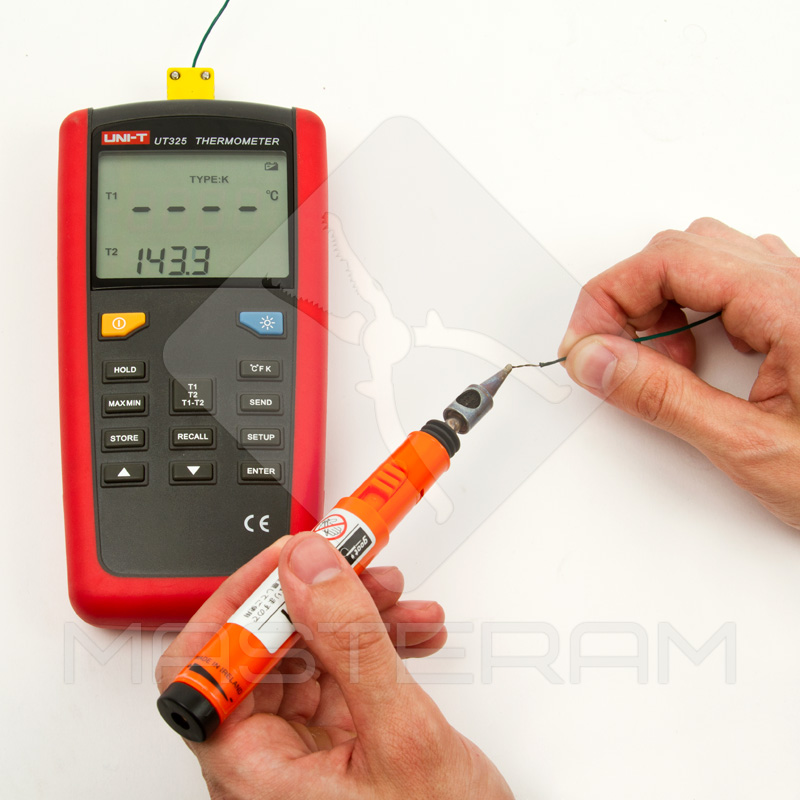 and 400 ºC with a maximum gas supply setting.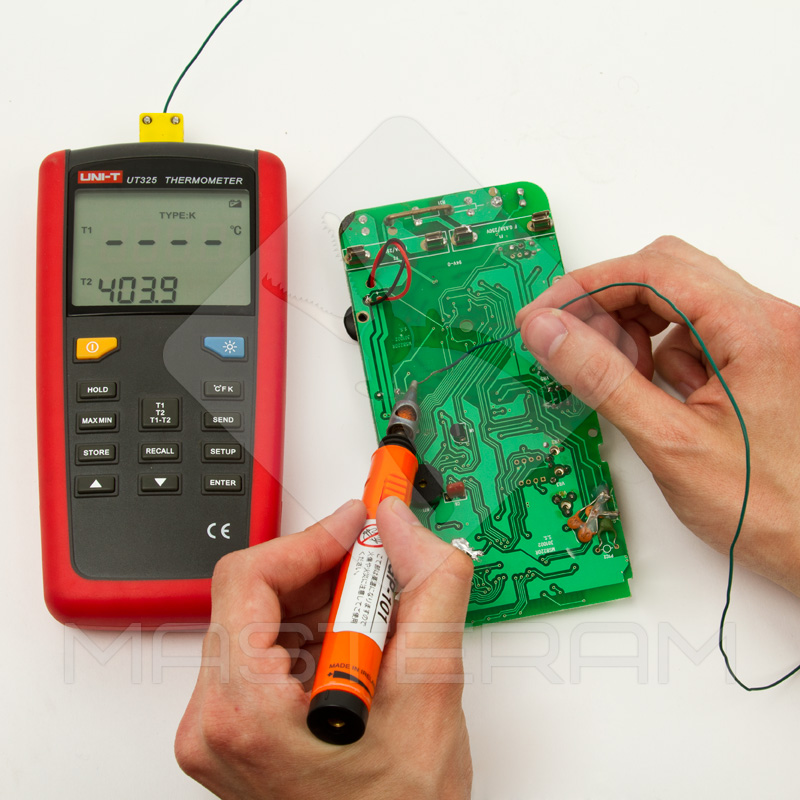 It is mentioned in the technical specifications that Goot GP-101S gas-heated soldering iron can work for 45 minutes without interruptions. After testing this information on the medium level of gas supply we have found out that the actual working time of the device is one hour and twenty minutes per one gas fill.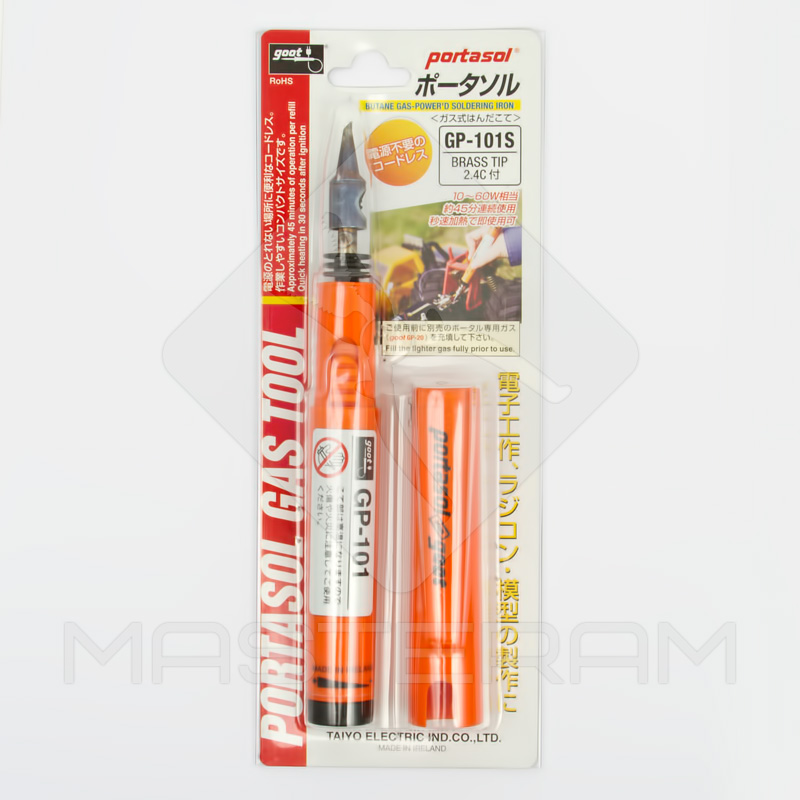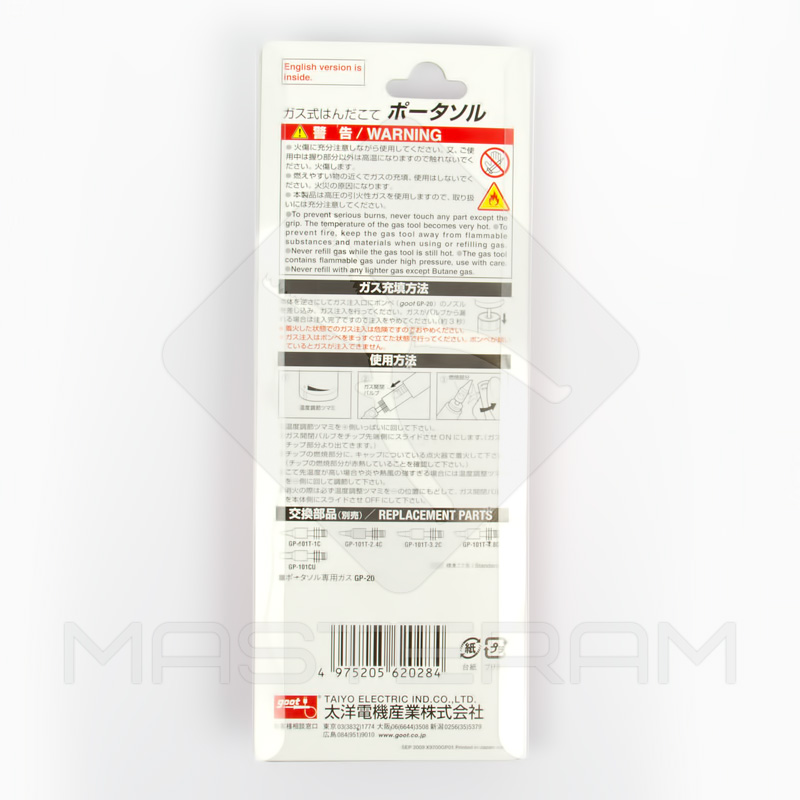 Goot GP-101S Gas-Heated Soldering Iron Package
There are two more powerful Goot soldering irons in the Toolboom online store – Goot GP-501 and Goot GP-510SET. They are more powerful than Goot GP-101S and have a set of removable tips included in the package. They also have a piezoelectric ignition system that allows igniting the gas with a single press of a button.
You can buy a Goot GP-101S Gas-Heated Soldering Iron in Toolboom online store.
Sergey Safoniuk,
Technical expert of Toolboom online store
All rights reserved. This material from toolboom.com web site may not be published, rewritten or redistributed in whole or part without authorship indicated and backlinks provided.
Customers Feedback