UNI-T UT70C Digital Multimeter Review
Page Content
Uni-Trend company is famous as a manufacturer of high-quality, reliable and unexpensive measuring equipment. Today we will review one of the most popular devices of this manufacturer, namely UNI-T UT70C.
Specifications
UNI-T UT70C Digital Multimeter is medium class device, the latest model in UT70 series. Is allows measuring AC/DC voltage and current, resistance, capacitance, frequency and duty cycle. Besides, it has a range of additional functions described below.
First, let's overview the main technical specifications of UNI-T UT70C:
Display
8000, LCD backlight, 62 × 53 mm
DC voltage
Range
80 mV / 800 mV / 8 V / 80 V / 800 V / 1000 V
Accuracy
±(0,1%+1)
AC voltage
Range
800 mV / 8 V / 80 V / 800 V / 1000 V
Accuracy
±(1%+3)
DC current
Range
80 mA / 800 mA / 8 A / 10 A
Accuracy
±(0,3%+2)
AC current
Range
80 mA / 800 mA / 8 A / 10 A
Accuracy
±(0,8%+2)
Resistance
Range
800 Ω / 8 kΩ / 80 kΩ / 800 kΩ / 8 MΩ / 80 MΩ
Accuracy
±(0,5%+1)
Capacitance
Range
1 nF / 10 nF / 100 nF / 1 μF / 10 μF / 100 μF
Accuracy
±(2%+3)
Frequency
Range
1 kHz / 10 kHz / 100 kHz / 1 MHz
Accuracy
±(0,02%+1)
Power
9 V (6F22 battery)
Dimensions
195 × 90 × 40 mm
Weight
0,55 kg
Package Contents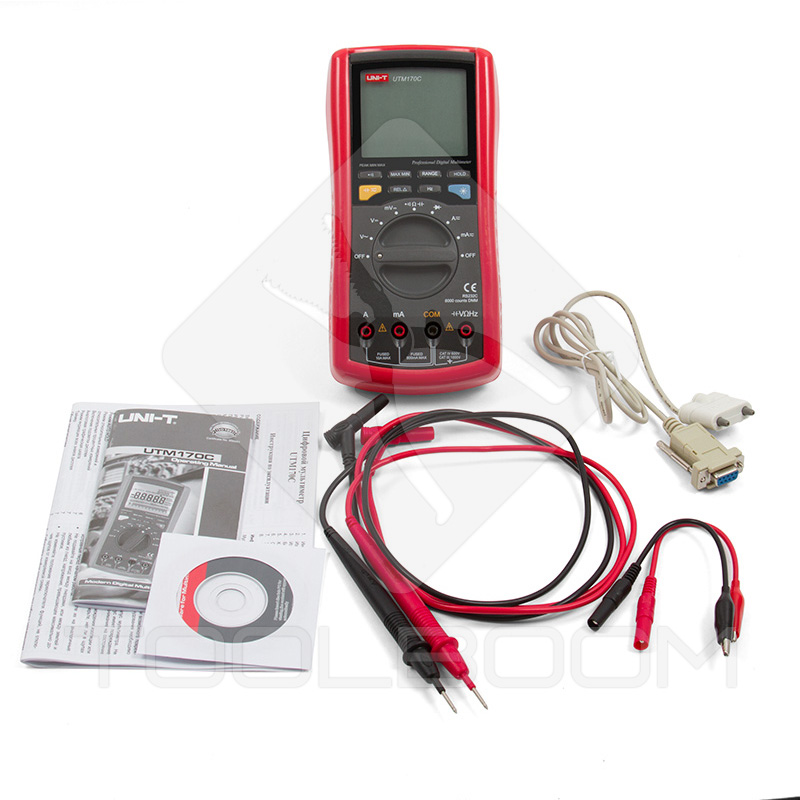 The product package includes a rather large number of items:
1. Multimeter unit
2. User manual
3. Test leads
4. Alligator test clips
5. CD with software
6. Data cable
Functional Features
The device feels good when holding in one's hand. It is made of high-quality plastic, covered with a special rubber cover that ensures good drop protection, and has a folding stand.
The cover has slots for inserting test leads.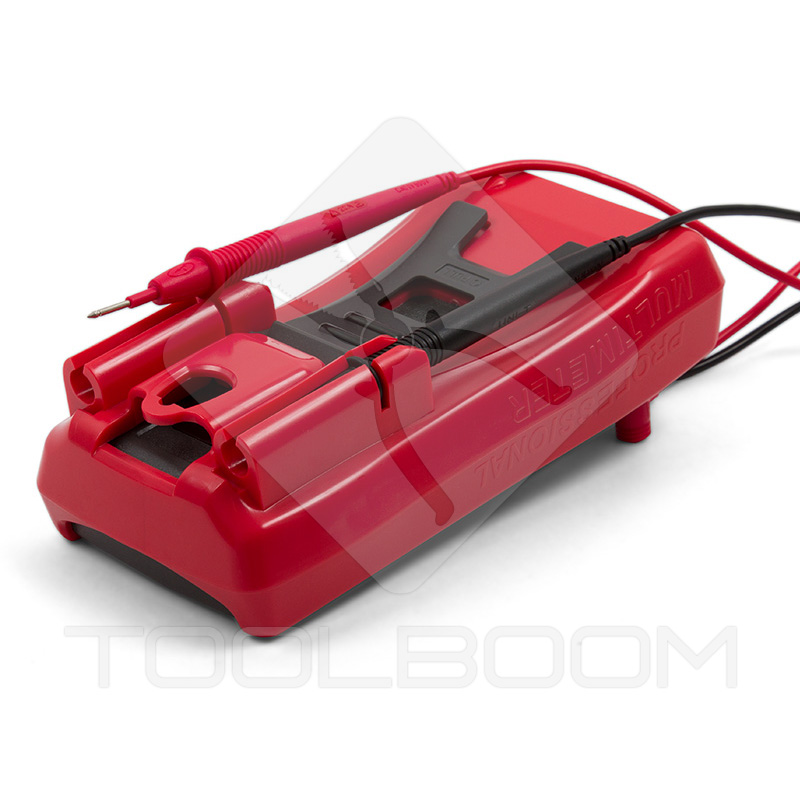 The test leads themselves are high-quality, flexible, they are securely fixed in the connectors. The test lead wire length is about 1 meter. Alligator clips are very convenient while measuring parameters of resistors and capacitors. The alligator clip lengths is about 20 cm.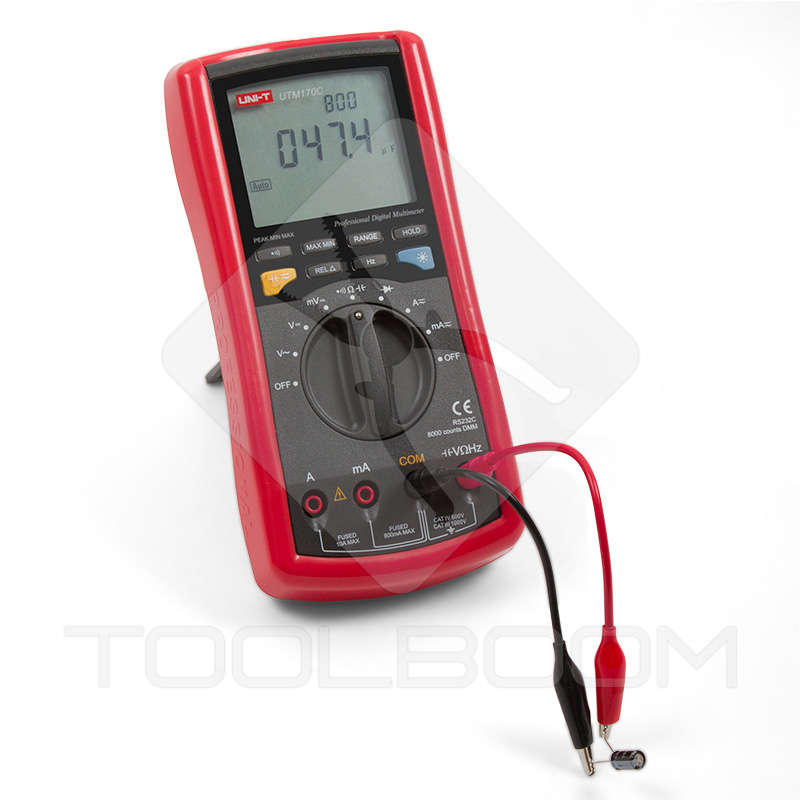 The back panel also contains the connector for RS232C cable with optical isolator.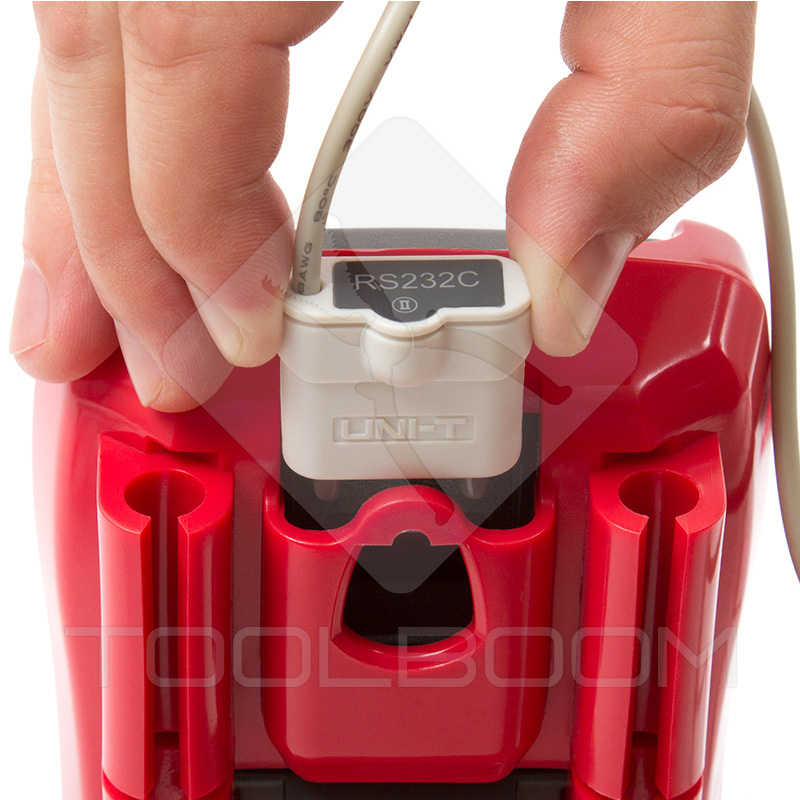 The multimeter is equipped with a large multifunction display.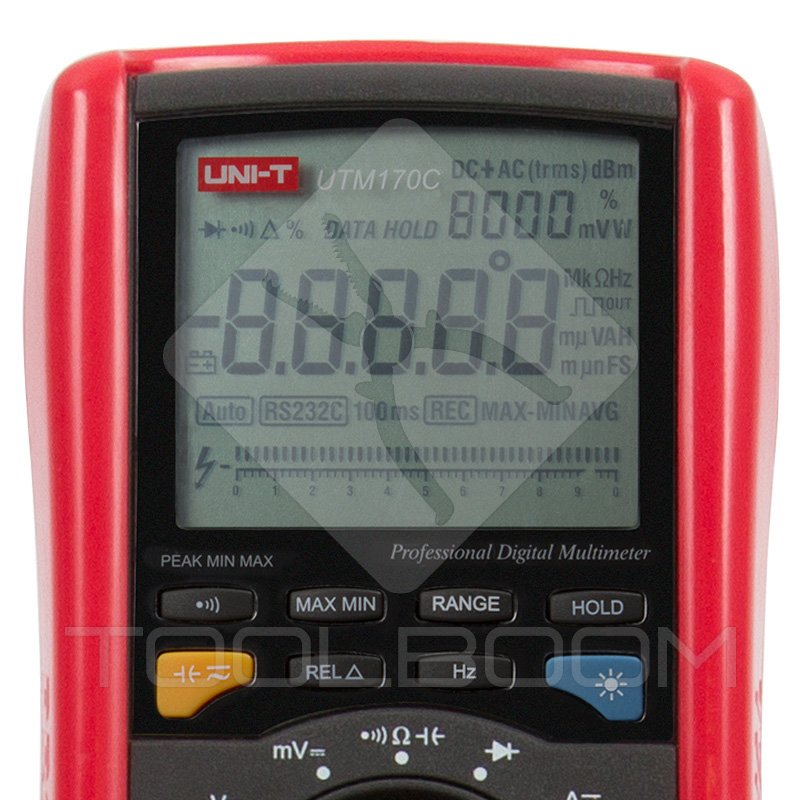 It simultaneously displays the measured value, the current range, there is an analogue 41-segment bar graph, back-light. The bar graph is very quick – it is refreshed 50 times a second, the digital data is refreshed 5 times a second.
A range of functional buttons are situated under the display:
| | |
| --- | --- |
| | Enable/disable the buzzer, the sound continuity test in resistance measuring mode. Switching response time 1 ms/100 ms in REC mode (recording maximal/minimal/average value). |
| MAX/MIN | Enable maximal/minimal/average value recording mode. Each further pressing the button switches the display of maximal/minimal/average value. To exit the mode you should hold MAX/MIN button for 1 sec. |
| RANGE | Switch to manual range selection mode. Each further pressing the RANGE button increases the measuring range. To switch to automatic range selection mode you should hold RANGE button for 1 sec. |
| HOLD | Enable/disable data hold mode. |
| | Multifunction button. In resistance measuring mode allows switching to capacitance measuring. In current measuring mode – switching between AC and DC current. |
| RELΔ | Relative measurement mode. |
| Hz | Measuring frequency/duty cycle in AC voltage and current measurement mode. |
| * | Enable/disable display backlight. |
The device is switched on using the rotary switch. By default, the measuring ranges are selected automatically, but there is a possibility to change for the manual selection.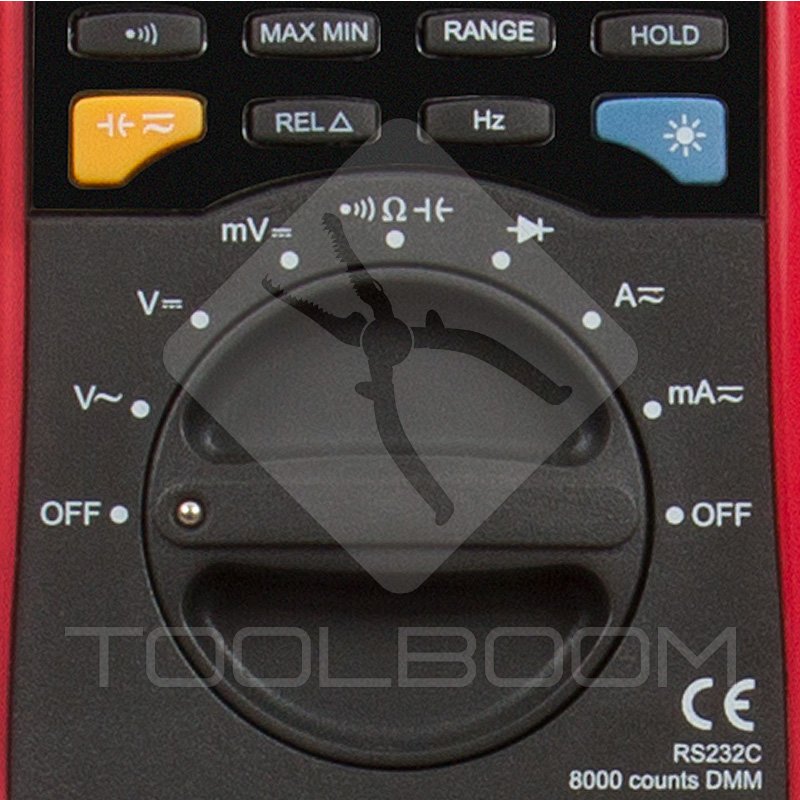 The rotary switch has the following positions:
In side positions of the rotary switch the multimeter is off.
AC voltage measurement.
DC voltage measurement.
DC voltage measurement up to 800 mV.
Resistance and capacitance measurement, continuity test.
Diode testing.
AC/DC current measurement up to 10 A.
AC/DC current measurement up to 800 mA.
The device has 4 connectors for test lead connection.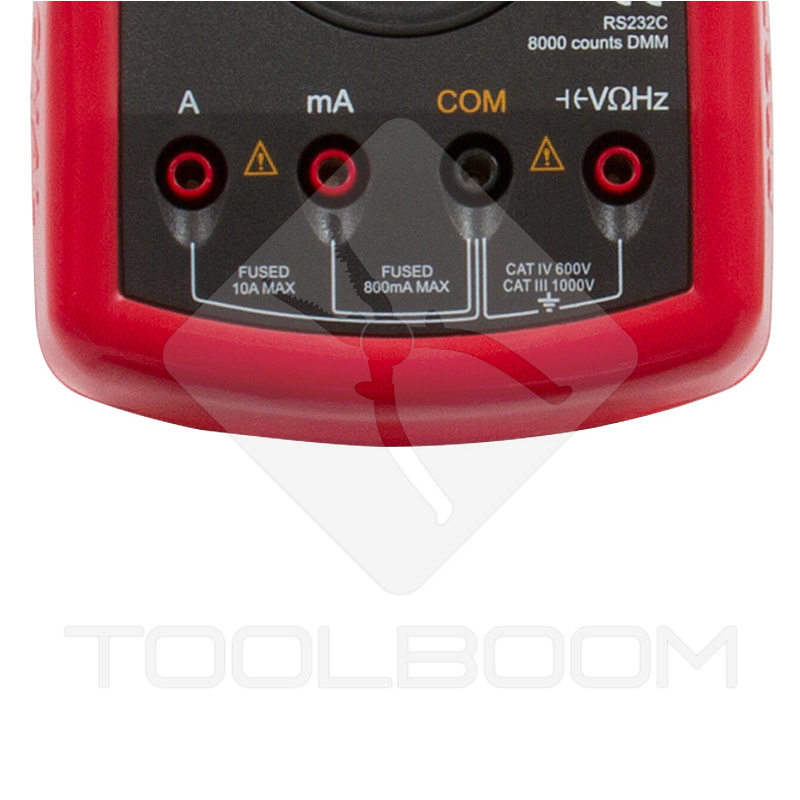 COM – general connector for connecting black test lead.
A, mA – for connecting test lead during measuring currents up to 10 A and 800 mA respectively.

– for connecting test lead for measuring capacitance, voltage, frequency and resistance.
Safety and Software
UNI-T UT70C is well protected from the overloads. In voltage and frequency measurement mode the protection is 1000 V, during resistance, capacitance measuring, diode and continuity test the protection is 500 V. The device is also protected from short circuits and current overloads – the multimeter is equipped with fuses for 1 A and 10 A. Anyway, you should connect the test leads correctly, choose the measurement modes and ranges.
In current or voltage measuring mode, the values of frequency or duty cycle may be displayed. Press Hz button.
Although the range of frequency measurement according to device specifications is 1 MHz, the device is capable of measuring signals up to 5 MHz with a rather good accuracy.
The multimeter is supplied with manufacturer Software, which allows not only to transfer data to PC, but also partially control the multimeter (software includes the functions of enabling/disabling the continuity test mode (at certain position of the rotary switch), max/min/avg value mode, data hold mode, measuring range selection, frequency and duty cycle measuring (at measuring AC currents and voltages), enabling/disabling the capacity measuring mode (at certain position of the rotary switch), current type change (AC/DC).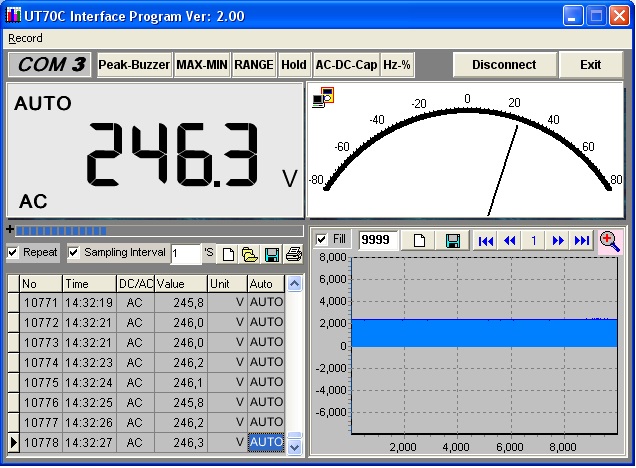 The signal is also stored in table and graphical format. The recording speed is set from 1 time per second (max) to 1 time per 9999 seconds. The number of records is unlimited. The file may be saved in *.xls, *.xml or *.txt formats.
For example, I have made a record of network voltage 1 time per second during 3 hours.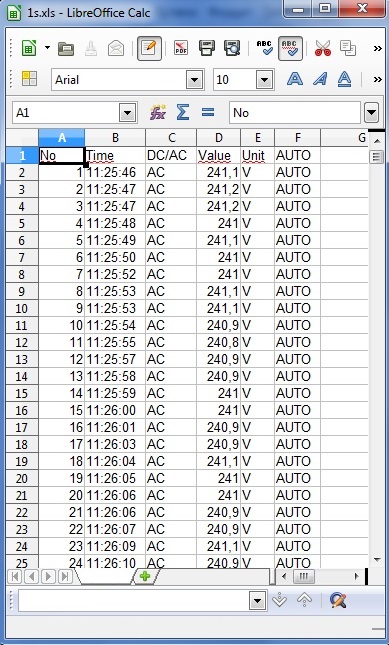 You may download the obtained file here.
You may record the daily change in voltage and save it as a table. However, for that you should disable the auto power-off mode. To do that you should hold the

button at multimeter startup.
Conclusion
I have used the multimeter for about 4 weeks. I may definitely say that UNI-T UT70C is a modern reliable device, characterized by a wide range of functions, good manufacturing quality, high measuring accuracy. Besides, there is a possibility of data transfer to PC. The device may in fact work as a recorder tool. The overload protection is a good advantage. I have found no drawbacks.
UNI-T UT70C is certified according to CE quality (IEC61010-1) and protection (CAT III 1000V, CAT IV 600V) standards.
Sergiy Smitiukh,
Technical expert of ToolBoom Online Store

All rights reserved. This material from toolboom.com web site may not be published, rewritten or redistributed in whole or part without authorship indicated and backlinks provided.
Customers Feedback