Digital Multimeter MASTECH MS8265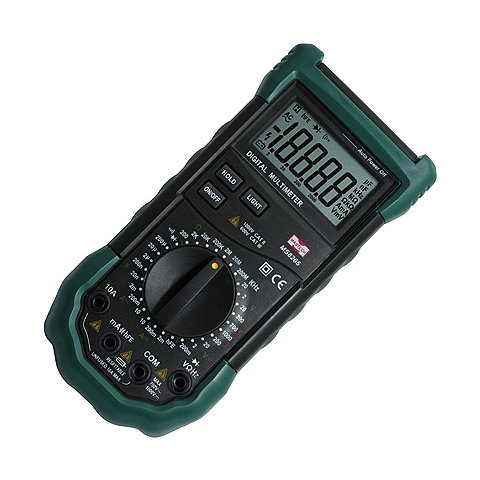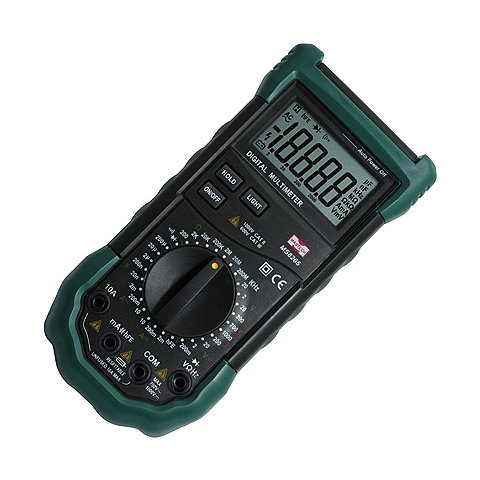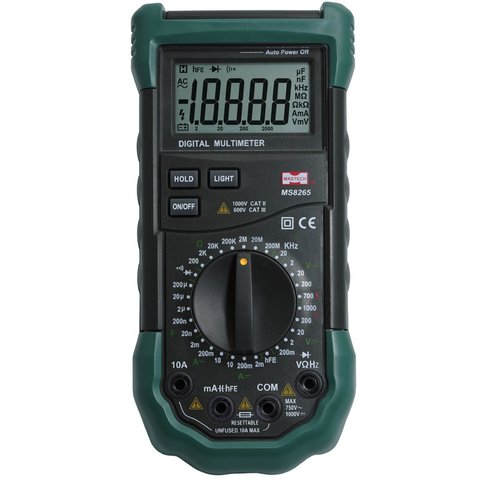 0.7 kg
Warranty: 6 month (s)
Measures direct and alternating current, voltage, resistance, capacitance, frequency and transistors current gain rate.
Large five-digits LCD of digital multimeter Mastech MS8265 distinguishes this measuring device from the other similar tools. The multimeter ensures high measurement accuracy, minimal inaccuracy and conforms to the IEC1010-1 standard CAT III 600V and CAT II 1000V. By means of digital multimeter Mastech MS8265 one can test diodes and identify wires.
Video
You'll find even more video reviews in the Video tab. Go and check it out!
Technical Specifications
| | |
| --- | --- |
| Counts | 19999 |
| DC voltage  | 200mV ±0.05%, 2/20/200V ±0.1%, 1000V ±0.15% |
| AC voltage | 2V±0.5%, 20/200V ±0.6%, 750V ±0.8% |
| DC current  | 2mA ±0.5%, 200mA ±0.8%, 10A ±2.0% |
| AC current  | 2mA±0.8%, 200mA ±1.2%, 10A ±2.5% |
| Frequency | 20Hz ±1.5% |
| Resistance | 200Ω ±0.5%, 2/20/200/2MΩ± 0.3%, 20MΩ ±0.5%, 200MΩ ±5% |
| Transistors current gain rate | up to 1000 |
| Capacitance | 20/200nF/2/20/200µF ±4.0% |
| Conductivity wire identification | yes |
| Diode, transistor test | yes |
| Automatic power-off | yes |
| Data Hold | yes |
| Display illumination | yes |
| Power source | 6F22(9V) |
| Dimensions | 195 x 92 x 55 mm |
Type
Measured Values

DC voltage
AC voltage
AC
DC
resistance
capacitance
frequency

Additional Functions

acoustic continuity test
data hold
automatic shutdown/sleep mode
indication of proper connection of test leads
diode test
transistors test
backlight

Range Selection
Digit Capacity
DC Voltage
AC Voltage
Resistance
Capacitance
Frequency
DC
AC
Inductance
Temperature
Power
Duty cycle
True RMS
Backlight
PC connection
Diode test
Analog bar graph
Transistor check
Continuity test
Battery Testing