Digital Oscilloscope RIGOL DS1074Z-S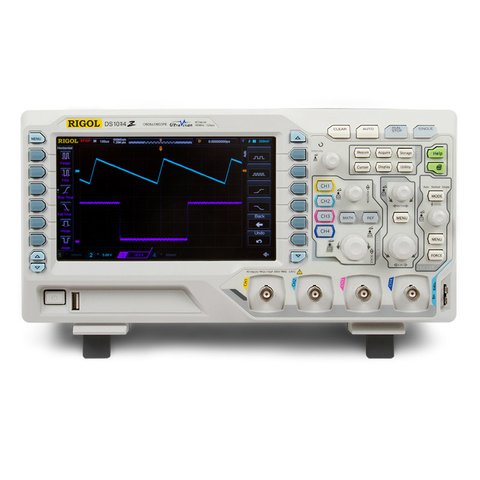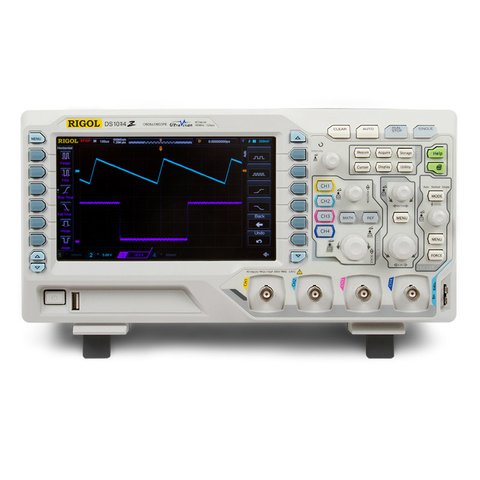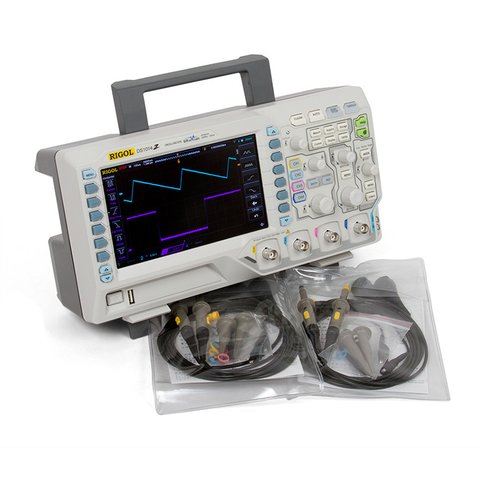 8 kg
110, 220 V
Warranty: 36 month (s)
Four-channel digital oscilloscope with 70 MHz bandwidth, 1 GSa/s real-time sample rate, 7" display, up to 30,000 waveforms/sec capture rate and dual-channel 25 MHz waveform generator.
RIGOL DS1074Z-S digital oscilloscope is the new economic level four-channel oscilloscope (70 MHz) with dual-channel 25 MHz waveform generator. This compact lightweight digital oscilloscope provides exceptionally accurate waveform viewing and measurements. RIGOL DS1074Z-S provides up to 30 000 wfms/s waveform acquisition rate.
RIGOL DS1074Z-S digital oscilloscope is perfect for production tests, field service, research, design and all other applications involving analog/digital circuit tests and troubleshooting, as well as education and training.
Features
Bandwidth: 70 MHz.
4 channels.
Real-time sample rate: 1 GSa/s.
Memory depth: 12 Mpts.
Built in dual-channel 25 MHz waveform generator
Innovative UltraVision technology.
Waveform acquisition rate up to 30,000 wfms/s.
Low noise floor, dynamic Range: 1mV/div to 10V/div
7-inch color LCD.
Standard interface: LAN, USB host and device, AUX, USB-GPIB (opt.)
Compact design, small dimensions, light weight.
Video
You'll find even more video reviews in the Video tab. Go and check it out!
Technical Specifications
Bandwidth
70 MHz
Channels
4
Real time sample rate
1 GSa/s (single-channel), 500 MSa/s (dual-channel), 250 MSa/s (full-channel)
Waveform generator
2 channels, 25 MHz
Memory depth
12 Mpts, 24 Mpts (opt.)
Waveform acquisition rate
30,000 wfms/s (Max. )
Vertical sensitivity range
1 mV/div - 10 V/div
Offset range
1 mV/div to 499 mV/div: ± 2 V
500 mV/div to 10 V/div: ± 100 V
Vertical resolution
8 bit
Math
Add, Subtract, Multiply, Divide, FFT, editable
Output voltage
~ 3 V, peak-peak
Frequency
1 kHz
General Specifications
Power
50 W (max.)
Power voltage
100-240 V, 45-440 Hz
Temperature range
Operation: 0°C to +50°C
Non-operation: -20°C to +70°C
Cooling method
Fan
Display
7" color LCD (800×480)
Weight
3.8 kg (± 0.5 kg)
Dimensions
313.1 × 160.8 × 122.4 mm
Additional Information
Download RIGOL DS1074Z-S Data Sheet.
Download RIGOL DS1074Z-S User Manual.
Package Contents
RIGOL DS1074Z-S digital oscilloscope (1 pc.)
Passive probes (4 pcs.)
Power cable (1 pc.)
USB data cable (1 pc.)
Screen Size
Number of channels
Type

desktop
with built-in generator

Sample Rate
Bandwidth
Storage Capacity