Infrared Soldering Station AOYUE 720 220V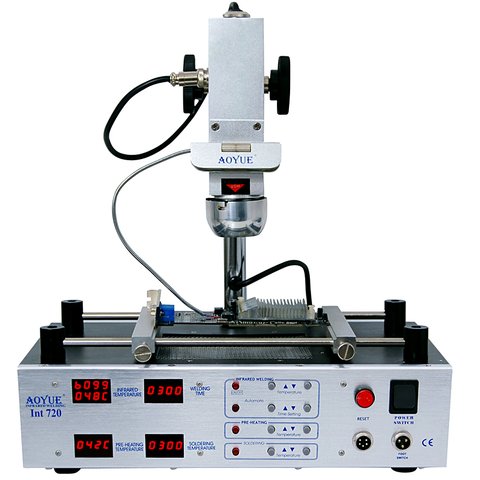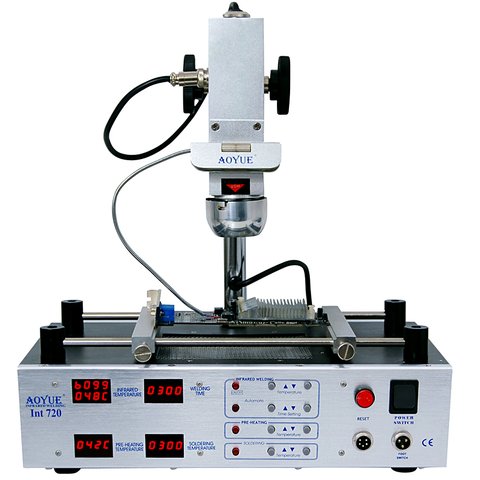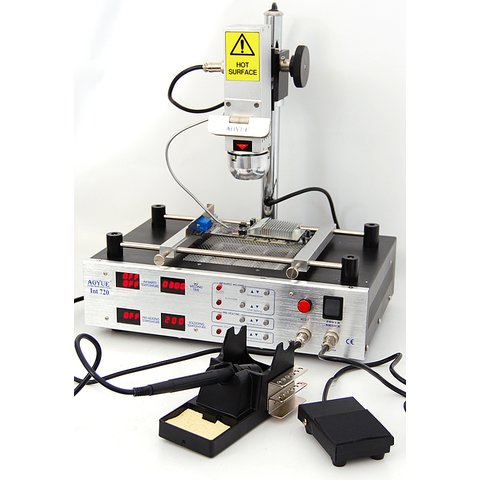 12 kg
220 V
Warranty: 12 month (s)
3 in 1 Repairing System that combines the function of an Infrared welding tool, a soldering iron and a pre-heater.
AOYUE 720 is a 3 in 1 repair station: infrared gun, infrared pre-heater, contact soldering iron. It is a complex solution for recovering boards with components like BGA, microBGA, QFP, PLSS, SOIC etc.
Features
Work with lead-free solder.
Telescope temperature sensor can be easy positioned to provide feedback from temperature PID controller.
Secure board fixation allows avoiding of its hanging or mispositioning.
Use of pre-heater  provides soldering mode, appropriate for given type of  a chip, avoiding its overheating.
Adjustable holder allows precise setting and fixation of heating spot, which is particularly important for large BGA-chips recovery.
Digital soldering time and temperature indication.
Programmable soldering type, after which the process ends automatically.
Advantages
Local infrared heating steadiness (which is crucial for BGA).
Protection from accidental board components blowing-off.
Universal tip, compatible with any type of the chip.
Allows the work with the complex components.
Technical Specifications
CONTROL UNIT
Supply voltage
220 V
Power consumption
600 W
Dimensions
348 × 242 × 98 mm
INFRARED GUN
Power consumption
165 W
Temperature range
0–480 °C
Heating element
infrared halogen lamp
Supply voltage
15 V
SOLDERING IRON
Power consumption
70 W
Temperature range
200–480 °C
Heating element
ceramic
Supply voltage
24 V
PREHEATER
Power consumption
400 W
Temperature range
maximum 350 °C
Heating element
quartz infrared
Supply voltage
110 V
Heating area
140 × 140 mm
Repair table area
260 × 190 mm
Package contains:
Control unit
Infrared gun holder
Infrared gun
Soldering iron holder
Soldering iron for lead-free soldering
Two bits for lead-free soldering
Hex-nut wrench
Tweezer for microchips
Safety glasses
Flux cartridge
Compatible Soldering Tips
| | |
| --- | --- |
| Upper Heater Size | |
| Bottom heater size | |
| Heater Type | |
| Total power | |
| Control type | |
| Upper heater type | |
| Bottom heater type | |
| Upper heater power | |