Crimper Die Pro'sKit CP-236DE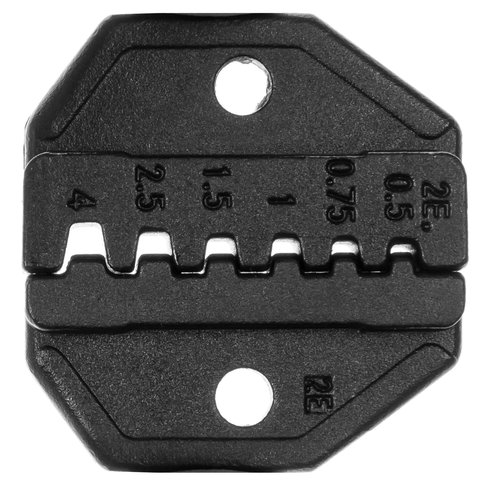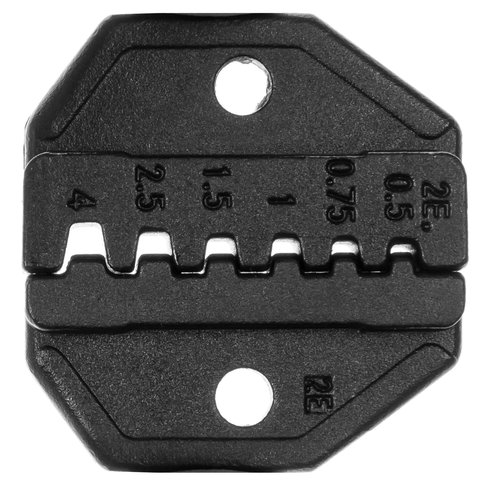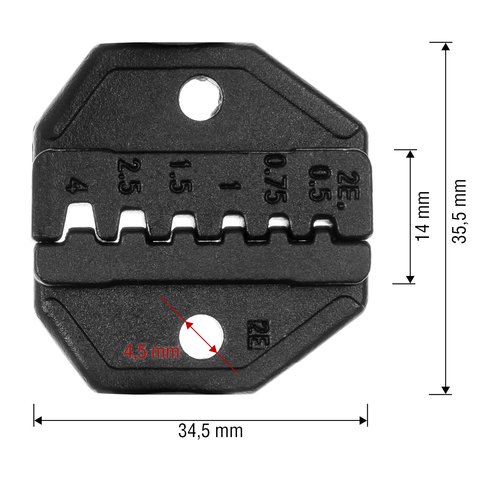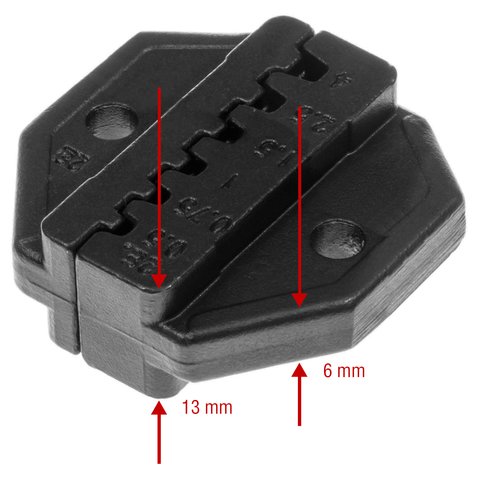 Pin terminal for insulated or non-insulated ferrules (AWG 22/20/18/16/14/12) for Pro'sKit 6PK-301E, 6PK-230C, 6PK-301H, CP-371G, CP-372G, 6PK-230PA, CP-371T, 8PK-301F1, 8PK-301F2, CP-371Y, CP-371, CP-372.
Die

CP-236DE

Hex size

AWG 22/20/18/16/14/12
DIN 0.5/0.75/1.0/1.5/2.5/4.0 mm ²

Connector description

Pin Terminal
Insulated or Non-insulated Ferrules
Interchangeable die Pro'sKit CP-236DE to be fixed with thumbscrews in the frame.
Complete tool with die: CP-372A.
Compatibility
Crimpers without Dies
Crimpers with Replacement Dies
Crimper Pro'sKit 8PK-301F1
Crimper Pro'sKit 8PK-301F2
Crimper Pro'sKit 9PK-2026A
Crimper Pro'sKit CP-371T
Crimper Pro'sKit CP-372N
Pin Terminal Crimp Die Set is compatible with the following models of Crimp Tool Frames

Pro'sKit CP-371
Pro'sKit CP-372
Pro'sKit 1PK-3003F
Pro'sKit CP-3005F
Pro'sKit 9PK-2026A

Pin Terminal Crimp Die Set is compatible with the following models of Twisted Pair Crimp Tools

Pro'sKit CP-372G
Pro'sKit CP-371G

Pin Terminal Crimp Die Set is compatible with the following models of Insulated Terminal Crimp Tools

Pro'sKit 6PK-301H
Pro'sKit 6PK-301R

Pin Terminal Crimp Die Set is compatible with the following models of Coaxial Cable Crimp Tools

Pro'sKit 1PK-3003FD28
Pro'sKit 6PK-230PA
Pro'sKit CP-371T
Pro'sKit CP-371M

Pin Terminal Crimp Die Set is compatible with the following models of Inter-Locking & Non-Insulated Terminal Crimp Tools

Pro'sKit CP-3006FD2
Pro'sKit CP-3006FD36
Pro'sKit CP-3006FD45
Pro'sKit 6PK-230C

Pin Terminal Crimp Die Set is compatible with the following models of MC4 Crimping Tools

Pro'sKit CP-3006FS2
Pro'sKit CP-371Y
Pro'sKit CP-371Y1

Pin Terminal Crimp Die Set is compatible with the following models of Pin Terminal Crimp Tools
Pin Terminal Crimp Die Set is compatible with the following models of Fiber Cable Connectors Crimp Tools

Pro'sKit 8PK-301F1
Pro'sKit 8PK-301F2

Pin Terminal Crimp Die Set is compatible with the following models of Heavy Duty Crimping Tools
Pin Terminal Crimp Die Set is compatible with the following models of Insulated Open Barrel Terminals Crimping Tools

Pro'sKit CP-3006FD47
Pro'sKit CP-3006FD46

AWG

AWG 12 (2 mm)
AWG 14 (1.6 mm)
AWG 16 (1.3 mm)
AWG 18 (1 mm)
AWG 20 (0.8 mm)
AWG 22 (0.6 mm)

Wire section

0.5 - 1.0 sq, mm
1.5 - 2.5 sq, mm