Accta Measuring Equipment Line
Accta Measuring Equipment
Toolboom Company has distributed the products of well-established international measuring equipment brands for years. Over time, we accumulated a substantial knowledge of the market and gained in-depth insights into the actual needs of users. This is why the Toolboom team and Accta, a Toolboom in-house brand, chose measuring equipment as an area where they would be able to offer their customers something new and useful.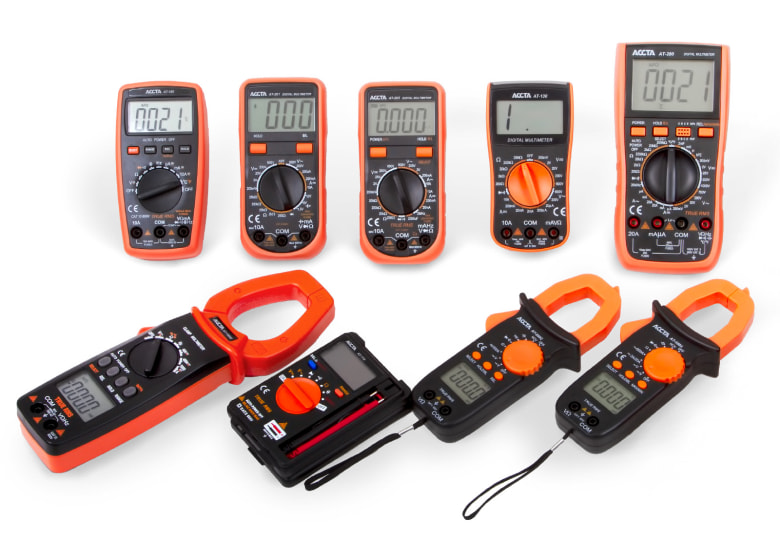 Our company had already successfully resolved a similar challenge when launching the manufacture of equipment for the repair and maintenance of electronics in Ukraine. The journey from the idea to its implementation was hardly an easy one. However, both developers and customers were happy with the result. To date, our company has launched the manufacture of several models of Accta hot-air soldering stations and keeps developing new high-potential equipment. The brand successfully competes with well-known manufacturers, offering quality and reliability at a reasonable cost.
Keeping in mind how much time and effort it took us to launch the manufacture of our soldering station line, the Toolboom online store strove to reduce the turnaround time between the concept and the consumer as much as possible by placing an order for the manufacture of multimeters and clamp meters at the manufacturing facilities of our partner, which is known as a reliable supplier of quality and inexpensive measuring equipment. Toolboom decided to greenlight a measuring equipment line under the Accta brand after obtaining successful test results for prototypes and metrological calibration in a Ukraine-based laboratory. Today the line consists of 11 models. Let's take a closer look at them.
Digital Multimeters
For convenience, the brand's multimeters may be divided into three groups:
equipment for home, training or non-professional use;
general-purpose equipment for the maintenance of household appliances and electronics;
professional multimeters with an extended set of functions.
Accta AT-110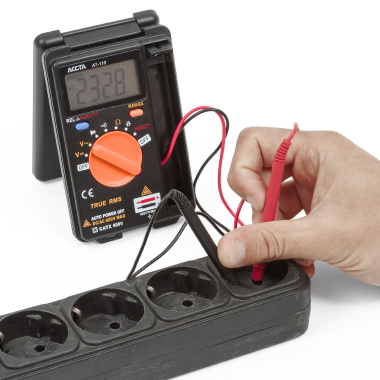 Accta AT-110 Pocket Digital Multimeter
This pocket-sized device piques interest in everyone picking it up. However, its actual performance specifications must not be underrated on account of its small size: in terms of accuracy of measurements and a wide range of capabilities, this midget can stand its ground against higher priced products offered by many other manufacturers. This multimeter measures AC and DC voltages, resistance, capacitance, frequency, checks semiconductor diodes and LEDs, performs circuit continuity tests, and calculates the duty cycle (duty factor).
If you happen to forget to turn off your device, it will shut down automatically after 15 minutes in standby mode. Another great feature is that the protective case that the device comes with may only be closed once is rotary switch is in the OFF position, which gives your Accta-110 an added protection from early battery discharge. The device is powered by two AAA batteries (provided). This multimeter will surprise you with the quality of its assembly and the precision of measurements, which may seem incredible for such a small device: the measurement error of prototypes turned out to be lower than that declared by the manufacturer.
The Accta-110 multimeter will have a great practical value to you if you need a supplementary pocket-sized device that doesn't take up much space in your bag, pocket or the glove box of your car. It will also appeal to newbies to technical craftwork.
Accta AT-130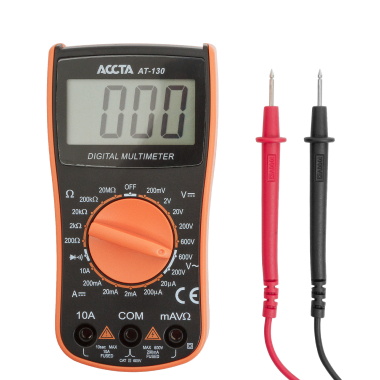 Accta AT-130 Digital Multimeter
In terms of technical specifications, the inexpensive Accta-130 multimeter powered by a 9 V battery (6F22) is similar to many other cost-efficient devices. What makes it stand out is a seamless original design and a high-quality contrast display with reasonably large digits. Using this multimeter, you can measure AC and DC voltages of up to 600 V and resistance up to 20 MΩ, check circuit continuity, and test diodes. The device measures direct currents of up to 10 A and has its inputs protected from overload with fuses. However, you had better not overrely on this protection feature and make measurements as cautiously as possible.
The capabilities of this device are more than sufficient to check the working order of household appliances, find voltage in an outlet or at the terminals of a power extender, locate a cable break or detect a "blown" diode in a circuit. The inexpensive and high-quality Accta AT-130 multimeter will become a dependable assistant to any fix-it tinker and won't make you regret the purchase because you'll get 100% of your money's worth.
Accta AT-180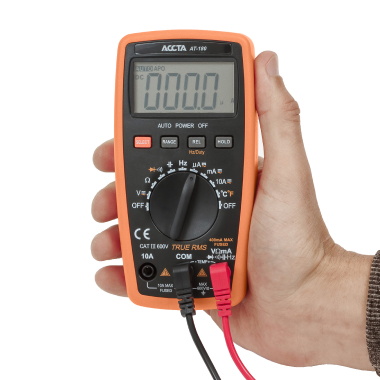 Accta AT-180 Pocket Digital Multimeter
The Accta-180 (True RMS) multimeter with an extended set of functions and automatic range selection measures AC and DC voltages, current, frequency, resistance, and capacitance, tests circuit continuity and semiconductor diodes, and measures temperature with a temperature probe. In addition to the standard rotary switch, the multimeter features four more buttons:
SELECT – function switch;
RANGE – measurement range selection;
REL (Hz/Duty) – relative measurement mode;
HOLD – data retention.
Using the SELECT button, you can switch between DC or AC voltage measurements, assign a scale (Celsius or Fahrenheit) when measuring temperature or select a circuit continuity or diode test mode.
By pressing RANGE, you can set the measurement range manually. Pressing and holding this button reverts you to the automatic range selection.
The REL (Hz / Duty) button switches the multimeter to the relative measurement mode. Turning the rotary switch to Hz/Duty enables you to switch between frequency/duty cycle measurement modes.
The HOLD button is used to record the value shown on the display. Accta-180 has a wide range of functions that may be expected of multimeters of a higher price category, which potentially makes this device one of the best in its line in terms of price/performance ratio.
Accta AT-201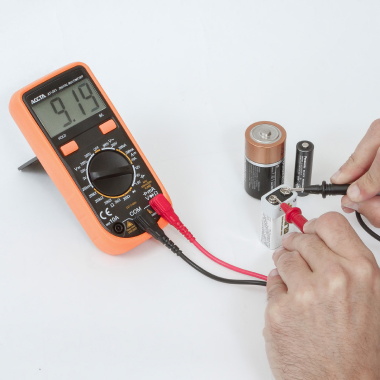 Accta AT-201 Digital Multimeter
The Accta-201 multimeter powered by a 9V (6F22) battery is suitable for measuring AC and DC voltages, DC current and resistance, and for testing diodes. Manual range selection ensures a great responsiveness and response speed of the device, which will be appreciated by the professionals using the multimeter as a critical working tool. Another outstanding feature of Accta AT-201 is its ability to test the charge level of batteries (galvanic cells) with a voltage of 1.5, 9, 12 V. In this mode, the multimeter operates as a battery cell tester that "loads" the battery, and if the cell is depleted, its voltage will be lower than the nominal. When troubleshooting the status of batteries with a voltmeter, it may prove rather difficult to obtain objective results because even a discharged battery may indicate the rated voltage at the poles. The inexpensive and smart Accta-201 multimeter will definitely come in very handy if you have a lot of battery-powered devices in your household.
Accta AT-205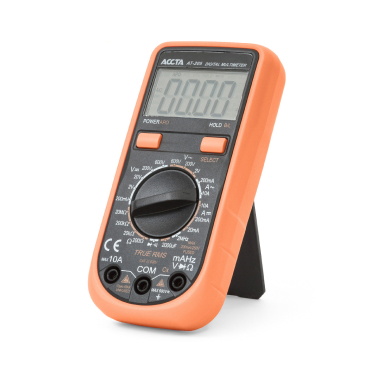 Accta AT-205 Digital Multimeter
The next model in the line, the Accta-205 multimeter (powered by two AAA batteries) is exciting because it is easily one of the most affordable True RMS tools on the market. This multimeter has a manual range selection and measures AC and DC voltages of up to 600 V, AC and DC currents of up to 10 A, resistance, capacitance of capacitors up to 2000 μF, frequencies up to 2 MHz, test diodes, and tests circuit continuity. Accta AT-205 also has a data retention function that may be activated by pressing the HOLD button, and display backlight (activated by pressing and holding the HOLD button). Automatic power off after 15-30 minutes in standby mode is a nice perk, which, by the way, is also available in other Accta multimeters. The undeniable advantages of the device include low measurement error, high response speed, and a solid space-saving case with a convenient stand.
Accta AT-280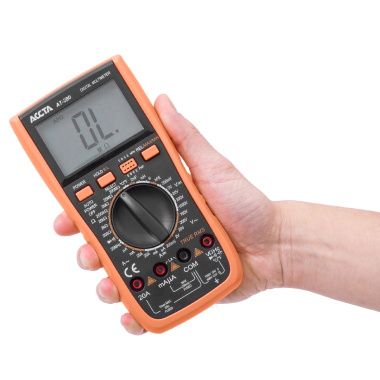 Accta AT-280 Digital Multimeter
This professional multimeter has the widest range of functions in the Accta measuring equipment line: AT-280 measures AC (up to 750 V) and DC (up to 1000 V) voltages, AC and DC currents up to 20 A (with input fuse protection), resistance, the capacitance of capacitors, frequency (up to 20 MHz), and temperature with an external temperature probe (provided in the kit), and circuit conduction, as well as tests semiconductor diodes and transistors. It should be noted that this multimeter comes complete with a rather rare inductance measurement function (up to 20 H). The device also has a relative measurement mode REL and a MAX/MIN function for recording peak values. This True RMS multimeter has only a handful of close competitors offered by other manufacturers, and their cost is normally two or three times higher. All this makes Accta-280 one of the most exciting devices in the entire line of the brand's measuring equipment and one of the most competitive cost-efficient multimeters on the market.
Accta AT-290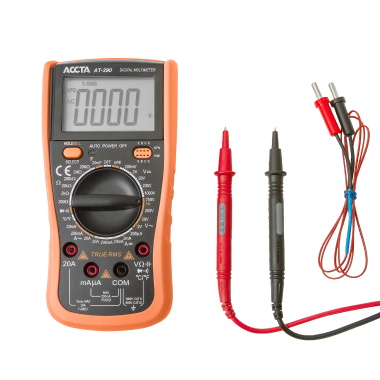 Accta AT-290 True RMS Digital Multimeter
This multimeter may seem almost indistinguishable from its counterpart, the AT-280 model: it has the same solid and reliable case, large LCD with LED backlight, wide functional range, and high measurement accuracy. Accta-290 is suitable for measuring AC and DC voltages (up to 750 V and up to 1000 V), AC and DC currents of up to 20 A (with fuse protection provided) and resistance up to 2 MΩ, testing semiconductor diodes and bipolar transistors, circuit conduction tests, and measuring the capacitance of capacitors. An external temperature probe may be connected to the multimeter to measure temperature. This is a professional True RMS multimeter that can be relied on in working with AC voltages of up to 1000 Hz. This device stands out because it has everything you need for comfortable daily work without any frills. It is a reliable multimeter with a complete set of basic functions, low measurement error and a high degree of protection. Fast response and an easily readable display from any angle will be especially appreciated by professional users.
Clamp Meters
Accta AT-600
This series includes two models: Accta AT-600A and Accta AT-600C. Although virtually identical in visual terms, the two models have major differences.
Accta-600A, the earlier model, is a True RMS clamp meter that only measures AC currents (up to 600 A). In addition, the device is suitable for measuring AC and DC voltages of up to 600 V, resistance (up to 20 MΩ), and the capacitance of capacitors (up to 1,000 μF). This clamp meter also tests diodes and circuit continuity.
The Accta-600C clamp meter is a True RMS device that measures AC and DC currents of up to 600 A. The clamp meter has a higher display count (3999) compared to its earlier version (1999). In addition to the capabilities of the earlier model, the AT-600C measures the frequency of AC voltage (up to 10 MHz). Both models have an embedded NCV function, i.e. a contactless AC voltage detection in conductors. In addition to the rotary switch, the case features three buttons:
SELECT – function switch;
HOLD/BL – data retention/backlight;
REL – relative measurement mode.
Accta AT-1000
The Accta AT-1000 clamp meter series is designed for professional use only. This device comes in a neat and convenient protective case, which makes storage and transportation so much easier.
The Accta AT-1000 clamp meter measures both alternating and direct currents with the upper-range current measurement value of 1000 A. Obviously, you'll never deal with such values of current consumption in daily use.
Both models measure AC and DC voltage, resistance, frequency and duty cycle, and capacitance, perform circuit tests and semiconductor diode tests, and have a relative measurement mode and data retention features.
The core difference between Accta AT-1000A and Accta AT-1000E is that AT-1000E is a True RMS clamp meter, which is especially relevant for professionals working in the maintenance of advanced industrial facilities and office buildings. These devices enable more accurate measurements of the real power consumption by non-linear loads.
Toolboom's many years of experience and daily communication with a large number of both professional and non-professional users enabled us to launch a line of reliable, practical and inexpensive multimeters. Accta measuring equipment offers a reasonable balance of price, quality and performance. The steady growth of the brand's traction and a lot of positive customer feedback confirm that we took the right step by offering our customers an opportunity to choose great value for money.
Do you enjoy reading our articles? If so, you have to check out our videos on this topic!
All rights reserved. This material from toolboom.com web site may not be published, rewritten or redistributed in whole or part without authorship indicated and backlinks provided.
Customers Feedback