Accta – Success Story of Ukrainian Brand
The time has come to talk about a modern Ukrainian brand, which has confidently taken a leading position in the Ukrainian soldering equipment market over the past few years. Not only Ukraine, the products are exported worldwide. Right now, Accta soldering stations have successfully established themselves in 53 countries of the world, and this is just the beginning!
Soldering Equipment
Hot Air Rework Station Accta 301
The history of the company began in 2016, when the first Ukrainian hot air rework station Accta 301 was presented to the world. In fact, this story began even earlier, when a group of engineers gathered to join forces in the implementation of a joint idea. The idea seemed quite simple - you had to take your own long-term experience of using soldering equipment from different manufacturers, determine strong and weak points of different soldering stations and, based on these data, create your own station with powerful functionality and without typical drawbacks.
Almost a year was spent on analysis, development, prototyping, testing and production. Several samples were sent to the service center of the Masteram tool store, as well as to a number of other service centers to stand the test of time and large volume of work. After the prototypes were finalized, the station was put on sale, and the first batch sold out pretty quickly. Thanks to feedback from partners and customers who purchased the station, manufacturers were able to make more improvements. In particular, they released an updated firmware and changed the design of the soldering iron stand.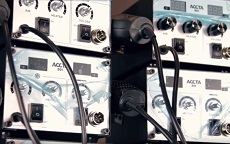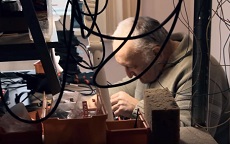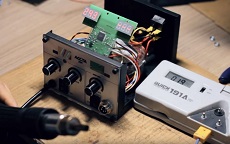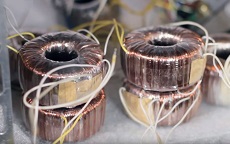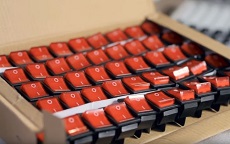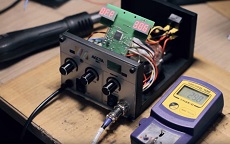 Production of Accta Soldering Stations
As a result, a dual-channel hot air turbine soldering/desoldering station has entered the Ukrainian market. Its capacity allows to be used for lead-free soldering of SMD components. Soldering station features the hot air gun temperature stabilization, which would allow you to monitor and regulate the temperature of hot air flow as precisely as you could only imagine. Accta soldering iron is well-known for its effective heat transfer and excellent operation stability. The station displays the real temperature of the soldering iron and the hot air flow, although initially skeptics did not believe it.
Experts often compare the Accta 301 station with similar in functionality models of the Lukey stations, since this is one price segment - low-budget class stations. However, independent comparative tests have shown that Accta stations surpass their counterparts from Lukey in terms of quality and reliability, safety, temperature control accuracy, have additional functions, and at the same time do not have the typical disadvantages of inexpensive stations.
By the way, there is a nice bonus in the Accta 301 stations - instead of a standard soldering iron, you can use AOYUE T001 Hot Tweezers. This is easy to do without any additional manipulations, since a powerful transformer can operate not only the soldering iron from the station kit, but also more powerful devices. The pinout of the soldering iron and the hot tweezers in our case is the same, so just plug the tweezers into the soldering iron connector and go.
Hot Air Rework Station Accta 401
The appearance of Accta stations shook the market. Constant participation of developers in the products after-life and high-quality communication on the Internet made it possible for users to express wishes and suggestions that were really heard. With the same message from many electronics repair professionals, and the amount of accolades inspiring the team to new achievements, the engineers got back to work. The request was quite interesting - to get a station of similar quality, but with the ability to work with cartridge soldering iron tips of the Hakko T12 standard.
As a result, already in 2017 another new product loudly announced itself – Hot Air Rework Station Accta 401. This station has received all the advantages of the previous model, as well as a completely new powerful soldering iron to work with Hakko T12 soldering iron tips. Moreover, the station package content included real original tips from the famous Japanese manufacturer Hakko. This time, users appreciated the advantages of the station with a new efficient soldering iron: a very fast temperature rise, as well as high temperature stability. And this is not a surprise, since there are no additional parts between the heating element and the tip, the solder melts instantly.
By the way, it is often offered on the Internet to buy low-quality copies of Hakko T12 tips for a few dollars, which are visually very similar to the original. Beware of counterfeits, and our article "How to Distinguish the Original HAKKO Soldering Tips from the Counterfeits?" will help you not to be fooled.
Hot Air Rework Station Accta 501
2020 had quite an interesting start: another addition to the Accta family. This time, the model range of hot air stations was enriched by a station with a new type of hot air gun and soldering iron – Accta 501. Whereas in previous models the fan was built into the handle of the hot air gun, the new station has a low-noise centrifugal fan built into the station body. The soldering iron has also undergone changes - this time the station is equipped with a Japanese soldering iron Goot RX-80GAS and original Japanese Goot soldering tips. The soldering iron has a high power and incredible speed - heating up to the set temperature occurs in just 6 seconds. Another dream came true!
Accta 501 has the same sturdy body and ergonomic design, convenient regulators, reliable toroidal transformer, own firmware, temperature calibration, quality components and neat assembly. By the way, the soldering iron stand was designed completely from scratch, as for the previous two models. The manufacturer keeps his standards high!
We will tell you more about this new product and its features very soon.
What is the difference between Accta 301, 401, 501?
Now we have a whole range of Accta hot air soldering stations for every taste and for every use. To make it easier for you to navigate, we offer a comparative table with the characteristics of these models.
Accta 301
Accta 401
Accta 501
Hot Air Module
Hot Air Gun Power
350 W
350 W
350 W
Hot Air Gun Temperature Range
80 – 480 °C
80 – 480 °C
80 – 480 °C
Hot Air Gun Heating Element
Metal heating core
Metal heating core
Metal heating core
Air Pump Type
Turbine blower
Turbine blower
Centrifugal blower
Soldering Module
Soldering Iron Power
50 W
70 W
72 W
Soldering Iron Temperature Range
100 – 480 °C
100 – 480 °C
100 – 480 °C
Soldering Iron Heating Element
Nichrome in ceramics
Ceramic
Nichrome
Soldering Tip Type
Hakko 900M
Hakko T12
Goot RX-80HRT
Soldering Tip Heating Time
up to 12 seconds
up to 10 seconds
up to 6 seconds
All models of Accta soldering stations have the same sturdy metal case of small size, a reliable toroidal transformer, a protection system and automatic shutdown in case of an emergency. All stations are supplied with a convenient all-metal stand for a soldering iron; the stand is individually designed for each model. One more feature of Accta stations: after installing the hot air gun on the holder, the station automatically switches to the heating element cooling mode and switches the hot air gun to standby mode. All buyers of Accta stations receive a 12-month warranty for the station, as well as a soldering iron and a hot air gun heating element. These exclusive conditions are not offered by other manufacturers of soldering equipment. The development team provides technical support and advice, as well as post-warranty and service center services.
Measuring Equipment
2020 brought new products not only to the soldering equipment market. At the beginning of the year, the world saw a range of measuring equipment models under the Accta brand. In total, 11 models of products went on sale - digital multimeters and clamp meters. They can be conveniently classified into three segments.
Professional Accta multimeters and clamp meters
These are multipurpose measuring and testing devices that are used for laying and maintaining electric grids and equipment, for industry and science, as well as for any other possible purpose.
Among those models – Accta AT-290 (True RMS digital multimeter which measures DC voltage up to 1000 V, AC voltage up to 750 V, AC/DC current up to 20 A, resistance, capacitance, temperature and can be used for continuity, transistor and diode tests) and Accta AT-280 (same features + measuring frequency and inductance).
There are also two models of current clamp with maximum jaw opening up to 55 mm – those are Accta AT-1000A for measuring AC and DC current up to 1000 A, AC voltage up to 750 W and DC voltage up to 1000 W, resistance, capacitance, frequency, duty cycle, and to perform diode and continuity testing; and Accta AT-1000E with the same features and true-RMS AC voltage and current measurement.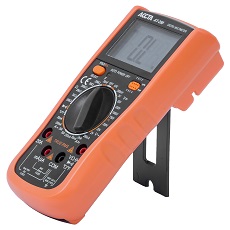 Accta AT-290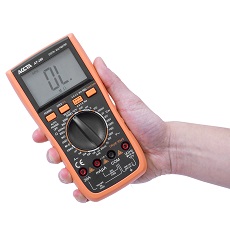 Accta AT-280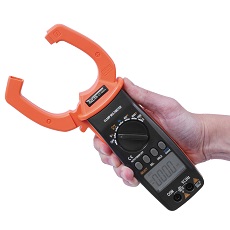 Accta AT-1000A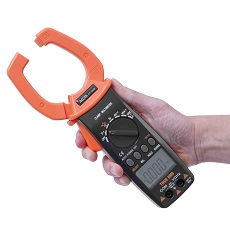 Accta AT-1000E
Accta multimeters and clamp meters of general use
Digital multimeters and clamp meters in the mid-range segment for general use, electronics repair, household appliance maintenance, electric grids installation and maintenance. This category also includes two multimeter models and two clamp models.
Multimeters are similar in shape and size, but Accta AT-201 model has basic feature set, including measuring of AC/DC voltage, DC current and resistance, and performing diodes and batteries testing; as well as one very interesting feature – galvanic batteries test. Accta AT-205 multimeter has a wider range of features: True RMS feature, measuring of AC/DC voltage and current, capacitance, frequency and resistance, performing diode and continuity tests, but it can't be used for batteries test.
Both clamp meter models have True RMS and NCV features, but in addition to the feature set of Accta AT-600A (measuring of AC/DC voltage, AC current, resistance, capacitance, NCV, and diode and continuity testing), Accta AT-600C clamp meter can measure DC current and frequency.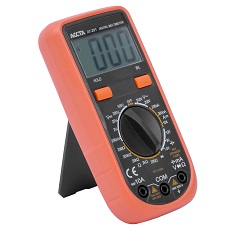 Accta AT-201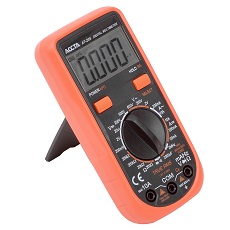 Accta AT-205
Accta AT-600A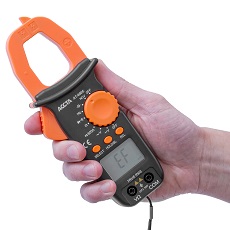 Accta AT-600C
Pocket-sized Accta multimeters
This segment includes multimeters for home use and small repair, training and practice, hobbies and other similar purposes, that can be bought at a very small price.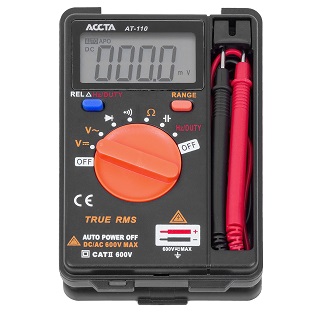 Accta AT-110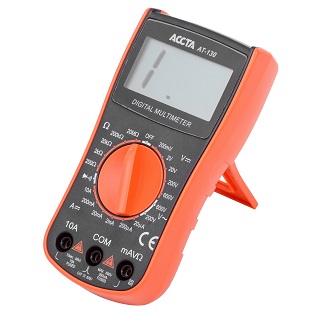 Accta AT-130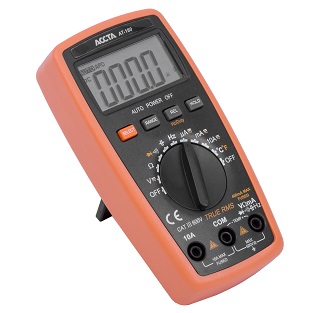 Accta AT-180
I would also like to mention Accta AT-110 model that had a very interesting and convenient design. The designers fit both the device and its probes into a small plastic box-case. Just make a measurement, put everything back in a case, close the case, put it in your pocket and that's it! That's right, in a pocket, because this device can even fit into a shirt chest pocket. The set of functions is rather limited: measurement of AC and DC voltage, resistance, capacitance and frequency. It can also be used for diode and continuity testing. However, this little one has True RMS and automatic measuring range selection.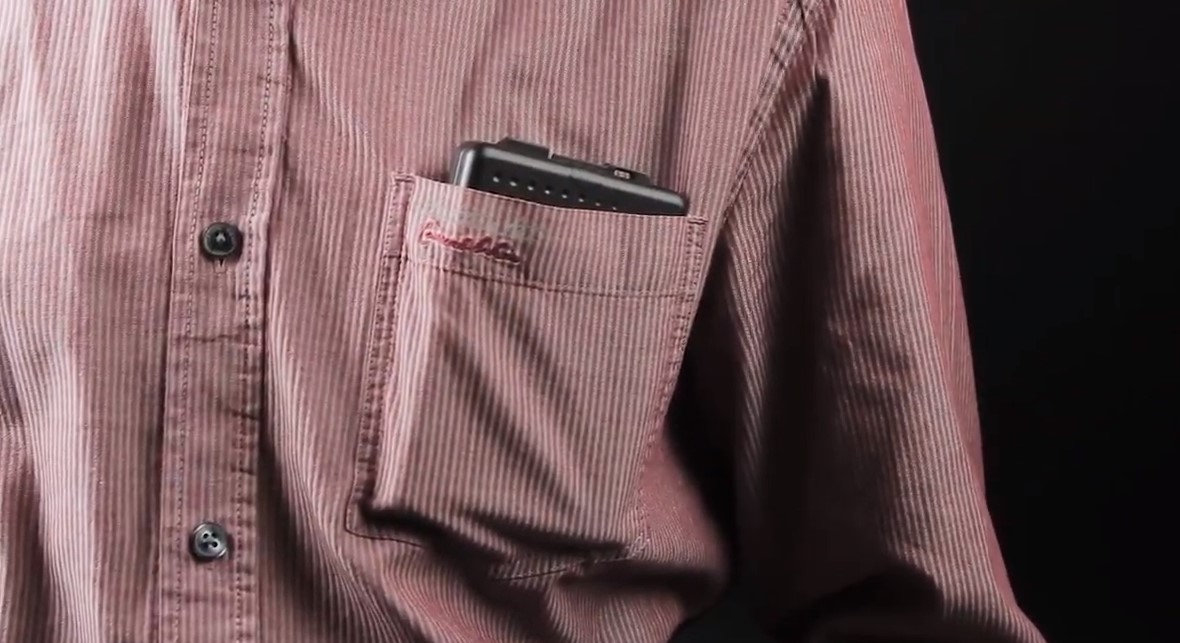 Accta AT-110 in a shirt pocket
Accta AT-130 the case is quite standard, but it allows you to measure direct and alternating voltage up to 600 V, direct current up to 10 A, as well as check the conductivity of electrical circuits and test diodes. Manual measurement range selection. The price is almost the same as of the previous model.
The next model in the budget segment is Accta AT-180. This multimeter is also considered a pocket multimeter, but at the same time it combined all the features of the previous two models, and even more: True RMS and automatic measuring range selection, can be used to measure AC/DC voltage and current, capacitance, frequency, resistance, duty cycle, and temperature, and to perform diode and continuity tests.
As we can see, the Accta brand is a fairly young player in the market, but a very ambitious one. It takes not only talent to find and offer stubborn craftsmen exactly what they need in their work, and draw their attention to a new product, contrary to old habits, but also it takes courage to oppose their products to well-known and popular manufacturers, which the buyer is used to. But one thing is for sure - the company is doing well. This is evidenced by the support of its model range and the launch of new products on the market. We hope that high quality and responsible attitude towards customers will encourage you to support the domestic manufacturer. We are waiting for your feedback and new suggestions. Who knows, maybe you will be the inspiration for the emergence of a new device, because is just beginning of the story…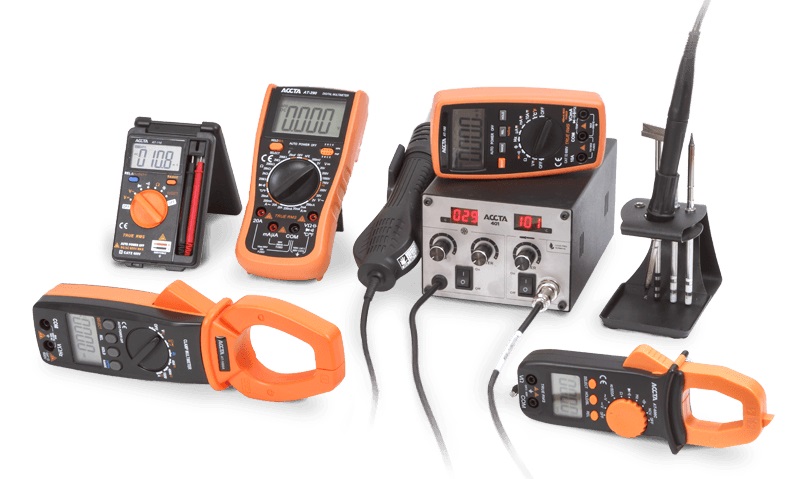 Toolboom Team
All rights reserved. This material from toolboom.com web site may not be published, rewritten or redistributed in whole or part without authorship indicated and backlinks provided.
Customers Feedback