Jovy Systems – Quality Soldering at an Affordable Price
Jovy Systems Limited company is one of the new principal leading competitors in the world's soldering equipment market. It is a well-known Chinese manufacturer with the headquarters registered in Hong Kong, besides there is one more branch office situated in Shenzhen, southeast China. Established in 2006 it is now well-known in the sphere of soldering technologies due to the manufacturer's rework systems that have become bestsellers. The equipment, chemicals and consumables produced by Jovy Systems are widely used by repair and service centers, as well as factories. The application range covers different spheres of industry and education, GSM, networks, cell phone repair. You may also carry out the works on repairing and maintenance of TVs and satellites, laptop and PC motherboards, game consoles, car electronics, light and LED systems, personal gadgets. The rework systems are also suitable for servicing medical equipment, aerospace and military electronics.
The company tends to meet the rapidly growing requirements of the market by expanding the product range by adding the novel up-to-date developments and serving technicians all over the globe.
The company product range includes:
Soldering stations
BGA rework stations
Chemicals and consumables
Protective tapes
Reballing tools
Soldering accessories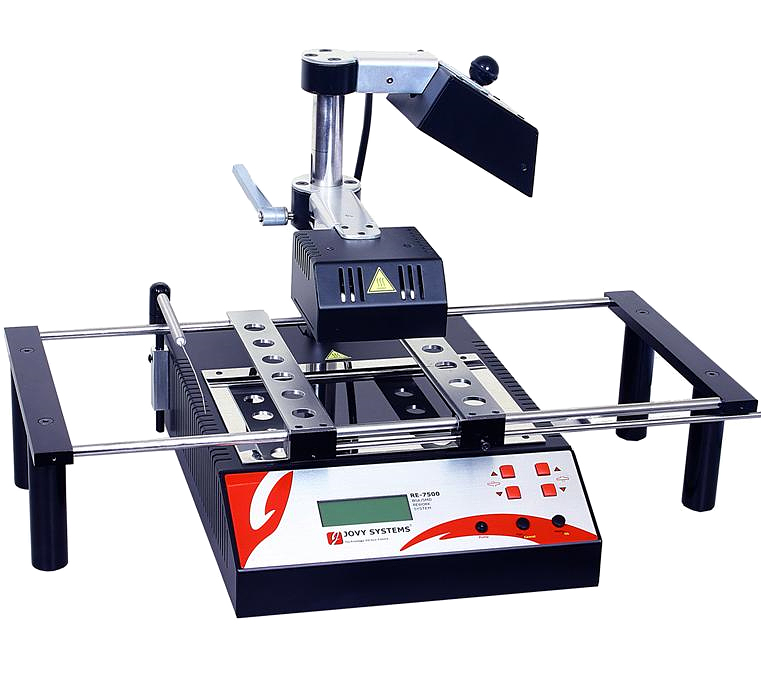 The first company's soldering solution back in 2006 was a Jovy Systems RE-7500 Infrared BGA Rework Station. After entering the IR soldering equipment market, the station has quickly received positive feedback from the customers and became a bestseller. The RE-7500 is a soldering station that uses dark infrared heating technology for lead-free PCB component soldering and desoldering. It may be used for operation with SMD, BGA, CBGA, CCGA, CSP, QFN, MLF, PGA and all epoxy non-defiled µBGA. The preheating area of the bottom heater is 140 × 140 mm, and the preheating power equals 160 Watt. There are the extensive possibilities of PC synchronization and process monitoring in real time. The station also provides programmable temperature profiles, automated and dynamic control for the heaters, as well as manual and automatic PCB cooling modes and more. IR operation is ensured to be safe and cause no damage to the adjacent components. The manufacturer used high-quality German components while producing this soldering station that ensured the reliability and good operation characteristics of the product.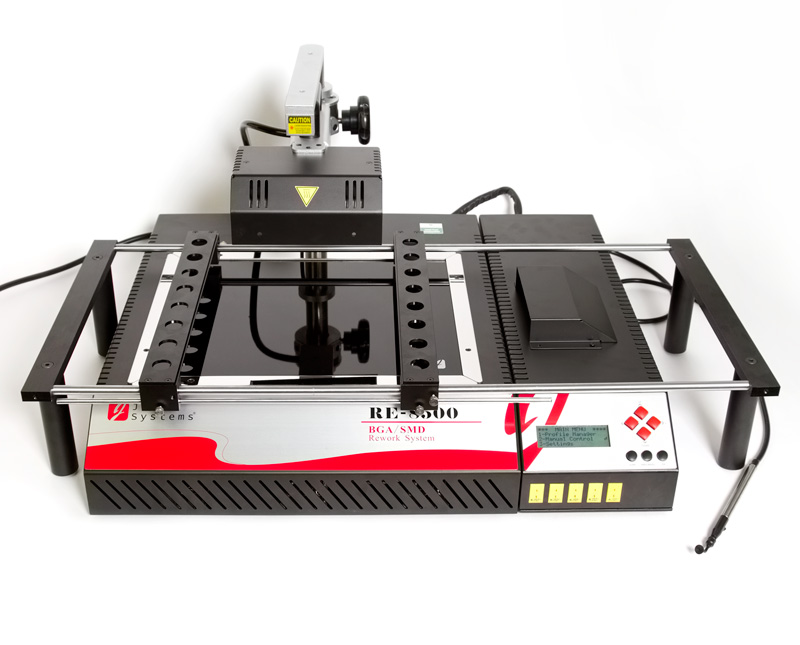 In the end of 2012 Jovy Systems Limited introduced one of the most powerful machines in the BGA rework field – Jovy Systems RE-8500. Actually it was a comprehensive upgrade of RE-7500, which was one of the most successful rework stations of its time. While developing the new model, the manufacturer took into account all the customers' feedback on the previous one to make all the required improvements. The soldering area temperature control in the new RE-8500 station is more precise due to the improved temperature sensor. One more important enhancement made in this model is the size and output power of the heaters. The upper heater is now 60 × 120 mm and the bottom heater is 280 × 350 mm, and the total heating power equals 3600 Watt. The new Jovy Systems RE-8500 station appeared to be a huge step forward compared to the previous model.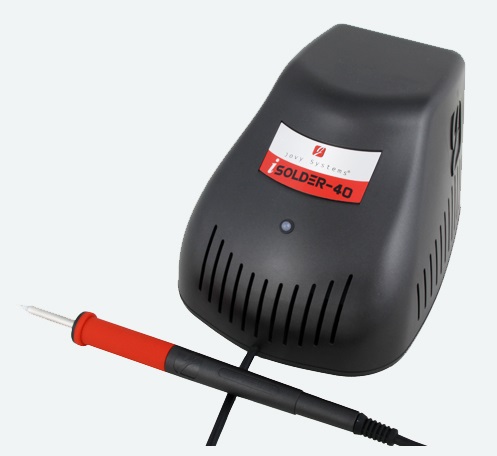 After the success of infrared non-contact equipment, the company came up with a solution for traditional soldering – Jovy Systems iSolder-40 Soldering Station. The maximal heating temperature of the soldering iron tip is 530 °C. Easy control over the soldering process is achieved by using 4 operation modes and two-colour LED indicators. This rather cheap and simple product meets all the quality requirements and is suitable for all types of soldering and desoldering works. Jovy Systems iSolder-40 combines easy operation with a fashionable design.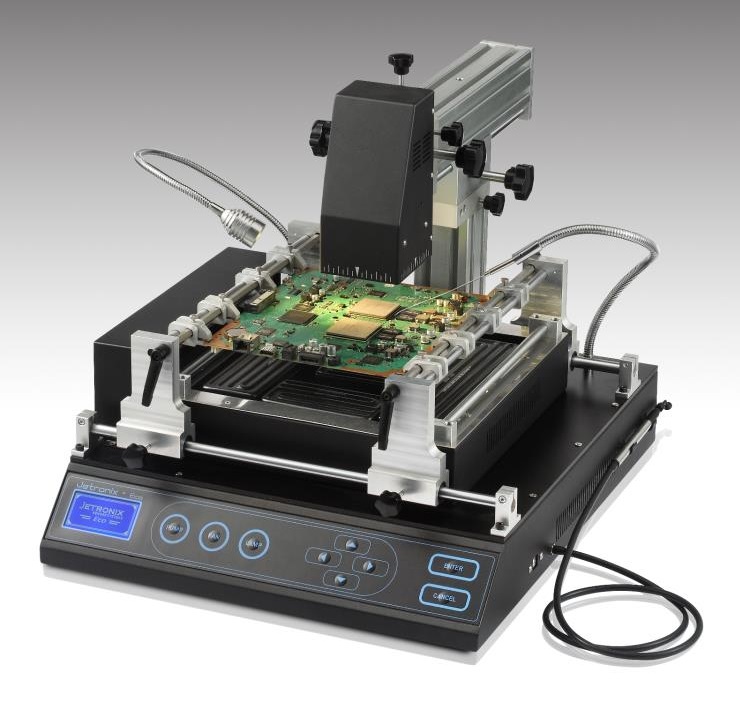 In early 2013 Jovy Systems released the newest Jovy Systems Jetronix-Eco Infrared BGA Rework Station. It is a powerful semi-automatic infrared system with a large preheating zone (245 × 245 mm) and a total preheaters' power of 3200 Watt. Moreover, it features PC synchronization, built-in flexible mount for thermocouples, dynamic reflow part design for easy movement in all directions, LED light source for monitoring process progress, widescreen LCD and a variety of other features. The new Jetronix-Eco brand offers increased operability at highly competitive price.
Together with the equipment the manufacturer may supply you with all the needed soldering assisting products. These include chemicals (Soldering Paste, Soldering Fluxes) and consumables (BGA Soldering Balls 0.76, 0.65, 0.6, 0.55, 0.5, 0.45, 0.4, 0.35, 0.3 and 0.25 mm, Lead-Free BGA Soldering Balls 0.76, 0.65, 0.6, 0.55, 0.5, 0.45, 0.4, 0.35, and 0.3 mm). You may also buy reballing tools (Reballing Stands, Reballing Stencils, Reballing Kits), protective tapes (aluminum IR reflective and polyimide thermal protective) and soldering accessories (PCB supports, XY tables, IR reflectors, light sources, etc.).
Infrared soldering equipment by Jovy Systems has become a cheaper analogue of world famous German high-quality SMT / BGA rework systems manufactured by Ersa GmbH, which is the Europe's largest manufacturer of soldering systems. One more serious competitor producing more expensive rework stations is a German Martin GmbH company, which is owned by FINETECH GmbH.
Jovy Systems soldering equipment uses a lead-free technology (a requirement according to the European RoHS directives) that helps reducing lead emissions. Besides, the infrared soldering stations from Jovy Systems are environment friendly, as they are based on the technology of dark IR heating source. Dark and medium IR heating source wavelength ranges are not harmful to the environment – this is a safe and Eco-friendly heating method. The products manufactured by Jovy Systems meet the requirements of the applicable EU directives and are CE marked. Apart from that, dark and medium infrared heating provides uniform distribution of heat energy towards the object. It guarantees the reflow efficiency without any damage to the surrounding elements, especially the adjacent and sensitive components.
Jovy Systems Limited claim to build their business based on the three main principles: innovation, high quality and best customer services. According to the market experience their efforts and ongoing research activities have already brought them to success. The various company products have proved themselves to be good, convenient and reliable tools for technicians and repair/service workers, being a perfect combination of modern design and innovative technologies with a user-friendly interface and affordable price.
The company has a range of partners and distributors all over the world (Asia, Australia, Europe, USA and South America).
You may order the needed soldering equipment and accessories by Jovy Systems from ToolBoom online store.
Yuriy Ter-Arutiunian
All rights reserved. This material from toolboom.com web site may not be published, rewritten or redistributed in whole or part without authorship indicated and backlinks provided.
Customers Feedback