Super Phosphor Oscilloscope SIGLENT SDS5032X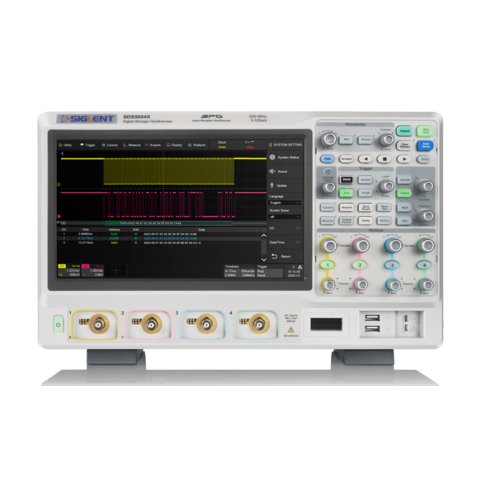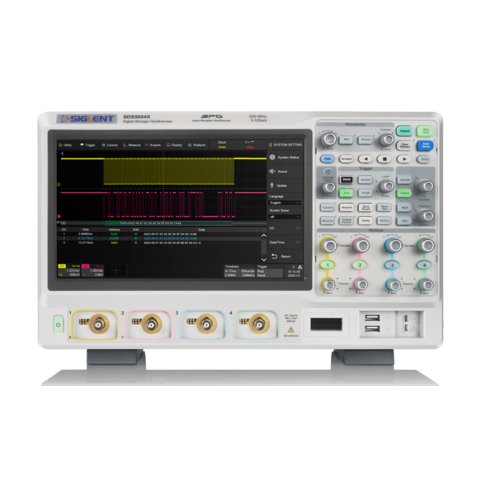 7 kg
Availability in stock:
HK
Warranty: 36 month (s)
Desktop 2-channel phosphor digital oscilloscope with 350 MHz bandwidth, 5 GSa/s real-time sample rate, 250 Mpts memory, 10.1" display and up to 110,000 waveforms/sec capture rate.
SIGLENT SDS5032X is a dual-channel Super Phosphor Oscilloscope with a bandwidth of 350 MHz, a sample rate of 5 GSa/s, and a standard record length of 250 Mpts. The tool is equipped with a digital voltmeter.
Features
New generation of SPO (Super Phosphor Oscilloscope) technology.
2 analog + 16 digital channels.
256-level intensity grading and color temperature display modes.
Trigger types: Edge, Slope, Pulse, Window, Runt, Interval, Dropout, Pattern, Qualified, Video (HDTV supported).
Supports serial bus trigger and decoding; protocols: I2C, SPI, UART, CAN, LIN, CAN FD, FlexRay, I2S and MIL-STD-1553B.
Low background noise, supports 0.5 mV/div to 10 V/div voltage scales.
Segmented acquisition (sequence) mode, dividing the maximum record length into multiple segments (up to 100,000). Its replay and analysis.
Search and navigation.
39 automatic measurement function.
Supports statistics with histogram, gating measurement, math measurement, history measurement and ref measurement.
Math measurement: FFT, addition, subtraction, multiplication, division, integration, differential, square root.
High-Speed hardware-based Average, Eres (Enhanced Resolution).
Mask Test function.
Large 10,1 inch TTFT-LCD display with 1024 × 600 resolution.
Touch screen supports multi-touch gestures.
Supports external mouse and keyboard.
10 types of one-button shortcuts.
Interfaces: USB Host, USB Device (USBTMC), LAN (VXI-11, Telnet, Socket, Web), Pass/Fail, Trigger Out, 10 MHz In, 10 MHz Out, VGA output.
Built-in web server supports remote control by the LAN port using a web browser.
Supports SCPI remote control commands.
Technical Specifications
Model
SDS5032X
SDS5034X
SDS5052X
SDS5054X
SDS5102X
Channels
2
4
2
4
2
Bandwidth
350 MHz
350 MHz
500 MHz
500 MHz
1 GHz
Sample Rate (Max.)
5 GSa/s
Memory Depth
250 Mpts
Math Functions
+, -, *, /, FFT, d/dt ,∫dt,√
FFT Windows
Rectangular, Blackman, Hanning, Hamming, Flattop
Display
10,1 inch TFT LCD (1024 × 600)
Interface
USB Host, USB Device (USBTMC), LAN (VXI-11, Telnet, Socket, Web), Pass/Fail, Trigger Out, 10 MHz In, 10 MHz Out, VGA output
Dimensions
370 × 231 × 144 mm
Weight
3.9 kg
Video
You'll find even more video reviews in the Video tab. Go and check it out!
User Manual

Download SIGLENT SDS5032X User Manual.
Package Contents
Super Phosphor Oscilloscope SIGLENT SDS5032X — 1 pc.
USB cable — 1 pc.
Passive probe — 2 pcs.
Power cord — 1 pc.
Certificate of calibration — 1 pc.
User manual — 1 pc.
Screen Size
Number of channels
Type

desktop
mixed-signal
with built-in generator
touch
phosphor

Sample Rate
Bandwidth
Storage Capacity